by Amy Merrick
TJX Companies (NYSE:TJX), the biggest off-price retailer in the U.S., is flush with success, posting two straight years of net-income growth and a stock price near its 52-week high, as this chart shows: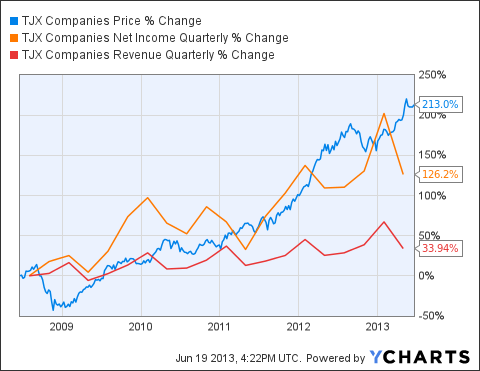 TJX data by YCharts
So -- as with many companies that begin to seem invincible -- TJX executives are embarking on an ego trip. Thus the financial data on TJX look great, but there is new risk in the shares. Shifting focus away from its loyal shoppers, the retailer is chasing after risky new customers. It's also launching a website, a necessary move in the long run but one that will complicate its streamlined operations and potentially invite competition that it has largely escaped to date, namely Amazon (NASDAQ:AMZN).
TJX is the scavenger of retailers: Its 800 buyers scour the market for manufacturer overruns, order cancellations and closeouts to stock its 3,000 stores, which operate under the T.J. Maxx, Marshalls and HomeGoods brands in the U.S., and other names in Canada and Europe. Because TJX is able to cut deals with desperate clothing makers and stores, it sells its merchandise, on average, for 20% to 60% below department stores and specialty retailers.
The company spends little on advertising -- in fact, the brands won't even allow TJX to brag that their products are sold there, lest they be associated with cut-price goods. T.J. Maxx stores are bare bones, often messy and cluttered, but that doesn't deter diehard shoppers who are thrilled to pluck a high-end Theory blazer or Catherine Malandrino dress out of the crowded racks.
These lean operations help TJX earn enviable profit margins compared with rivals such as Kohl's (NYSE:KSS) and Target (NYSE:TGT):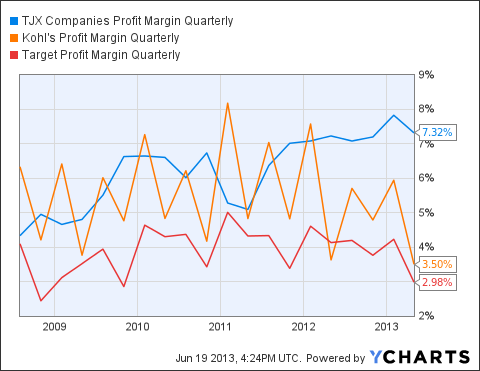 TJX Profit Margin Quarterly data by YCharts
Its preference for leftover and one-off arrangements also helps TJX avoid Amazon, the Suicide Bomber of Retail, which is driving so many other chains to the brink. Only 17% of T.J. Maxx products overlap with Amazon, compared with a frightening 46% for the average retailer, according to research by William Blair analyst Mark Miller.
The problem for investors is that by doing a great job of selling cheap clothes, TJX has made its stock expensive. Its PE ratio is notably higher than those of Kohl's and Target: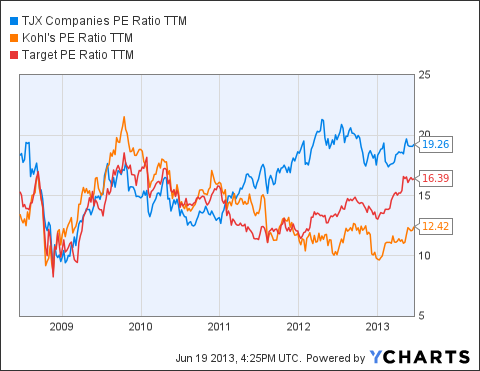 TJX PE Ratio TTM data by YCharts
This could change, though, as TJX starts to lose focus. On the retailer's quarterly earnings call last month, CEO Carol Meyrowitz explained several new initiatives that steer the company away from its core customers -- cash-strapped moms.
Targeting men. TJX will aim more of its advertising at male shoppers -- but for most guys (and some women), T.J. Maxx is a nightmare. In a well-known 2007 Wharton study, researchers found that many women are happy to dig through heaps of marked-down sweaters, while men are mission-focused, hoping to buy an item and "flee the store as quickly as possible." There's no chance of a quick trip to T.J. Maxx, where the shopping experience is known internally as the "treasure hunt."
Targeting younger customers. Women in their teens and early 20s are the most fickle shoppers, and nailing trends takes more skill than buying basic or classic merchandise. Moving into this space also brings TJX into head-on competition with the expert trend spotters running Inditex SA, which owns Zara; Hennes & Mauritz and Forever 21 Inc.
Moving into e-commerce. TJX is planning a small website launch for this fiscal year. While the retailer probably needs an online presence, such projects have a habit of being delayed and costly. Also, it will be tricky to teach customers that the retailer's odd-lot purchases will make its inventory uneven. Perhaps most crucially, a website will put TJX prices within convenient reach of Amazon. Replicating TJX's merchandise buying operation would be difficult, though hardly impossible, and Amazon could find ways to offer roughly comparable goods. From there, online price comparison by shoppers could make TJX vulnerable, like so many other retailers.
TJX runs the risk of stumbling in any of these areas. If the business wobbles, investors could briefly find an attractive entry point before TJX issues a mea culpa, vows to win back the women who built its business and corrects its mistakes.
Disclosure: I have no positions in any stocks mentioned, and no plans to initiate any positions within the next 72 hours. I wrote this article myself, and it expresses my own opinions. I am not receiving compensation for it. I have no business relationship with any company whose stock is mentioned in this article.