We considered investing in Brookfield Renewable Energy (NYSE:BEP) when it began listing its shares on the NYSE recently because it is part of the Brookfield family of companies. We found that the company has good things working for it and bad things working against it. When analyzing and evaluating "renewable energy" projects and companies, we found it is tough to separate politics from the investment thesis because politics is the investment thesis for these companies. Investors in these companies can't merely hope that the main overall trend is "long term, governments have to go green. Lobbyists will be a key indicator and higher energy prices will help" for future positive catalysts in these companies.
What does all of that have to do with the political thesis for renewable energy? Easy, we believe that the people who are likely to win elections from 2013-2016 are not likely to be pushing ultra-expensive "green energy" boondoggles like wind power that cost the taxpayers and ratepayers billions of dollars annually. In short, reducing the number of supporters for these programs will reduce and potentially eliminate the push for these white elephant programs.
Even the President's Utility Exelon has advocated for ending the Wind Power Production Tax Credit. Although Brookfield Renewable Energy gets 90% of its electric generation from hydroelectric and other resources, it still gets 10% of its generation from Wind Power and it recently completed the acquisition of Western Wind for $190M. We're also concerned that the Wind Power subsidiary utilizes more financial leverage than the hydroelectric power operations.
We've found a number of problems with large scale wind power production that makes it uneconomical without government usage mandates and subsidies. In Massachusetts, our local utility NSTAR was forced to agree to purchase 27.5% of the controversial wind farm Cape Wind's power output (129MW) in order to be allowed to merge with Northeast Utilities (NU). We're trying to figure out what led National Grid (NYSE:NGG) to pay 18.7 cents/KW for half of Cape Wind's output. We think that National Grid's CEO must have had rocks in his head for agreeing to that deal, even if he could pass it along to the ratepayers. But the real insult to injury is that Cape Wind's power costs will rise by 3.5% annually during the contract's life and will cost about $2 billion more than conventional power under the National Grid contract.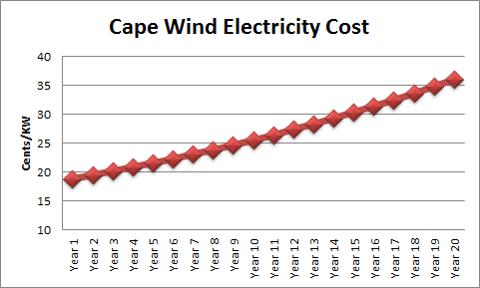 Click to enlarge
Source: New England Cable News
Investors need to stop getting scared by the so-called environmentalists because there is no man-made global warming. In the 1970s, the big environmental crisis du jour was Global Cooling and it appears that the Global Cooling worries are starting to come back in vogue. Even Phil Jones (the Climategate guy who used Michael Mann's nature trick to hide the decline) admitted that there has been no statistically significant global warming since 1995.
As for potentially higher future energy prices, we believe that BEP's CEO Richard Legault is a little too sanguine about that trend. We have seen that fracking has helped contain energy prices (or at least in the US which still accounts for ~25% of global GDP). Fracking has enabled energy producers to produce more with less. Fracking has enabled the US to contain its global emissions by prompting utility companies like Wisconsin Energy (NYSE:WEC) to convert its coal and oil burning plants into natural gas. Although the United States did not ratify the Kyoto Protocol and was not bound by the treaty's mandates, the US actually met the treaty's 1997 carbon reduction targets in 2012 even though it refused to ratify it and didn't even try to meet it. The two factors enabling the US to meet the Kyoto Protocol was its lousy economy since 2007 and fracking enabling utilities and consumers to convert from coal and oil to cleaner burning natural gas.
One good thing about Brookfield Renewable Energy Partners is that 90% of its generation output is sold pursuant to PPAs to public power authorities, load-serving utilities and industrial users or to affiliates of Brookfield Asset Management (NYSE:BAM). The PPAs for BEP's assets have a weighted-average remaining duration of 20 years, providing long-term cash flow stability. BEP's PPAs and its aggressive investment program have enabled the company to generate 33% revenue growth since 2009 (from $984M in 2009 to $1.31B in 2012). We also noted the high EBITDA margin that the business has achieved (65% in 2012), though we are aware that it has steadily declined from 75.5% in 2009. We also like that its dividend yield is 4.9% and we like that it is trading at a 10% discount to its net asset value per share.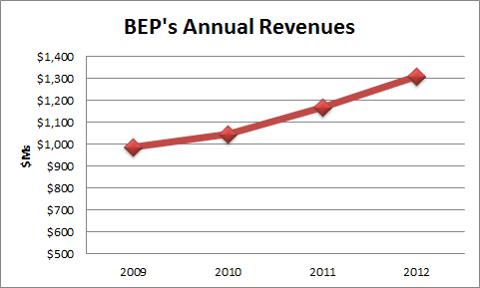 Click to enlarge
Source: Brookfield Renewable Energy Partners 2012 Annual Report
On the other hand we found more bad news with BEP than good news. Lowlights surrounding BEP include the following:
BEP's operating costs climbed at a faster growth rate than its revenues
Even with lower interest rates available in the market, its interest expense has increased due to the increased use of leverage
BEP's full year depreciation and amortization exceeds its FFOs
Most of its CapEx goes for growth oriented development, it would be interesting to see when they expect to be able to ease back their "growth investments"
Its NAV/LP Unit has had uninspiring growth
BEP's 2012 FFOs were $347M but its beginning period assets were $15.7B for a FFO/ROA of 2.2% and its beginning period equity base was $7.2B for a FFO/ROE of 4.8%
In conclusion, our interest in taking a position in Brookfield Renewable Energy has waned after analyzing and evaluating its financial performance. While a subsidiary of Brookfield Asset Management serves as the Managing General Partner of BEP, we were expecting the company to generate a higher FFO/ROE than 4.8% considering that it is part of the Brookfield family of companies. While it enjoys an outstanding EBITDA margin, it only generated $1 of revenue for every $12 of assets in 2012. This explains why its 2012 depreciation and amortization exceeded its fund flows from operations and why its FFOs/ROA ratio was only 2.2%. While we like that the company is able to secure 20 year PPAs, we don't like the firm's recent push into wind power due to the concerns we have over the economics of wind power.
Disclosure: I have no positions in any stocks mentioned, and no plans to initiate any positions within the next 72 hours. I wrote this article myself, and it expresses my own opinions. I am not receiving compensation for it (other than from Seeking Alpha). I have no business relationship with any company whose stock is mentioned in this article.
Additional disclosure: This article was written by an analyst at Saibus Research. Saibus Research has not received compensation directly or indirectly for expressing the recommendation in this article. We have no business relationship with any company whose stock is mentioned in this article. Under no circumstances must this report be considered an offer to buy, sell, subscribe for or trade securities or other instruments.