Company: Regado Biosciences, Inc.
Exchange: NASDAQ.
Symbol :(RGDO)
Industry: Biopharmaceutical (research & development)
The Offer:
Regado Biosciences is offering 5,000,000 shares of its common stock. The anticipated initial public offering price per share will be between $14 and $16. The underwriters have a 30-day option to purchase up to an additional 750,000 additional shares of common stock to cover over-allotments.
The company is an ''emerging growth company'' and has elected to comply with certain reduced public company reporting requirements.
Valuations after current offering:
Shares to be outstanding after offering

14,618,039* shares

Offer price (mid range) per share

$15**

Valuations at $15* per share

$219 million

*without over-allotments.

**The mid-point of the estimated range of the initial public offering price.
Summary: (contains several medical terms)
The company is a biopharmaceutical company focused on the discovery and development of novel, first-in-class, actively controllable antithrombotic drug systems for acute and sub-acute cardiovascular indications.
Each of its product candidates consists of a two-component system: an antithrombotic aptamer and its specific active control agent. The aptamer is administered first and achieves its antithrombotic effect within minutes. When the antithrombotic effect of the aptamer is no longer needed, the control agent is administered to rapidly and precisely reduce or eliminate it. The level of reduction is determined by the amount of control agent given compared to the aptamer dose.
Its lead product candidate is REG1.
Product Pipeline:
The following table lists its current product candidates and discovery programs and their respective stages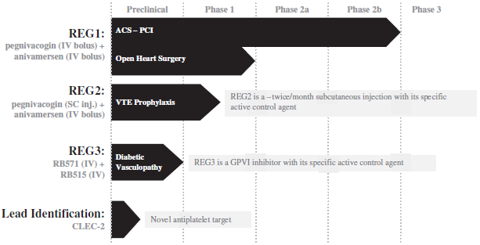 Lead product REG1:
The company is developing REG1 as an anticoagulant for use in the patients with a wide variety of cardiovascular conditions undergoing percutaneous coronary intervention, or PCI, a hospital-based procedure used to mechanically open or widen the obstructed coronary arteries.
If approved, REG1 would compete with a number of currently-marketed anticoagulants, including bivalirudin, currently marketed and sold by The Medicines Company (NASDAQ:MDCO) under the brand name Angiomax® in the United States, and UFH and LMWH, both of which are available as biosimilars and which are currently manufactured and sold by a number of companies. Otamixaban, which is being developed by Sanofi (NYSE:SNY), is being evaluated in a Phase 3 clinical trial for patients with UA or N-STEMI scheduled to undergo an early invasive strategy.
Competitive Advantages (As indicated by the results of the trails conducted)
The company believes that REG1 has the potential to become the standard of care for the anticoagulation therapy in the PCI and other cardiovascular procedures because it gives physicians precise, on-demand control over the anticoagulation levels. Key advantages of REG1 over existing therapies are the following:
Reduced ischemic events.
Reduced major bleeding events.
Precise and predictable dosing.
Broad applicability: REG1's use in PCI is unrestricted for high risk patients such as those with kidney or liver impairment.
Shorter procedure and recovery times.
Current development stage:
Based on phase -1&2 clinical trials results and after discussion with the FDA and the EMA, the company intends to commence the REGULATE-PCI trial (single, open-label Phase 3 trial) in the second half of 2013. REGULATE-PCI, if successful, will serve as the basis for product registration applications worldwide.
Unless terminated early or extended, The company expects to complete REGULATE-PCI by the end of 2015 with results available in early 2016.
Market Opportunity for REG1:
PCIs are hospital-based procedures used to mechanically open or widen obstructed coronary arteries.
According to the American Heart Association, approximately 950,000 PCIs were performed in the United States in 2010. The company estimates that in 2010 approximately 1.1 million PCIs were performed in Europe and at least 1.0 million PCIs were performed in the rest of the world. Based upon the estimated cost per procedure of branded anticoagulants, the company believe that this represents a greater than $3.0 billion annual market opportunity for anticoagulants used in PCI procedures. The Company intends to seek initial regulatory approval for the use of REG1 in all PCI procedures other than in the treatment of STEMI, the company believes that approximately 700,000 PCI procedures were performed worldwide in 2010 for the treatment of STEMI.
Table below shows the addressable market for REG1 (rough estimate).
| | | |
| --- | --- | --- |
| | No. PCI performed worldwide | Market size in $ |
| Total PCI performed worldwide | About 3 million | About $3 billion |
| REG1 addressable market | About 2.3 million | About $2.3 billion |
Financial analysis:
The company is not profitable and does not expect to be profitable in the foreseeable future. It has incurred net losses in each year since its inception, including net losses of approximately $13.1 million and $19.2 million for 2012 and 2011, respectively. For the three months ended March 31, 2013, the company incurred a net loss of $3.3 million, and as of March 31, 2013, it had an accumulated deficit of approximately $113.8 million. Substantially all of its net losses resulted from costs incurred in connection with research and development programs and from general and administrative costs associated with its operations. The company expects to incur significant expenses and increasing operating losses for the foreseeable future. It expects its expenses to increase in connection with its ongoing activities related to product development.
Key positives and negatives points of the company:
Key positives: (Only if its products got developed as per plan and approved for commercialization)
1. Big addressable market:
If approved, addressable market for its lead product REG1 will be huge. The worldwide annual market opportunity for REG1 could be greater than $2.3 billion.
2. More effective product:
As indicated by the results of the trails conducted; its product candidate REG1 if approved will be more effective than the currently used therapies/products.
3. The company's product candidates and proprietary technology platform are protected by a patent estate of 30 issued or allowed patents, including 14 in the United States.
4. Company maintains worldwide commercialization rights to all of its product candidates except in Armenia, Azerbaijan, Belarus, Georgia, Kazakhstan, Kyrgyzstan, Moldova, Russia, Tajikistan, Turkmenistan, Ukraine and Uzbekistan.
Key negatives:
All of its products are in the development stage and need many regulatory clearances, which can delay the commercialization of its products.
Its research and development expenses will increase, as it continues to advance its product candidates through clinical/pre-clinical development.
If serious adverse side effects are identified during the development of any of its product candidates, the company may need to abandon the development of that product candidate.
No marketing experience or setup.
Except REC1, all its other products are in the early stage of development.
Fundamental evaluation: (Barring any unforeseen facts, and circumstances.)
High risk: If due to any reason the company has to abandon the development its prime product candidate REC1; it will be a total loss for the company as well as for the investor.
High return: If the company develops its lead product candidate REC1 as per the plan.
Table below shows some assumptions of the company's performance if REC1 gets developed as per plan. (These are just the assumptions and the company may perform totally different from these assumptions)
Assumed revenue generation capability of REC1 if get developed as per plan (worldwide market).

Worldwide market size

About $ 2.3 billion (described above).

The company's share (25%)

$ 575 million (due to its vastly superior product as compared to its competitor products and limited competition).

Margins 15%

About $85 million (form worldwide sales)

Present valuations of the company

$ 219 million.

It will take at-least 3 years for the company to develop and commercialize REC1, that too if everything goes well.
Net proceeds:
The company estimates that the proceeds to it from this offering, after deducting estimated underwriting discounts and commissions and offering expenses payable by the company, will be approximately $68.3 million, assuming the shares offered by the company are sold for $15 per share, the midpoint of the price range.
Use of the proceeds:
The company currently intends to use approximately $67.0 million of the net proceeds from this offering for the REGULATE-PCI trial and the balance to fund working capital and to support its operations.
Disclosure: I have no positions in any stocks mentioned, and no plans to initiate any positions within the next 72 hours. I wrote this article myself, and it expresses my own opinions. I am not receiving compensation for it (other than from Seeking Alpha). I have no business relationship with any company whose stock is mentioned in this article.
Disclaimer: Investments in stock markets carry significant risk, stock prices can rise or fall without any understandable or fundamental reasons. Enter only if one has the appetite to take risk and heart to withstand the volatile nature of the stock markets.
This article reflects the personal views of the author about the company and one must read offer prospectus and consult its financial adviser before making any investment.