Beaten down holders of GLD can perhaps find a small degree of solace in casting an eye at the disastrous performance of the gold miners junior index (NYSEARCA:GDXJ) over the past three years. In late 2012, Hugh Hendry called owning gold miners, both large and small,"insane." Since that prescient call, GDXJ owners would probably have preferred to be locked inside a padded cell than view the brutal performance of the battered ETF. Hendry's call was echoed by legendary investor George Soros whose fund followed gloomy comments on gold with the sale of GLD shares. In addition, there were almost daily articles on the drubbing which John Paulson was taking by sticking with his long-term bullish opinion on gold. If one views a deluge of negative media headlines as a bullish contrarian sign, the last six months have provided an endless supply of optimism for gold and silver mining shareholders. Yet, the drubbing has continued.
However, underneath the pile of dismal news, lie signs of hope. In the latest SEC filings, Soros Fund Management LLC, has purchased over 25M of GDXJ call options as well as over 1 million shares of GDX. In a similar move, long-time precious metal bull Eric Sprott, sold a portion of PSLV and bought shares of miners.
Despite these allocations by two investing legends, making an investment in miners requires a strong contrarian bent. The headwinds that have plagued miners including resource nationalism, high production costs, and labor unrest in countries such as South Africa, are not abating. But how much longer can miner shares trail the price of gold? At some point, the lack of financing caused by weak share prices combined with challenging production costs will result in reduced supply. On the demand side, the immediate buying of physical gold and silver in Asia during the spring drubbing of the gold price indicates that the long history of the value of precious metals has not gone away.
It took courage and conviction to buy banks and homebuilders in 2009 and 2010 but such a move has paid off handsomely. With 77 holdings, GDXJ provides geographic and company diversity, thereby reducing the impact of nationalization, mining union conflicts, and war. Timing risk can be reduced through a monthly dollar-cost-averaging program. That way, if gold drops sharply based on Federal Reserve comments about tapering, the investor would benefit from buying more shares at a lower price. With sentiment on miner shares so dismal despite the continued debasement of currencies around the world, rolling the dice on GDXJ is worth a shot.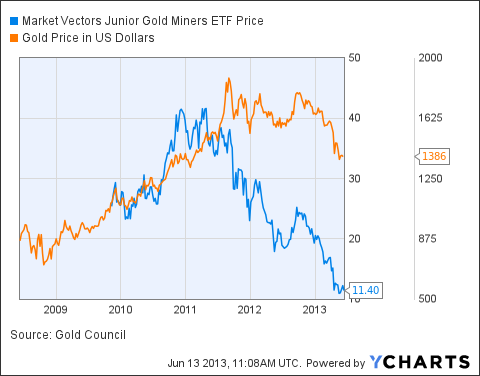 Disclosure: I am long GDXJ. I wrote this article myself, and it expresses my own opinions. I am not receiving compensation for it. I have no business relationship with any company whose stock is mentioned in this article.