Smith & Wesson (SWHC) is scheduled to report its 4th-quarter 2013 earnings on Tuesday, June 25th. Below I have highlighted this quarter's earnings estimates as well as provided a fundamental look at the company's financial position and valuation.
Preliminary Results
Before I begin, the company released the fourth quarter and full year preliminary results on June 13. The highlights are as follows:
4th quarter net sales up 38% to 179 million with net income for the quarter expected to be $0.44 compared to last years $0.27.
Year-end cash balance of $100.5 million.
Preliminary net sales for FY13 of $588 million, up 43% over FY12. Net income is expected to be approximately $1.22 per diluted share compared to EPS of $0.40 in FY12.
Recent update
SWHC's board recently approved the repurchase of up to $100 million of the company's outstanding common stock.
Profile and Estimates
Smith & Wesson has a market cap of $641.72 million and had annual sales last year of $412 million. Shares currently trade for $9.99 and are up 16.71% YTD, 48.96% above their 52-week low of $6.70 per share.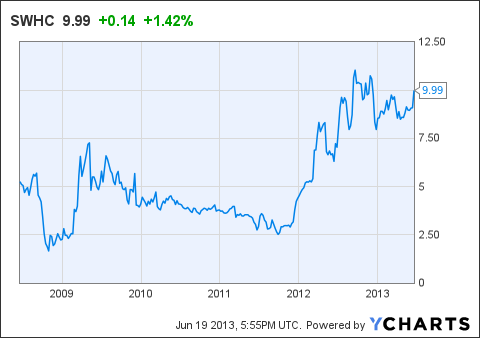 Analysts have a mean target price of $12.25 and a median price target of $12.00 on the shares. This quarter, analysts on average are expecting EPS of $0.44 on revenues of $177.54, which is consistent with the preliminary earnings release.
Below is a valuation metrics that I have compiled based on next years EPS estimates and the company's 5-year P/E ratios.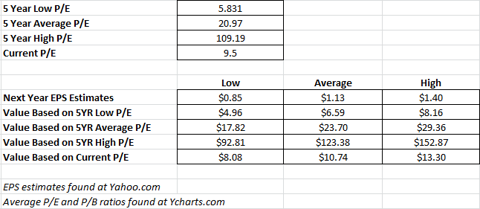 Based on this metric, SWHC's current P/E ratio of 9.5 falls between the company's low to average 5-YR P/E range. This being consistent with the lower earnings expectations that analysts have for the company next year (average EPS estimate of $1.13 compared to this years expected $1.22).
Fundamental Analysis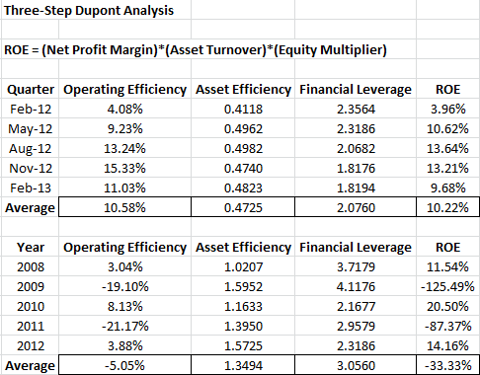 While the outlook for gun sales, as far as regulations go, remains uncertain and always a popular debate, Smith & Wesson has consistently improved its financial position over the past five years. Operating efficiency looks bumpy with negative returns in 2009 and 2011 but those were both results of non-cash goodwill and intangible impairment charges. Asset efficiency has improved and has been above average in each of the last four quarters. And, financial leverage has come down 29% in the last five quarters. While this trend will put pressure on ROE, the company's lower debt means lower interest payments and higher net income.
Calculated above, last year's ROE of 14.16% is slightly lower than Morningstar.com's calculated 15.49% and also below industry's average 22.3%.
Bottom Line
The company's board is taking advantage of this year's higher sales and plans to return approximately 15.6% of the company's market value to shareholders through stock repurchases. Next year's sales may not be so robust but the current valuation looks cheap. Keep an eye out for new developments when the company reports earnings on Tuesday.
Disclosure: I have no positions in any stocks mentioned, and no plans to initiate any positions within the next 72 hours. I wrote this article myself, and it expresses my own opinions. I am not receiving compensation for it (other than from Seeking Alpha). I have no business relationship with any company whose stock is mentioned in this article.