The stock market in the United States has been on a phenomenal run. The S&P 500 (NYSEARCA:SPY) has more than doubled from the low point back in the dark days of March 2009. It is up almost 40% from late 2011.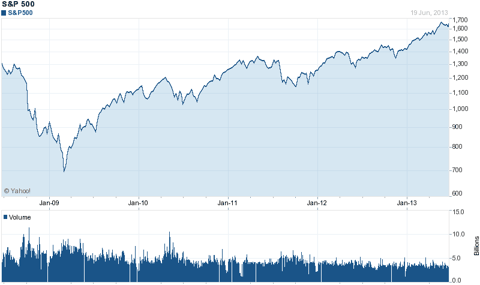 When the market goes up that much it is a fact that valuations for most stocks are not as attractive as they were before the increase.
And as the valuations placed on stocks of all kinds become richer, I believe that investors should start looking more towards focusing their portfolios on large high quality companies. This protects portfolios better against any sharp selloff that is not uncommon following a big market run.
Google Is About As High Quality As It Gets
Now I say that investors should start looking to high grade their portfolios, but this can't be done blindly without consideration being given to valuation. Even a high quality company can be a bad investment at the wrong price.
As I was perusing the portfolios of and quarterly commentaries from some of the investment industry's top investors I kept coming across one very high quality company in many portfolios. That company is Google (NASDAQ:GOOG).
While not what you would typically associate with value investing, Google has many attributes that a value investor can appreciate:
A fantastic balance sheet
A tremendous moat around its business
A business that produces lots of free cash and requires little capital investment
Reasonably predictable growth
Before I get to Google's valuation, I'd like to share the comments of a couple of investing "Gurus" who own the company.
Tweedy Browne
Tweedy Browne is an old school value investing firm. For over 90 years Tweedy Browne has been practicing a brand of value investing based on the principles of Benjamin Graham. Interestingly, this stodgy old value investing firm thinks Google meets its value criteria. Here is what they had to say about why they find Google attractive:
As we have mentioned in past letters, value investors such as ourselves often have a difficult time investing in high technology companies largely due to their frequent high valuations, rapid rates of change in technology, and the potential for obsolescence. The last thing in the world we want to do is pay a high price for a rapidly growing business that gets leapfrogged by technological change shortly after we buy it. With this in mind, you might be surprised to know that we began building a position in Google back in February of this year when the stock dipped down to around $565 per share. At this price, we felt we were getting a bargain, paying roughly 12.5 x 2012 estimated earnings net of the cash on its balance sheet. And this was for a business that grows its top line at greater than 20% per year.

With market shares in the search business that range from 65% to 85% in most countries throughout the world, it is reasonable to conclude that Google has a strong competitive position. Google's revenue is roughly 15 times higher than its nearest competitor, which has enabled them to put significantly more money into R&D, distribution, and the development of products and eco-systems that further promote and protect the use of Google's search. Moreover, as Microsoft's investment in search can attest, the search business is expensive to enter.

We bought Google at roughly 12.5 x 2012 estimated earnings net of the cash on the balance sheet. We think this is a very low valuation as companies with market leading positions secured by strong competitive advantages in secular growth markets typically do not trade at market multiples. Unlike most companies growing revenue over 20% per annum, Google is also able to generate significant free cash flow due to the phenomenal economics of paid search. For these reasons we believe Google is undervalued and deserves a significantly above average multiple.
As Tweedy Brown points out, Google has a huge moat around its business. When you have 15 times the revenue of your nearest competitor you can put many multiples of what your competitor can into strengthening your business. This is the kind of moat that Warren Buffett loves.
Bill Nygren
Bill Nygren of the Oakmark Funds is also bullish on Google. Here is what he recently had to say:
We think Google is one of the exceptions to the mean reversion in the near term, where there is a very strong tailwind of advertising shifting from traditional media to online, and Google being the leader in the online-advertising category, likely to remain the leader for years, and online has a very small percentage of advertising dollars today. You talk to almost any consumer product company and their marketing department, and they will tell you that five years from now, 10 years from now they expect to spend substantially more of their advertising budget on the Internet than they do today. We think Google is very well-positioned to have an above-average growth rate for a very long time.
Nygren's comments focus both on the moat that Tweedy Browne spoke of, but also the big wind at Google's back. That wind being the long term shift of advertising dollars away from traditional media and towards the internet. With both Tweedy Browne and Nygren into Google we can certainly conclude times have changed from the year 2000 when lofty tech company valuations had no interest for value investors.
Valuation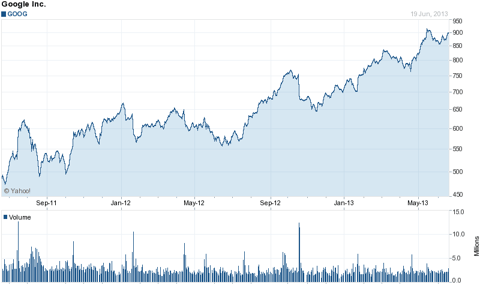 Google's stock price has had quite a run of its own over the past year. It clearly isn't going to be as attractive from a valuation standpoint as it was at a lower stock price. But that doesn't necessarily mean it still isn't good value.
Here is the raw data:
Shares: 330 million
Share Price: $900
Market Cap: $297 billion
Net Cash/Securities: $50 billion
Enterprise Value: $247 billion
Full Year 2012 Cash Flow: $16.6 billion
Full Year 2012 Earnings: $10.7 billion
On a trailing year's cash flow Google is trading at $247/$16.6 billion = 14 times. If you invert that it results in a free cash flow yield of 6.7%. If I assume that 2013 growth in cash flow will be 10% then cash flow for the year would be $18.2 billion. That would be a price to cash flow multiple of 13.57 and a free cash flow yield of 7.3%.
I'd certainly rather own Google at this price instead of a long term bond given the long run of steady growth Google likely has in front of it. But I certainly can't say that there is much of a margin of safety at these prices. If you look at earnings instead of cash flow, Google is trading at $247/$10.7 = 23 times trailing earnings net of cash. And that is too rich for my blood.
Earnings and cash flow figures from Google's SEC Filings.
Disclosure: I have no positions in any stocks mentioned, and no plans to initiate any positions within the next 72 hours. I wrote this article myself, and it expresses my own opinions. I am not receiving compensation for it (other than from Seeking Alpha). I have no business relationship with any company whose stock is mentioned in this article.