Yesterday the market felt as though the Federal Reserve let it down, but in reality the Fed did exactly what they needed to. There were no surprises and they stuck to the script. The market wanted them to say we are going to be dovish and not hawkish and keep easy money here, which was not directly stated but when reading between the lines was essentially said. Make no mistake, the Fed is not going to let this economic recovery fall to the wayside in order to appease the hawks and they will be there to put their foot on the gas if needed, but right now all signs are pointing to a recovery large enough that they need to look at an exit strategy...this should be good news, not bad. For those with long-term outlooks it should be apparent how good of news this truly is.
The news out of China however is not so good and a major reason that markets are red today. One has a hard time figuring out China, and rightfully so as they are very much like Dr. Jekyll and Mr. Hyde. One cannot be sure if that is due to design or inexperience, but they definitely need to figure this out and get growth, real growth, to resume.
Chart of the Day:
The unemployment picture continues to improve, at least when measured by continuing claims and initial claims. We want to pay more attention to the unemployment rate reported each month and see whether that number increases or decreases for the true picture. Right now it is on the increase as many reenter the job market.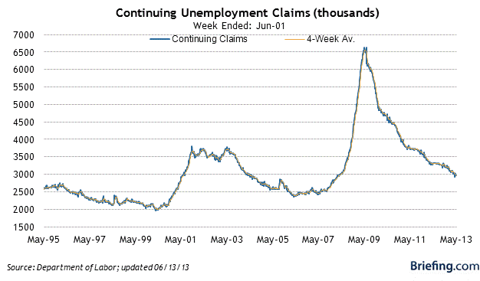 Chart courtesy of Briefing.com
We have economic news due out today, and it is as follows:
Initial Claims (8:30 a.m. ET): 340k
Continuing Claims (8:30 a.m. ET): 2967k
Existing Homes Sales (10:00 a.m. ET): 5.00 Million
Philadelphia Fed (10:00 a.m. ET): -0.2
Leading Indicators (10:00 a.m. ET): 0.2%
Natural Gas Inventories (10:30 a.m. ET): N/A
Asian markets finished lower today:
All Ordinaries -- down 2.02%
Shanghai Composite -- down 2.77%
Nikkei 225 -- down 1.74%
NZSE 50 -- down 1.06%
Seoul Composite -- down 2.00%
In Europe, markets are lower this morning:
CAC 40 -- down 2.46%
DAX -- down 2.49%
FTSE 100 -- down 2.44%
OSE -- down 0.99%
Retail
Jos. A. Bank Clothiers (NASDAQ:JOSB) had been posting stronger numbers than The Men's Wearhouse (MW) for some time as they expanded across the country and added new stores in new areas. The past few quarters have been troubling for Jos. A. Bank shareholders as sales have disappointed and the pendulum has swung back in favor of The Men's Wearhouse, who is now opening up new locations and providing competition to Jos. A. Bank outlets previously unbothered by competition from standalone men's outlets. We think most of the credit is due to new management at The Men's Wearhouse and little to do with George Zimmer, the company's founder, pitchman and former CEO who yesterday was sent packing after the board decided to part ways. It is surprising because it was abrupt and he is the face of the company, but if he was meddling and stopping progress at the company then it had to be done. We suspect he was a roadblock to the new leadership rather than a godfather figure like his title indicated he should have been. We doubt the stock enters into a rough patch, outside of general market movements, due to this.
It has been a choppy year for The Men's Wearhouse, but shares are still near a 52-week high right now, and that is a positive.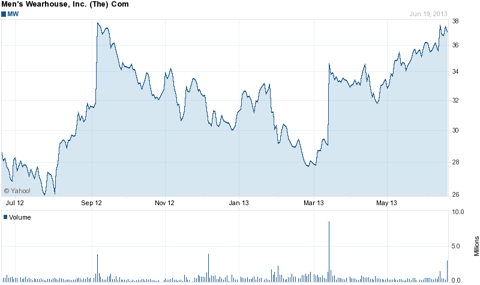 Chart courtesy of Yahoo Finance.
Technology
Which is the direct opposite of what one could say about ARM Holdings (NASDAQ:ARMH), which has recently faced a bit of turmoil as leadership changes take place and customers are beginning to look to Intel for chips again. The company is a powerhouse in the mobile chipset market and should be around for some time as they have licensing agreements with nearly everyone, but so long as Intel is around they too will always have the opportunity to sell their wares, no matter how inferior, simply because of the prices they can offer and their long-term relationship with many of the consumers out there. ARM shares came under further pressure yesterday falling nearly 6% on volume of 4.1 million shares to finish the session at $37.17/share. After the general market shakedown which appears to be taking place right now, this would appear to be a good candidate for a buy.
Will the $35/share level provide some support to the stock? That is the level we are watching in anticipation of a bid emerging.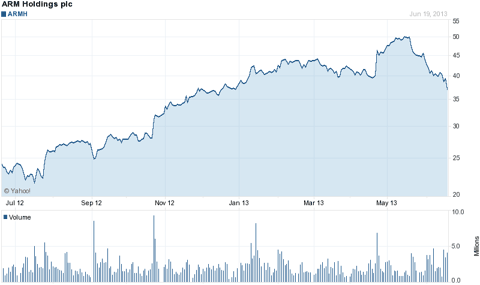 Chart courtesy of Yahoo Finance.
Consumer Goods
What is not a buy, at least according to Mayor Bloomberg and for those on food stamps, will be sodas. The man is on a crusade against sugary drinks and a constant headache for Coca-Cola (NYSE:KO) and Pepsico (NYSE:PEP). It seems New York City is a big market, bigger than some states and far more regions in the US, and any radical change to the status quo can seriously alter supply chains and hit sales. The first proposal which was defeated, the limit on size, was a big win but the newest proposal has already been defeated (a few years ago it failed to gain approval) which gives us some hope that there will be a quick resolution. It has always been our belief that government has a duty to protect citizens against harmful products, but this takes it to a whole new level...telling someone that they cannot consume a legal product and wanting them to spend more money on healthier substitutes when they are on social programs seems a bit counterintuitive. Look for this to be defeated as those on food stamps will surely be outraged and so too shall personal liberty and conservative interest groups. Either Bloomberg hates caffeine and sugary drinks or he is seriously short these stocks (joke)...we would love to see some pictures of the guy drinking sodas or even a nice big latte.
Disclosure: I have no positions in any stocks mentioned, and no plans to initiate any positions within the next 72 hours. I wrote this article myself, and it expresses my own opinions. I am not receiving compensation for it (other than from Seeking Alpha). I have no business relationship with any company whose stock is mentioned in this article.