In this article, I will discuss the business fundamentals and growth prospects of Taminco (NYSE:TAM). Taminco is the world's largest pure play producer of alkylamines and alkylamine derivatives. Alkylamines are organic compounds produced through the reaction of an alcohol with ammonia. The immediate results of these processes are the production of methylamines and higher alkylamines, which can then be further reacted with other chemicals to produce alkylamine derivatives. The company formed as a carve-out from Union Chimique Belge in 2003 and has evolved over the years as follows.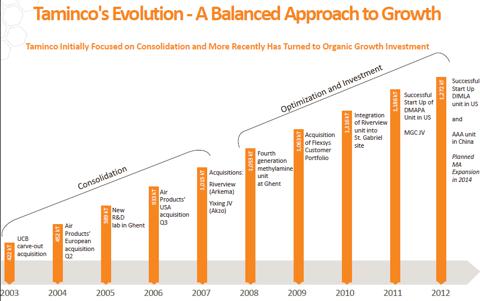 Source: Investor Presentations
The company is organized into three operating segments:
Segment

Products

Customers

Functional Amines

Alkylamine products (used even as derivates for end products of TAM)

30% used internally

45% of Sales

51% of Adj. EBITDA

Specialty Amines

Alkylamine derivatives for water treatment, personal & home care, oil & gas and animal nutrition end-markets, and specialty additives for pharmaceutical, industrial coatings and metal working fluid end-markets

Large MNC's

43% of Sales

33% of Adj .EBITDA

Crop Protection

Alkylamine derivatives, active ingredients and formulated products for agriculture and crop protection

Crop protection and agricultural enterprises to large local farms

12% of Sales

16% of Adj .EBITDA
Global Industry Leader With Sustainable Market Position and Blue-Chip Customer Base
TAM exclusively focuses on the production of alkylamines and alkylamine derivatives with no exposure to the commoditized chemical products. According to the ADL, TAM holds the No. 1 position in alkylamine and methylamine production in North America and the No. 2 position in Europe.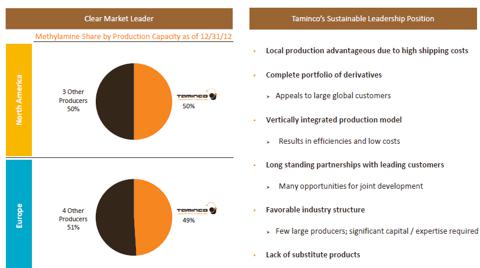 Source: Investor Presentations
It enjoys long-standing relationships (average customer relationship among its top 10 customers is 12+ years) with blue-chip, industry-leading companies with low customer churn.
End Market

% of Sales

Taminco's Position

Selected Product Attributes

Top Customers

Agriculture

30%

#1

Protects cash crops against disease
Intermediate and formulation salts for herbicides

Syngenta, Bayer, BASF, Dow, Monsanto and DuPont

Animal Nutrition

15%

#2

Critical feed additive for animal health
Benefits poultry and other meat's nutritional value

ADM, Cargill, CP Group Thailand, New Hope Group China and Nutreco

Water Treatment

13%

#1

Helps purify municipal water and water used for waste treatment

Ashland, BASF, Ecolab, GE Water, Kemira and SNF Florger

Energy

7%

#3

Removes impurities in oil and natural gas

Baker Hughes (NYSE:BHI), Halliburton (NYSE:HAL), Schlumberger (NYSE:SLB) and Weatherford (NYSE:WFT)

Personal Home Care

14%

Top

Cleansing properties for various products such as shampoos, detergents and fabric softeners

Colgate, Henkel, Kao, Lever, Procter & Gamble and Unilever
Stable, High-Growth End Markets Benefiting From Mega Trends
TAM products are used in agriculture, water treatment, personal and home care, animal nutrition, and oil and gas end markets. These targeted end markets have been relatively resistant to economic downturns and represent over $1.0 trillion in market value as of 2012.
Growth Characteristics of Taminco's Key End Markets

End Market

% of Sales

Growth Outlook

Taminco's Position

Underlying "Mega Trend"

Agriculture

30%

6%

#1

Growing population with less arable land

Animal Nutrition

15%

5%

#2

Continued shift to protein rich diets (increased consumption of white meat, poultry in particular)

Water Treatment

13%

6%

#1

Demand for high performance, sophisticated products

Energy

7%

8%

#3

Increased requirement for clean water

Personal Home Care

14%

7%

Top

North American shale gas and demand for increased energy efficiency
Source: Investor Presentations
A steadily increasing world population, rising income levels (particularly in the emerging markets), increasing global urbanization, and an aging global population are expected to help continue driving strong demand in TAM's key end markets. In the pro forma year ended Dec. 31, 2012, ~ 79% of TAM's volume was generated from these key end markets. We expect that to increase over the next few years.
Attractive Product Pipeline With Significant Value Creation Opportunities
TAM has strong track record of identifying and exploiting growth opportunities for new applications of its existing products. It also has expertise in new product development and is the preferred partner for key customers to jointly develop new amine-based derivative products.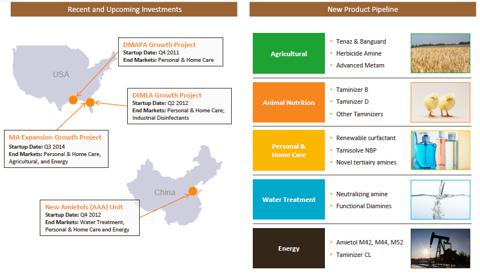 Past achievements include i) Banguard fungicide (used to control banana), ii) Formulations of MDEA (used in refineries and gas plants as solvents for sulfur and carbon dioxide extraction), and iii) Taminizer C (feed additive). TAM's patent portfolio is actively managed and contains 76 patents as of Dec. 31, 2012.
Industry Leading Margins and Cash Flow Generation
TAM's business is vertically integrated from basic/upstream alkylamines to downstream derivatives. This helps TAM to keep costs under control, improve efficiency, and optimize resources to produce high-value derivatives. Furthermore, TAM prefers to play neutral with its suppliers and does not compete directly in some downstream products.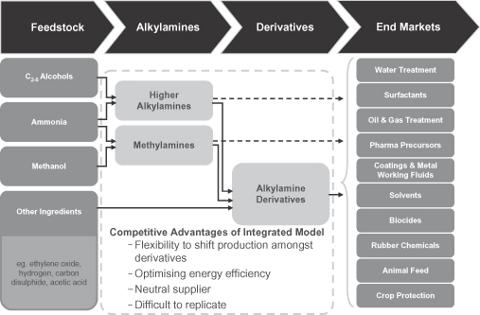 Less Vulnerable to Economic Cycles
For the past several years TAM's revenue, gross profit, and adjusted EBITDA have been growing throughout various economic environments, supported by its resilient end markets, diverse customer base, and the integral nature of alkylamines and their derivatives to customers.

Ability to Pass Through Raw Material Price Increases
TAM is able to manage fluctuating raw material prices by passing along the majority of price changes to its customers through both CPT Contracts (50% of revenues) and through diligent management of pricing with customers. Moreover, the value of TAM's products as a percentage of customers' cost structures is small. The company stands to benefit from a low-fixed cost, vertically integrated global production model and relatively low maintenance capital expenditure requirements, which allow it to easily maintain high cash flow conversion rates in economic environments.
Proven Management, Employee Equity Ownership Aligned With Shareholder Value Creation
TAM's management team is among the deepest and most experienced in the chemical industry. On average, the tenure of its executive management team is 16 years with the company and 18 years in the chemical industry.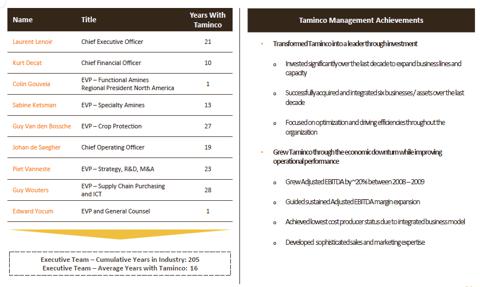 TAM's employee ownership pool is deep, with approximately 42 individual employees owning equity in the company. As of Dec. 31, 2012, employees owned over 10% of the shares in the company on a fully diluted basis before IPO.
Robust Earnings Growth to Support Multiple Expansion
Despite the run-up in stock prices post-IPO, the stock still looks attractive given its growth prospect. TAM is working on a strong platform whereby it could witness solid and consistent earnings growth over the next three years. The top line is expected to grow in the 6%-8% range. The company could witness a multiple re-rating in the coming years due to i) scope for improvement in operating leverage, leading to EPS growth at a CAGR of 30%+ between 2012 and 2015, and ii) TAM's strong free cash flow generating capability helping to deleverage, driving incremental EPS growth and valuation.
In terms of P/E valuation, TAM is currently trading at 33x FY 2013 earnings and 20x FY 2014 earnings. The current valuations are backed by robust growth in the foreseeable future. A PEG of 0.60 also does not look expensive considering the fact that the S&P 500 index is trading at a PEG of 1.4. Considering the above-mentioned factors, the stock looks attractive at current levels of $20.1.
Key Risks
Competition from emerging markets of Asia
Foreign exchange exposure
Private equity overhang
Conclusion
Taminco is a good long-term buy considering the growth prospects in store for the stock. TAM looks set on a strong platform whereby strong cash flows and deleveraging would lead to consistent earnings growth over the next three years.
Disclosure: I have no positions in any stocks mentioned, and no plans to initiate any positions within the next 72 hours. I wrote this article myself, and it expresses my own opinions. I am not receiving compensation for it (other than from Seeking Alpha). I have no business relationship with any company whose stock is mentioned in this article.