Something is seriously wrong with our system folks, because surely it isn't meant to work this way.
Tom Ward founded SandRidge Energy (NYSE:SD) in 2006. I present to you as exhibit A the stock price chart for SandRidge from inception until today: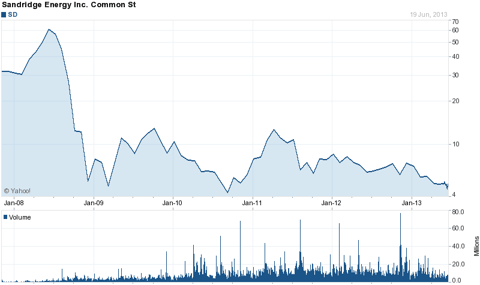 SandRidge started trading at $35 in 2007 and as of today trades for $5.08. That is a loss of 85% over a six-year period.
So much for the power of compound interest. If you had invested $10,000 with Ward and SandRidge in 2007 today you would have $1,428.
That is miserable by anyone's definition. It is sickening for anyone who has experienced that kind of loss of wealth.
Today SandRidge announced that Ward's time at SandRidge is done:
The Board's decision to replace Ward reflects its judgment that, despite Ward's many contributions to SandRidge, new leadership is in the best interests of the company and its shareholders at this time. "On behalf of the Board, I want to express our appreciation of Tom's leadership and vision, which led to the founding and growth of SandRidge," Serota said.
That might give long suffering shareholders some satisfaction if it weren't for what went along with the dismissal of Ward:
The termination of Ward's employment, which reflects the Board's decision that new leadership is desirable at this time, will accordingly be "without cause" under the terms of his employment agreement. He will receive the severance package provided for under the terms of his employment agreement, which consists of: the vesting of 6,331,475 shares of previously granted restricted stock; a lump sum cash payment of $53.5 million, comprised of three times the average of his last three annual bonuses, his accrued vacation, and the value of the restricted stock that Ward would have received over the next three years if his employment with the company had continued; and his current base salary to be paid for a period of 36 months.
In total that termination package will result in Ward receiving a ridiculous $90 million.
After an exhaustive effort to determine whether there is "cause" to fire Ward, the company determined that there wasn't. Therefore this "without cause" firing means the outrageous payday.
To which I have to say "what do you mean without cause." Shareholders who invested with Ward have lost 85% of their money. The cause for firing should be an abysmal performance and destruction of shareholder value.
I won't even get into all of the questionable dealings that SandRidge was investigating.
My point is that this $90 million payment for this kind of performance is not right, and I think everyone other than the person receiving the payment would agree with me.
Stick With Quality Management And Board of Directors
There is a lesson to be learned from this. That lesson is that when you are investing in a publicly traded company you had better make sure you have picked a quality management team.
And one you can trust.
That means a CEO who doesn't have his Board lined with his friends who approve outrageous compensation packages.
As an investor who is on the Board of Directors is just as important as the management of the company.
And as of this year, that is where Penn West Petroleum (NYSE:PWE) shines.
Penn West now has two all star Board members including the Chairman of the Board.
It was announced in early May that two legends of the Canadian oil industry have joined the Penn West Board of Directors.
Rick George, freshly retired as CEO and Chairman from Canadian Oil Sands giant Suncor (NYSE:SU) has been named Penn West's new Chairman of the Board. George was appointed CEO of Suncor in 1991 and created billions of dollars in value for shareholders.
In addition to George, Penn West added the former Chairman of another Canadian oil industry giant (Canadian Natural Resources) Allan Markin as co-vice Chairman. Markin was Chairman of Canadian Natural (NYSE:CNQ) for more than 20 years as that company also created billions of dollars of value for shareholders.
In addition to top notch Directors, I believe Penn West has top notch assets from which tremendous value can be created for shareholders.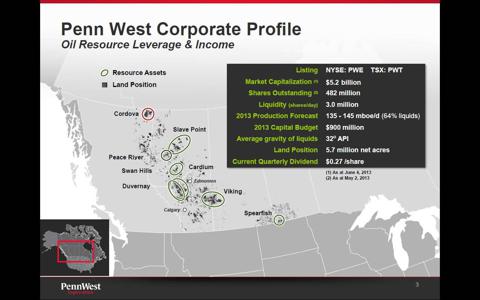 With an enterprise value of $8 billion and production of roughly 140,000 barrels of oil equivalent Penn West is trading at an attractive $57,000 per flowing barrel.
But what that flowing barrel figure doesn't factor in is Penn West's huge portfolio of undeveloped assets that should allow for steady and predictable growth in the years ahead.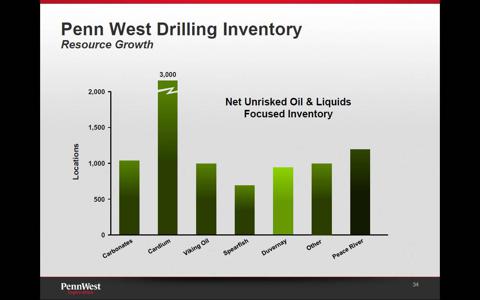 What investors might also see from Penn West is a sale of one of its assets, which could bring forward future value and create a significant catalyst in the short term.
For me, I'm happy to buy today at a reasonable valuation of current production and let a high quality Board of Directors maximize the latent value that exists in Penn West's asset portfolio.
Disclosure: I am long PWE. I wrote this article myself, and it expresses my own opinions. I am not receiving compensation for it (other than from Seeking Alpha). I have no business relationship with any company whose stock is mentioned in this article.