When I last posted on Thompson Creek (TC) on May 7, it was trading at $7.59. This pure play molybdenum miner is currently valued at $14.57, almost double. It has outperformed the SPX and its index XME. Is it time to ring the register?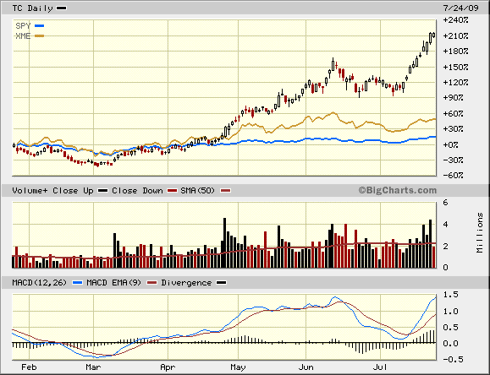 Click to enlarge
The six reasons to continue buying TC still hold true:
Moly prices go higher. Molybdenum prices have been moving higher because of strong Chinese buying. China has imported record iron ore month after month. Moly will be used to turn that iron into steel.
The company is cash rich with no debt.
The chart is great. The stock is making new highs with ever increasing volume.
The company is Canadian. The [FXC]] (Canadian currency) is on fire and will go higher. Canada is a mineral rich country. As gold, oil, nickel and, of course, moly go higher, so does the value of the Canadian dollar. TC trades higher.Click to enlarge
As the U.S. dollar goes lower, moly prices go higher. Minerals are priced in U.S. currency. U.S. dollars are under pressure. That trend continues. Moly prices benefit.
Look to see TC price (NYSE) eventually rise above TCM (Canadian exchange), as the Canadian dollar strengthens against the U.S. dollar. TC has outperformed TCM.TO. As the U.S. dollar weakens against the Loonie, TC will do better than the Canadian traded TCM.TO.
Now, there are several new reasons to buy TC.
Management lowered its costs. TC lowered its cash costs to mine Moly from $7.25 to $8.25 to $5.75 to $7.00. Moly prices have risen dramatically, TC mining costs have plummeted.
TC announced it is ramping up production because business looks better.
China is desperate to buy hard mining assets. It's been rebuffed in Australia. Might it look to Canada and bid on TC? Regardless, now that mining has turned the corner, we may see a spate of consolidation before stock prices go much higher. It would not be unreasonable to see a bid by a large miner such as VALE or XTA.