If you've been following this series of articles, then you might be surprised that I've made a purchase in my 401(k) so soon after my last purchase in May. No, I didn't receive a nice, juicy bonus or anything else that would have increased my pool of funds in my 401(k) cash position from payroll withholding. Instead, I decided that I had accumulated enough cash to bring all of my current positions up to approximately the same percentage allocation within the account -- despite paying a bit more in commissions on a percentage basis -- and that it was time to make a change in where I put future cash. More on that in a moment, but first, let's recap the three ETFs and one mutual fund that I currently hold in my 401(k) account:
As a refresher, what was happening to new money coming into my 401(k) account from payroll withholdings was that I had Fidelity put 25% directly into YAFFX, and the other 75% went into a cash account waiting for me to redistribute it to one or more of the three ETFs. Here's how things looked back at in the latter part of May when I last reported on this account:
Click to enlarge images.

And here's how things looked as I wrote this:

Everything has dropped down a bit in the last month, but then again it's only been a month since I last reported on my 401(k), and that's not much time to have passed to see anything significant. Also, no surprise the REM has dropped in value so much, given the hit that all mREITs have taken recently. So, why am I reporting now, just a month after May's report? Because I've decided to add a new ETF to my 401(k) portfolio.
Yes, I'm finally branching out and expanding the number of positions in my 401(k). I didn't think I'd do this until next February, when I (should) get a nice lump sum of payroll withholdings from my anticipated bonuses. But thanks to some of my readers I've found another ETF that I think is worthwhile to add to my stable, and which I hope will provide a good return and a nice dividend.
That ETF is the iShares Dow Jones Select Div Index Fund (NYSEARCA:DVY). Using the same format as my data above, here's a quick look at DVY:

When I first decided to make this change, the yield on DVY was 3.36%, but it has now dropped to 2.50%. I don't think that's entirely due to a big increase in the price of this ETF, so that's something I'll need to keep an eye on before I actually pull the trigger and add a chunk of DVY to my portfolio in a few months. However, the other numbers look solid, including the returns and the Marco Polo XTF Rating. So hopefully the yield situation will improve somewhat as time goes on. Of course, if the market drops like it usually does during the summer, the yields will (should) all go up a bit.
However, there's more for me to like about DVY than just its dividend. One of the things I liked about DVY, aside from its fundamental numbers (which looked good to me), is the portfolio composition.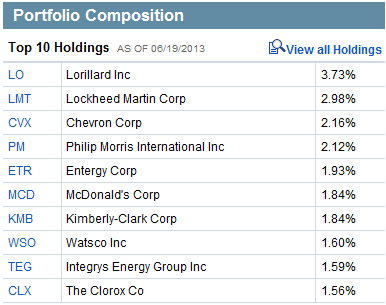 Source: Fidelity Investments, Inc.
I hold several of these companies in either my IRA or my wife's IRA, but in this case I don't mind doubling up on my holdings by adding DVY to my 401(k) as these are solid Dividend Champions, Challengers and Contenders (CCCs). Also, there are several other companies on the list above that I don't hold in either of my IRAs but would like to, so that will provide me with some additional diversification in my total retirement strategy.
So, I've instructed Fidelity to now only allocate 20% of each of my payroll withholdings that go into my 401(k) account toward YAFFX, and to put the other 80% in the cash position. Once I have enough cash accumulated to make the commission worthwhile (and assuming its fundamentals don't change radically), I will make an initial purchase of DVY. This will most likely be in early August, so when the time comes I'll be sure to let you know whether I went through with this plan or whether something has happened to make me change my mind.
What about you? What do you think of DVY as a choice for my fourth ETF? Is there some ETF that is made up of solid dividend payers and growers that you think would make a better choice? If so, please leave a comment below.
Disclosure: I am long HDV, REM, XLU. I wrote this article myself, and it expresses my own opinions. I am not receiving compensation for it (other than from Seeking Alpha). I have no business relationship with any company whose stock is mentioned in this article.
Disclaimer: I am not a professional investment advisor or financial analyst; I'm just a guy who likes to crunch numbers and can make an Excel spreadsheet do pretty much whatever I want it to do, and I'm doing my best to manage my own portfolio. This article is in no way an endorsement of any of the stocks discussed in it, and as always, you need to do your own research and due diligence before you decide to trade any securities or other products.