There have been a lot of skeptics regarding Apple (NASDAQ:AAPL), especially in 2013. In a year where we have seen exuberant bullish price action, the Silicon Valley tech giant has lagged far behind, down over 20% year-to-date. By now we all know about the fateful fall since September, where Apple traded as high as $705, but what I'm looking to do is detail why the company's next earnings report may just offer an opportunity for investors to get into the name one last time before advancing significantly higher over the next several years.
In its last earnings report, Apple CEO Tim Cook announced that the company would boost its share buyback program to $60 billion, from $10 billion. He also announced a 15% increased to Apple's dividend, bringing the quarterly payout to $3.05. I believe that these two things have put a floor in the stock, at least over the intermediate term.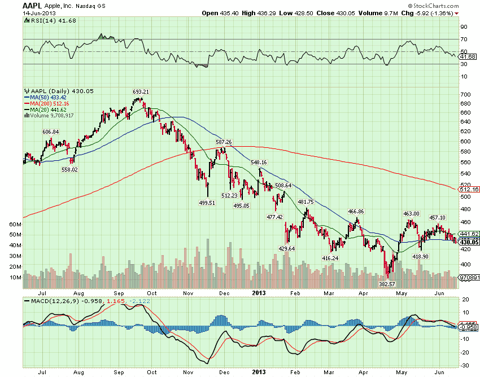 Apple made a 52-week low of $385.10 in the days leading up to its second quarter earnings report. In the after-hours, the stock instantly shot up to $425, before seemingly declining with the answer to each question from analysts on the conference call. It was like clockwork. Each question seemed to knock a few dollars off the stock price, (this was apparent if you were on the call), and finally Apple ended the nightly session in the red, albeit, modestly.
There was also another important detail on the conference call. No one expected any sort of product launch or specific details regarding one. This would be quite un-Apple like. True to form, Cook was very tight-lipped regarding any future plans. However, he did say that the company would begin unveiling new products in the fall of 2013 and all throughout 2014.
That may seem like an unimportant sentence: That Apple will reveal new products in the back half of 2013 and through 2014. But it should mean a lot, especially to investors who are either looking to add to their current position or who are looking to create a position.
It's compelling because new products will equal new money, assuming they are not a flop. Given Apple's past, I'm willing put my money on Jony Ive, Cook and the rest of the crew at Apple to give consumers what they want, even if the consumers don't know that they want it yet. While many think that Apple's days were over once we lost Steve Jobs, they tend to forget that Ive was arguably just as impactful as Jobs from a product standpoint. Jobs even went as far as to say Ive was "his soulmate at Apple," which was revealed in his biography. Ive would quit before Apple released a half-hearted product.
So why is it that I think the next earnings report could offer a more compelling entry for long-term investors? (I might quickly add that I believe shares are currently undervalued and offer a compelling entry at this very moment). But, Apple is missing a key component to its stock price really taking flight: A catalyst.
There's nothing to jumpstart shares. Sure the value, yield, and buyback program are some compelling reasons, but clearly not compelling enough. Apple needs a new product and the sooner the better -- unless you're not a shareholder yet. Come July when Apple reports its third quarter earnings, analysts will pour over earnings per share, revenue, and margins along with the number of units sold and their average selling price (ASP) for a number of its products. The problem that Apple now faces is that it has to rely solely on its numbers to win over shareholders. No more fancy new products and robust growth to give share prices a 10%-plus jolt after earnings.
Analysts will be scrutinizing every digit that the company releases and anything short of exceptional -- and possibly even in-line results -- will potentially send the stock lower once again. Margins have been under fire and analysts will want to know how many iPhones and iPads were sold and how much they were sold for. One thing is almost for certain though: There will be no new products announced from the company. That's not how Apple rolls.
With the company's Worldwide Developers Conference failing to yield anything unexpected, shareholders and fanboys will have to wait until the company's event in September to see what new products are being released. Many are expecting the "iPhone 5s" or something along similar lines, as well as a new version of the iPad.
There has been speculation that Apple is looking to add several new features to the iPhone, which could include different colors, a bigger screen and even a cheaper, $99 version of the phone. We've already caught a glimpse of the spectacular new Mac Pro, which is also expected sometime in the second half of 2013. Many might also be expecting some form of an "iWatch," but this might be something that's planned for 2014.
Pending a huge earnings beat in July, the September event will most likely be the next opportunity for a big catalyst to bring in big money. Without big money, the stock will continue to be stuck in the mud. The company needs something to get investors excited again and pile into the name. Right now, that doesn't exist in the market's mind.
While rooting for an earnings miss would seem too cynical, it's not too much to hope the stock falls, despite a good report. If we get Apple sub-$400 again, there are many compelling reasons to buy the stock. The 3% yield, huge buyback program, brand recognition and new product potential over the next 18 months are compelling enough reasons for me. Plus it offers an incredible risk-to-reward entry.
Despite efforts from Microsoft (NASDAQ:MSFT) and Nokia (NYSE:NOK), Apple still has a commanding control over the smartphone and tablet industry. And while Google's (NASDAQ:GOOG) Android system does have a dominant position in the market, Apple is continually finding ways to make its ecosystem harder and harder to break away from.
That ecosystem may just be getting deeper too. Think about it. Sure, many people already have combinations between the iPhone, iPad, iPod and Mac. Undoubtedly, some folks have all four, plus some other stuff I'm sure. But it's what Apple is doing behind the scenes, rather than right in front of our faces.
Sure, the tangible products are beautiful, nearly flawless. But Apple's quietly roping more and more consumers into their (currently) inescapable web. Apple is already making the push to become a much heavier presence in the automobile industry. Along with Siri, iRadio will just become another amazing, conversable feature to aid in hands-off safety and convenience.
Think about how many people use their cellphones as an alarm clock. Now think of how many people have iPhones. While obviously not everyone fits into those two categories, it wouldn't be far-fetched to say that many people would wake up to their iPhone, read in the morning on their iPad, and go to work listening to iRadio via iPhone automobile-integration.
On top of that, add the potential that at work they are using either an iPad or Mac (or both) for Apple's version of Google Drive with iWork, the cloud-based application which was recently revealed and is scheduled for launch later this year. Then drive home again using the iPhone integration in their cars. Now there's just one thing missing. Not an iMaid or iDinner. No, those don't seem right. But how about iTV?

While Siri and iRadio may be limited to those with "new" cars and not exactly demonstrate full capability to everybody, the iTV could. Although knowing Apple, something like this would cost a pretty penny for those who wanted one, especially early on. Right now, Apple TV consists of a set top box with about a dozen apps available. It feels as though Apple largely ignores this small entertainment system, likely in preparation and secrecy to launching something much bigger.
I don't think Apple is planning on just coming out with a television. Why would it? There would be no real motive for consumers (besides those with an Apple obsession) to go out and buy a new TV just because it had an Apple logo on it. But what if it was different than that of a TV or a smart-TV? This article always comes back to my mind and makes me think something great will come from all of this. Cook said:
"When I go into my living room and turn on the TV, I feel like I have gone backwards in time by 20 to 30 years. It's an area of intense interest. I can't say more than that."
Apple wants a TV that you can wake up to. One that can put your shows and necessities in order. I'm not just talking about categorizing your DVR either. I mean, apps that open, say when you wake up. Perhaps you want to know what the weather will be like. Who won the game last night. Where the futures are currently trading at pre-market. All of these things and many more.
The company took another step in (silently) trying boost its Apple TV catalog by inking deals with Time Warner's (NYSE:TWX) HBO and Disney's (NYSE:DIS) ESPN. I really think that a revamped version of how we do living room entertainment could be bigger than both the iPhone and the iPad. Based on how Apple is focusing on integrating all of its products together via iCloud, it's not irrational by any means to think that you could watch recorded episodes on your phone or tablet or use either of them as a remote alternative to iTV. If right now you can ask Siri when a certain team plays and at what time, imagine what it will be like if it comes to the living room?
Of course, we seem to only be thinking of Apple TV in the sense that it would have apps made for it. Essentially, a giant iPad. But there's more. For starters, the iTunes library could all but crush Coinstar's (NASDAQ:CSTR) Redbox, since renting a movie becomes as simple as asking Siri from your couch. Opening the system up to developers would also allow for the possibility of video games, among other things. Who knows, perhaps Apple would even ponder the idea of acquiring a content provider, such as Lionsgate (LGF) or Time Warner.
Ultimately what's happening is that Apple is finding its way into its consumers' lives. Not just when they talk on the phone or listen to music, but into every part it can. How they read books, how they get directions, and where and what they watch on TV. The ecosystem is only growing at this point, albeit, quietly.
However, the product cycle has admittedly been a little stale for Apple. The company has coasted off the success of the iPhone and iPad and have only simply provided product refreshes for quite some time. New products and services are in the pipeline as discussed above, but the question remains when we will see them. In some form or another, we can expect them in a few months and for the next 15 months after that.
Until then, Apple can only rely on what they have, which isn't a lot. Well, it would be for almost any other company, but not Apple. Without momentum and only relying on the numbers that everyone will devour in seconds upon release and that are already being viewed pessimistically (just as they have the past nine months), we may see some selling before we get a massive upside run over the next couple of years.
Should shares sell-off on Apple's July quarter, I think there will be plenty of compelling reasons to step in and buy shares of Apple ahead of a wave of product launches that will span nearly 18 months. The window is closing for long-term players on the sidelines.
Disclosure: I am long AAPL, DIS. I wrote this article myself, and it expresses my own opinions. I am not receiving compensation for it (other than from Seeking Alpha). I have no business relationship with any company whose stock is mentioned in this article.