This will be the first article in my new weekly series highlighting a stock that is undervalued with the potential to move higher in the long-term. The purpose of this series is to highlight stocks that are undervalued, profitable, underperformed the market, and have a favorable technical outlook. The stock that I will be covering this week is Himax Technologies (NASDAQ:HIMX), which has seen its stock drop nearly 21% just this week alone. The reason for the extreme drop was due to the largest shareholder Innolux, selling a large amount of shares at $5.25/share, which is 2.60% below current levels. When the secondary offering was announced on June 10th after the close, the share price was $6.87, and has since fallen to $5.39 at the close today, and because Himax is undervalued, the secondary offering could possibly be a good opportunity for an entry point.
Value
To value Himax, I will be using the DCF calculator from smartmoney.com, with data for earnings and growth coming from Zacks.com, benchmark data from longrundata.com, and CPI data from the BLS. The DCF table below shows that shares of Himax are undervalued by 107.24%, which represents a potentially significant opportunity.
EPS [ttm]: $0.31
Long-term Growth Rate: 25%
Earnings grow for next: 5 years
Level off: to 1% after
Benchmark return: 10 yr annualized SPY return of 7.23%+1.1% inflation= 8.33% benchmark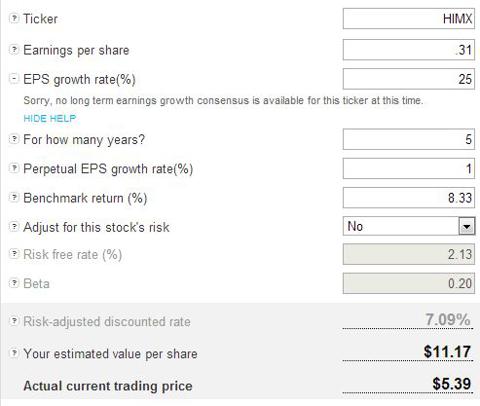 Click to enlarge
Technical Outlook
The chart below shows that shares of Himax are heading towards support at $5/share. From a technical perspective, the $5 level is extremely important, because Himax tested the $5 level in early March and failed to break through, then in late March shares broke through $5 on above average volume and have been above ever since. At the end of April and beginning of May, shares tested the $5 level twice and closed above it both times, and continued higher. Now once again shares look poised to test the $5, if shares can hold the $5 level of support, Himax should be due for a nice rebound off that level, and return to previous highs made earlier this year.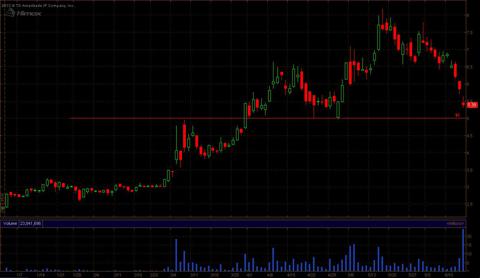 Click to enlarge
Closing thought
Given the recent steep drop in price, and strong technical support, this could be a good opportunity to pick up shares for long-term capital appreciation. In addition, Himax pays a yearly dividend with a current yield of 1.08%, and the dividend is paid out usually towards the end of July, so that is an added bonus to the undervaluation, and technical outlook of Himax.
Disclosure: I have no positions in any stocks mentioned, and no plans to initiate any positions within the next 72 hours. I wrote this article myself, and it expresses my own opinions. I am not receiving compensation for it (other than from Seeking Alpha). I have no business relationship with any company whose stock is mentioned in this article.