Unlike Monday's Empire Manufacturing report, which was strong on the surface but weak on the inside, today's release of the Philly Fed Manufacturing report was both solid on the surface and internally. As shown in the table below, just two of the index's nine subcomponents declined in June, while components like New Orders, Shipments, Prices Paid, Prices Received, and Average Workweek saw double-digit increases.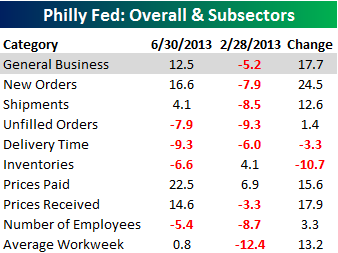 The chart below shows the historical levels of the Philly Fed's General Business Index, and below that we show the historical levels for each of the nine subcomponents. In each chart, the gray shading represents recessions. As shown for the headline Current Conditions Index, as well as New Orders and Prices Received, levels in June were the highest seen in well over a year.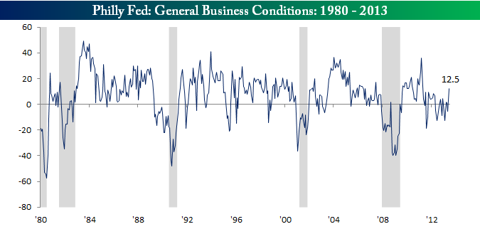 Click to enlarge
Click to enlarge images.