The Federal Reserve seems to have shifted their publicity machinery into high gear this week, most likely taking the services of their new lobbyist for a test drive.
The obvious root cause of this publicity and self-proclaimed transparency campaign is the "audit the Fed" movement in Congress. They are in a public relations battle to be shown as the clowns wearing the white hat.
I have long been a defender of the Fed. The Fed remains the greatest central bank in the world. Most every country in the world would trade theirs for one lead by Chairman Bernanke. It was their perceived independence from the political process which made them great, but it is their independence from accountability – along with questionable moral behavior - which caused my change in heart.
This past week, Fed Chairman Bernanke
appeared
before the House Finance Committee this week and offered the following suggestions for regulatory reform:
An approach which insures the stability of the financial system as a whole, the soundness of individual institutions, and identifies emerging systemic risks;
higher capital and liquidity standards for financial firms;
more-stringent standards for large, complex, and financially interconnected firms;
consolidated oversight of the too-big-to-fail institutions;
he wants special bankruptcy laws for banks with preconceived mechanisms for resolution of the crisis;
enhanced protections for consumers and investors in their financial dealings;
measures to ensure that critical payment, clearing, and settlement arrangements are resilient to financial shocks, and that practices related to the trading and clearing of derivatives and other financial instruments do not pose risks to the financial system as a whole; and
Improved coordination across countries in the development of regulations and in the supervision of internationally active firms.
The Fed wants to be shown to be on the side of regulation to prevent reoccurrence of the elements associated with the Great Recession. After all, they really are the watchdogs of our currency and banking system. The Fed is trying to deflect any cries that they should be held accountable for the financial disaster which unfolded in 2009.
What better way to do that then appear to favor reform. It does not faze them that they failed and became the economic cheerleaders on the road to hell.
Many point to Congress being culpable in this crisis – and indeed they are the biggest villains as they carry the constitutional responsibility in most of the areas of the economy which failed.
But the fact remains that the Federal Reserve did not anticipate or warn congress of the impending financial apocalypse – and as late as mid-2007 were dismissing a housing crisis (which was already underway for almost one year) while predicting moderate economic growth in 2008.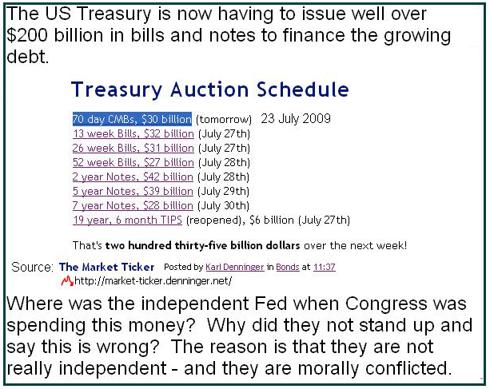 Bernanke again repeated his opposition to be audited by congress using slightly different words than before:
The Congress, however, purposefully--and for good reason--excluded from the scope of potential GAO reviews some highly sensitive areas, notably monetary policy deliberations and operations, including open market and discount window operations. In doing so, the Congress carefully balanced the need for public accountability with the strong public policy benefits that flow from maintaining an appropriate degree of independence for the central bank in the making and execution of monetary policy.
The bottom line is the Fed wants to be both independent and non-accountable.
The Fed continued their shuck-and-awe misdirection with their suggestions to change disclosures consumers get with mortgages.
The Fed is insinuating that the lending systemic problems are occurring because the consumer does not understand what they are getting into when they buy a home. Federal Reserve Governor Elizabeth A. Duke was quoted as saying:
Our goal is to ensure that consumers receive the information they need, whether they are applying for a fixed-rate mortgage with level payments for 30 years, or an adjustable-rate mortgage with low initial payments that can increase sharply. With this in mind, the disclosures would be revised to highlight potentially risky features such as adjustable rates, prepayment penalties, and negative amortization.
When I was in the corporate world, moral behavior or intent was actually a topic in our decision making process in management meetings and the board room.
In hindsight, I now realize moral behavior was emphasized over legal behavior.
In fact, you can realize that following a moral compass seldom puts you at odds with laws – except where laws are immoral.
A portion of our politicians and business leaders believe that it is only important to be legally correct. The outrageous profits of the banking sector through smoke and mirrors, a black trading box which has not raised a political outcry, and financial industry tentacles reaching throughout the government regulators - all this raises question whether anyone gives a shit about morality or intent. Why is the Fed so silent on this?
Is law now our only moral compass? Without a fair and moral system, the Fed is leading us on the financial road to hell.
Additional Economic Data from This Past Week
The University of Maryland final
July 2009
consumer sentiment survey has returned to reality.
Looking at other sentiment surveys, this survey has been too high for the last two months. If you believed that consumer sentiment was an economic driver, you can see the dangers in reading too much into even a two month increase. This danger will continue at least for the remainder of this year.

For those who do not like conspiracy theory, skip on to the next section.
Many have been reading about the rumors of the USA embassies stocking up on local currency, and an eminent bank holiday just around the corner. I have heard crazier tales, but the way this one is being spun would create uncontrolled global turmoil and unpredictable results. The stated purpose here is to devalue the dollar. Most of the connecting of the dots run through the embassies stocking up with a years worth of non-US dollar currencies purportedly by using dollars to buy a years worth of local currency.

I would have spun a different tale. What happens if the dollar bill has been compromised? What happens if there is a plot to release helicopter loads full of counterfeit dollars – and there is no way to identify the fakes? You simply make the dollar bill worthless. Dollars can only exist electronically. Paying for things can only be by debit or credit card. No bank holiday, only evaporation of dollar bills.

How could we buy illegal drugs, or have garage sales? The government would have complete control on the dollar as it would leave an electronic footprint when it is used. The implications are mind blowing.

Remember, I started this rumor – and it has no basis in fact. I hereby copyright this for all you movie producers. It simply explains a better reason why embassies could be stocking up foreign currency. In fact, it could just be one of those contingency plans you put on the shelf in case it is needed.
The Chicago Fed's national economic activity index remained in recessionary territory for
June 2009
– although the index was less bad. I note that out of 85 indicators which comprise this index, 15 are in economic expansion territory while 70 are still contracting. This index uses both coincident and lagging indicators which are available as of 17 July 2009. (click on table to enlarge)

I love data because depending on how you slice it will give you a different taste. We hear how bad the housing situation is but leave it to the US Census to give us a whole new perspective on the housing market in their second quarter 2009 report on vacancies and home ownership.
According to their analysis, home ownership is down almost immeasurably YoY while the number of rental units have increased by almost 3% YoY.

New mortgage applications remained relatively unchanged. The four week moving average of
mortgage loan
application volume (which includes refinancing) decreased 1% WoW, and decreased 7% compared with the same week one year earlier.
The refinance share of mortgage activity increased slightly
to 55% of applications.
The average interest rate for 30-year fixed-rate mortgage decreased 26 basis points to 5.31%.
The 4 week moving average of advance initial unemployment claims decreased to 566,000. This is the first week (in the last three weeks) that I believe the data can be analyzed, and the news is relatively good as the rate of initial claims is trending down at a faster rate – and is now definitely under 600,000. Before you break out the champagne, realize that there is no evidence yet that rate of new job creation is increasing – and there is a huge backlog of unemployed.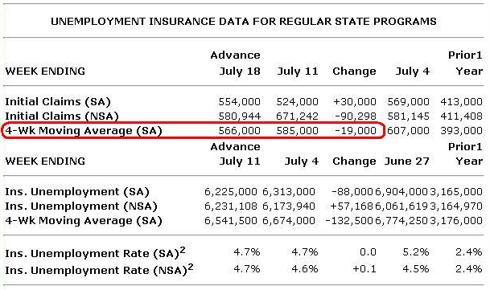 Economic Forecasts Published This Past Week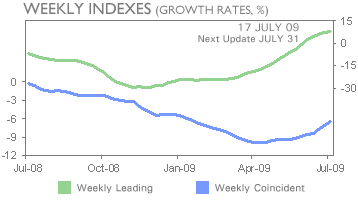 The Economic Cycle Research Institute (ECRI) released their Weekly Leading Index which is at the highest level since May 2004.
Lakshman Achuthan, managing director at ECRI, provided the following statement:
With WLI growth climbing to a new five-year high, it is reaffirming that the end of recession is at hand and that the U.S. economy is poised for recovery in short order.

The weekly index rose due to higher stock and commodity prices
The Conference Board's
June 2009
Leading Index (LEI) increased for the third month. Unlike ECRI's proprietary (and more timely) leading index (LWI), The Conference Board not only exposes the makeup of the index, but the contributions to the index. This month's increase can be solely attributed to two factors – an increase in new home construction permits and the spread between 10 year Treasuries and the Fed rate.
In my last article I highlighted the significance of the increase in permits but cautioned that we need to see that these permits actually becoming housing starts.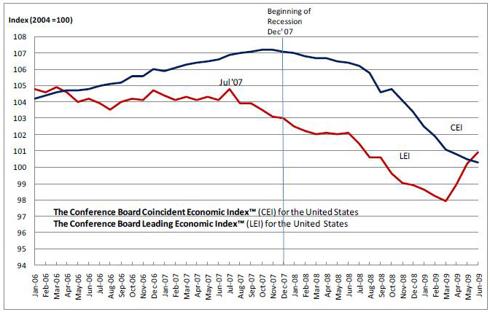 You will notice that The Conference Board's coincident indicator (
CEI
) is still falling in June confirming that we remain in the grip of the Great Recession as of the end of June.
I will through out one more leading indicator for you to ponder – The Bank of Tokyo-Mitsubishi UFJ Recession Risk Monitor (BTMU-RRM).
This indicator uses the Conference Boards LEI as a target series. According to their latest release they say:
Very convenient, however, is the fact that the BTMU-RRM can also be used to determine when the U.S. has entered the recovery phase of the business cycle. This is because it is a regime-switching model that allows us to calculate the probability of when the economy has entered a different stage of the business cycle. Within the last 40 years regime-switching models introduced to the field of economics have been used to study the behavior of economic time series over the business cycle. The general idea is that certain economic variables demonstrate significantly different behavior at different points of the business cycle, thereby making it possible to convert that behavior into a probability of a turning point (or switch in regime).

When used as an indicator of recovery, the BTMU-RRM provides the signal once the indicator has breached a reading of 50. In June, the indicator jumped from 28.7 to 67.0 likely signaling that the U.S. economy entered recovery. We say "likely" because the target series, the Conference Board's Index of Leading Economic Indicators is subject to six months of back revisions with each subsequent data release.
More and more forward looking indicators are saying the recession is ending. Most of my analysis is on coincident or lagging indicators which are not yet confirming the recession is over. Could it be the leading indicators are wrong?
I do not think the leading indicators are wrong, but I am a more "show me" type person. I want to see some of the coincident indicators bounce for a period of time before I will be a true believer.
And truthfully, I am worried about economic trouble down the road.
This was a slow week economically with only four real economic indicators released. This coming week will have our normal amount of data to crunch.