Hi-Crush Partners LP (NYSE:HCLP) is a master limited partnership (MLP) that operates as a producer of monocrystalline sand. Monocrystalline sand is a mineral that is used as a proppant to enhance the recovery rates of hydrocarbons from oil and natural gas wells. The company also owns interests in sand reserves and related processing and transportation facilities in Wyeville, Wis., including a 561-acre facility with integrated rail infrastructure. The company offers raw frac sand used in hydraulic fracturing operations in oil and natural gas wells. It serves pressure-pumping service providers. The company was founded in 2010 and is based in Houston, Texas.
The company went public on Aug. 15, 2012, with $300 million in value and an average daily trading volume of 175,000 units. Currently, HCLP has a market capital of approximately $600.40 million at a three-month average trading volume of 207,980 units. The company's stock price is performing well after just 10 months in the market. HCLP's performance for the past month, quarter, and half-year are 11.67%, 19.84%, and 49.62%, respectively. Despite the strong performance over the past half-year, many investors are still unaware of HCLP's immense potential.
Click to enlarge images.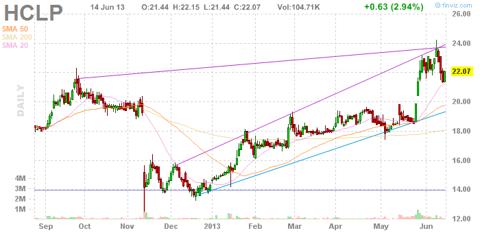 Click to enlarge
Why Watch HCLP?
1. The shale industry is the next big thing in oil production.
According to the U.S. Department of Energy, horizontal drilling and hydraulic fracturing -- better known as "fracking" -- were pioneered in U.S. shale rock formations about 10 years ago. Only the U.S. and Canada were producing oil and natural gas from shale in commercial quantities, even if Russia has the largest shale reserves in the world. Moreover, inside the U.S., shale now constitutes 30% of oil and 40% of natural gas production. Also, the U.S. Department of Energy found out in its recent assessment that the world has enough shale resources to satisfy more than a decade of global oil consumption. The report estimated technically recoverable shale oil resources at 345 billion barrels, or about 10% of global crude oil supplies.
2. HCLP is a key player in shale oil production.
HCLP's reserves consist of Northern White sand, predominately found in Wisconsin and limited portions of the upper Midwest region of the United States, and is highly valued as a preferred proppant used in fracking due to its favorable physical characteristics. HCLP produces frac sand sizes for use in all major U.S. shale basins and is one of the few Northern White sand producers with onsite rail capacity for unit trains.
Significantly, Hi-Crush Partners LP recently completed the acquisition of D & I Silica, LLC which is the largest independent storage and distributor of frac sand to oil and gas companies in Marcellus and Utica shales.
3. HCLP is tax-exempt.
There is something special about MLPs and it is changing the way people invest across the country. MLPs are publicly traded limited partnerships that enjoy extraordinary tax exemptions showered to them by the Congress when they were created in the 1980s.
Due to this tax exemption, MLPs are able to shield their profits and distribute huge dividends to their investors. But there's more -- the income received from an MLP such as Hi-Crush Partners is treated as a "return of capital" until you've gotten back the full amount of your original investment. So, not only are you enjoying huge percentages of returns, you are also not paying a tax on it. However, only particular companies that deal with natural resources, commodities, and real estate are qualified for an MLP status.
High Yield at a Low Cost
HCLP has an above-average dividend yield of 8.61% and an annualized dividend of 1.90. The company's dividend yield is very high compared to the industry's 2.63% and the sector's 5.01%. According to GuruFocus, HCLP's dividend yield ranked higher than 95% of the companies in the industrial metals and minerals industry. The few small-cap companies within the industry that beat HCLP's yield are Oxford Resource Partners, LP (OXF), Great Northern Iron Ore Properties (NYSE:GNI), and Natural Resource Partners, LP (NYSE:NRP).
OXF, GNI, and NRP have 31.37%, 12.64%, and 9.80% dividend yields, respectively. Out of the three, two of them are currently trading at a price higher than HCLP. GNI and NRP are trading at about $71.58 and $22.66, respectively, while OXF has a price of $2.52 -- though this lower price does not make it a better buy than HCLP. A deeper look into OXF's fundamentals reveals negative changes in earnings, a precarious balance sheet, and a consistent downward trend of the stock price.
Meanwhile, HCLP is hovering at about $22.07 per share, which is close to its 52-week high of $22.98 but still above its simple moving average (SMA). HCLP is at 3.00%, 10.71%, and 20.90% with respect to its 20-, 50-, and 200-day SMAs, respectively. This gives HCLP's price more room to increase and trend upward without being overbought or oversold.
On May 14, HCLP released its Q1 2013 results. It reported net income of $10.8 million or $0.40 per limited partner unit. The revenues for the quarter were $19.6 million for a total of 312,730 tons of frac sand sold. The average selling price of the company's frac sand is $62.76 per ton. The EBITDA is $11.4 million and the company accumulated $14.5 million in distributable cash flow. HCLP previously announced its Q1 2013 distribution on April 17 at $0.475 per unit. This was the third distribution of the partnership to be paid on May 14 before the market opens.
Acquisition of D & I Silica, LLC
On June 10, 2013, HCLP completed the acquisition of D & I Silica, LLC. D & I is the largest independent storage and distributor of frac sand to oil and gas companies in the Marcellus and Utica shales. D & I will expand HCLP's logistics through its extensive network of terminals that are strategically located in the Midwest, Pennsylvania, Ohio, and New York. HCLP acquired D & I for $125 million -- $95 million in cash consideration and the rest is composed of 1,578,947 common units representing limited partner interest in HCLP.
The acquisition of D & I is pivotal to HCLP's future growth. This acquisition will improve long-term revenue outlook, increase market share and margin potential. Moreover, HCLP's low cost structure, good margins, solid balance sheet and efficient operations will work together to push the company to become an integrated and accomplished player in the industry.
Bouncing Balance Sheet
Not many investors know that as of year-end 2012, HCLP has a long debt-to-equity ratio of zero. However, due to its recent acquisition of D & I, the company recorded a long-term debt of $38.25 million on its balance sheet as of March 31, 2013, which is covered by $48.06 of long-term assets. During the most recent quarter, the company has a robust current ratio and quick ratio of 5.87 and 5.50, respectively. These are extraordinary financial indicators compared to its industry, whose current ratio is 1.91 and quick ratio is 1.54.
Enviable Returns and Earnings
HCLP is currently sustaining a good stretch of increasing sales, revenue, and earnings. The company is above the industry average in terms of the sales and revenue for the period. Aside from effective management, the economies of scale brought about by the sales and cost advantages of the D & I acquisition will help support the company's long-term revenue and earnings growth. HCLP's sales increased by 27.90% quarter over quarter, and increased by 271.61% compared to sales in the past year. Concurrently, EPS grew by 134.53% for the year. The company's margins are superb, which bodes well as high gross, operating, and net profit margins are important measures of a company's efficiency.

Click to enlarge
In Summary
HCLP is too profitable to ignore. It's been on the market for less than a year and it is already poised to be one of the most important MLPs to watch out for. Investor and market sentiments on the stock will continue to stay positive as long as the company maintains its solid financial position and uptrend in earnings. So far, close competitors of HCLP are lagging behind the company's strong performance. The dividends might be exciting, but unlike some companies the earnings of HCLP are perfectly matched with its dividends.
The downside risk of investing in HCLP is immaterial compared to the demand of their product. HCLP will remain profitable as long as oil and gas demands are present, which are almost constant. Also, keep in mind that HCLP is a tax-exempt MLP. Overall, HCLP's above-average dividend yield, strong strategic acquisitions, and promising fundamentals make HCLP one dividend stock that income investors should consider picking up while its high yield is still being offered at a discount.
Disclosure: I have no positions in any stocks mentioned, but may initiate a long position in HCLP over the next 72 hours.
Business relationship disclosure: Black Coral Research, Inc. is a team of writers who provide unique perspective to help inspire investors. This article was written Juna Yanoyan, one of our Senior Analysts. We did not receive compensation for this article (other than from Seeking Alpha), and we have no business relationship with any company whose stock is mentioned in this article. Black Coral Research, Inc. is not a registered investment advisor or broker/dealer. Readers are advised that the material contained herein should be used solely for informational purposes. Investing involves risk, including the loss of principal. Readers are solely responsible for their own investment decisions.