The recovery in the U.S. housing market is showing a pattern far different from what followed previous downturns, experts say, suggesting that the dramatic price gains of recent months may not be sustainable... market fundamentals may not be as healthy as the headline price increase numbers would suggest. Money News (Thompson/Reuters, May 28, 2013)
The bear market in housing started with the 2005 peak/collapse in housing stocks in October 2005. This was followed about 18 months later by unprecedented declines in home construction and sales and a massive dislocation in the mortgage market. Fueled by unprecedented Government and Federal Reserve market intervention, the current housing market is experiencing nothing more than a small bounce, which will soon be followed by another painful decline. While the market may still bounce around a bit through the summer, based on the evidence and data I've been analyzing and collecting over the past three months, I believe the housing market could resume the bear market that started in 2007.
Because of the comprehensive scope of my analysis and the amount of data and information I have compiled to support my view, I will present my analysis in two articles. Part 1 will focus on the housing market at the "macro" level and Part 2 will outline and elaborate on more specific industry variables, which drive the supply and demand dynamics.
Federal Reserve/Government Intervention
Since 9/24/2008, The Fed has injected $1.2 trillion into the housing market by directly purchasing mortgages: Fed MBS Purchases. Over $440 billion of this, or more than 36%, has occurred in the last 9 1/2 months. The median home price is roughly $200,000 if you combine the median home price for new homes and existing homes (I've skewed the number to reflect a higher proportion of existing homes sales). Using the median home price, the $1.2 trillion the Fed has injected into the mortgage finance system is enough to finance 6 million homes. Six million homes would be 26% of total new and existing home sales from 2008 - 2012.
Clearly, not all of the Fed stimulus was used to directly purchase homes by buyers. But the massive stimulus played a predominant role in keeping mortgage rates artificially low, helping banks retain up to 90% of their foreclosed inventory (Bank REO retained) and in delaying the foreclosure process, which now takes up to four years in some States: Foreclosure timelines now measured in years. In this manner, massive Fed intervention has helped restrict inventory and it has artificially stimulated sales through Fed-engineered low mortgage rates. At some point the Fed will have to withdraw its mortgage purchases, or it will become the primary mortgage financier to the market. Fed withdrawal will drive up mortgage rates, significantly reducing the demand for homes.
Similarly, taxpayer-subsidized government intervention in the housing market has helped keep people with underwater mortgages and delinquent/defaulted mortgages from entering foreclosure through its HARP and HAMP programs. Since 2009, the government has spent $7.3 billion on HAMP/HARP programs, enabling more than 2.3 million distressed HARP and 1.28 million HAMP refinancings, thereby keeping these homes from foreclosure and off the market. 1.3 million of these refis have occurred since a late 2011 modification to the HARP program enabled the refinancing of homes with loan to values (LTVs) in excess of 105%. In fact, more than 45% of the refis had a greater than 105% LTV, and 22% have been on homes with LTVs greater than 125%: HARP. Eligible recipients under these programs also can qualify for taxpayer-subsidized mortgage rates as low as 2%.
The point here is that, with well over 1 trillion dollars of Federal Reserve and government stimulus injected into the housing market, a bounce in the market was inevitable. In fact, as I'll discuss in Part 2, the Government has also subsidized the purchases being made by investment funds. That said, failure in the government refinance programs is already being experienced. Of the 1.28 million HAMP refinancings, 25% have already re-defaulted; 46% of the 2009 vintage HAMP refis, when the program started, have re-defaulted. With HAMP and HARP combined, a recent study by the credit agency TransUnion showed that 50% of all loan modification refinancings re-default. At some point the government, at the very least out of political expediency, will have to withdraw or drastically reduce these programs because they are not working. This will remove a significant portion of government support to the market. Not only are the homeowners involved not credit-worthy candidates to buy another home, but most of these homes will end up in the FNM/FRE/FHA foreclosure inventory, releasing a large amount of supply on to the market.
The Low Inventory Illusion
Speaking of housing inventory, I want to refute the commonly promoted idea that the housing inventory is at a historically low level. According to the National Association of Realtors (NAR) in a report released three weeks ago, the inventory of homes for sale is 2.16 million. But let's examine some data that will show the housing inventory is potentially far larger than the NAR metric. According to the Census Bureau, there are 18.5 million vacant homes in the U.S. This data is current through the first quarter of 2013: Census Bureau Vacancies. Of the 18.5 million, 4.5 million are seasonal/vacation homes and 14 million are year-round vacant. You can see how the Census Bureau breaks down the data here: Housing Data. It's estimated that 7.6 million of the vacant homes are "held off the market." While I'm sure not all of these homes will end up being listed for sale, if at least 50% of them eventually list, it would nearly triple the NAR's inventory number. At the very least, it diminishes the idea that the housing market is lacking "inventory."
In addition to the millions of vacant homes is the "shadow inventory" of homes. Shadow inventory is defined as: homes in foreclosure plus homes sitting on bank and GSE balance sheets plus homes that owners are delaying putting on the market in the hope that prices improve plus homes in a negative equity position. The latter are commonly referred to as "zombies." As cited in recent commentary by housing market consultant Mark Hanson, according to Zillow - the real estate database company - 44% of all homes with mortgages are underwater or have "effective" negative equity. This metric includes all underwater mortgages plus all homeowners who don't have enough equity in their home to cover all the costs of selling, repurchasing and moving.
Not only do these zombie homes represent potential foreclosure inventory, but they also prevent a large segment of the population from becoming buyers. In other words, of the 54 million homeowners with mortgages, which represent the main "demand cohort" of home buyers, over 22 million are effectively removed from the demand side of the housing market. The Zillow report covers data from 870 metro areas, 2,500 counties and 24,000 zip codes.
Other "Macro" Factors
Before I wrap this up, I want to present a few other macro-level indicators that tell me the top is in for this housing dead-cat bounce. First, take a look at this chart from Calculated Risk that shows the Mortgage Bankers Association's (MBA) index of mortgage purchase applications going back to 1990: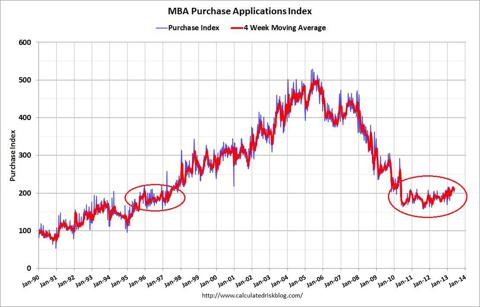 Looked at over a couple of decades, you can see that current bounce in the market is not being driven by buyers who use mortgages to purchase their homes, which has been the primary demand segment historically and fueled the big housing bubble. In fact, per the chart, the actual number of mortgage purchase applications is at the same level as it was in mid-1990s. On this basis, it would be hard to argue that the current level of sales and price appreciation reflects true "organic" market growth. I would thus assert that the current level of market activity is not sustainable.
In further confirmation that the demand for mortgages to purchase homes has been stagnant, data from the MBA for the month of May showed an 11.5% drop in purchase applications. This trend continued in June as two of the three weeks already reported this month showed a decline in the index, including June 19's 3% drop from last week. Mark Hanson released a note to his subscribers in early June in which he reported that three large private mortgage bankers he watches for trends in mortgage finance all had mass layoffs at the end of May of between 25-50% of their entire operational staff. This action clearly reflects a bearish market outlook for at least three large mortgage finance companies.
Finally, Weyerhaeuser (NYSE:WY) recently announced that it is looking at unloading its home-building division, which includes one of the country's largest homebuilders: Weyerhaeuser divestiture. Undoubtedly, if WY believed that this division still had revenue and cash flow growth potential, it would not be selling it into a rising housing market like this. It's clear to me that WY is using the current market as an opportunity to try to get a full price for the asset before the market begins to decline.
In summary, I have presented a macro view of the housing market for the purpose of showing that the current bounce in the market has been primarily driven by the more than $1 trillion in direct and indirect monetary and taxpayer-financed stimulus thrown at the housing market by the Federal Reserve and the government. Furthermore, the idea that the housing market inventory is low - as promoted by the National Association of Realtors to help stimulate purchase activity - is deceptive when considering factors that go beyond using only property listings, which is limited in scope. Not only do the vacant homes tracked by the Census Bureau and the number of zombie homeowners represent a huge source of potential market inventory, but - given that 44% of the buyers who use mortgages to purchase their homes are effectively underwater as defined above - a significant portion of potential home buyers is "dead" to the demand side of the housing market. Finally, the mortgage purchase activity during this period of rising market activity has been largely stagnant and has started to precipitously decline.
On this basis, I believe that the housing market is set-up to resume an epochal bear market that started in 2007 and will last until all of the market excesses, which drove the housing bubble have been completely eliminated. To be sure, the next leg down will not be as severe as was the first leg from 2007 - mid-2011, but it will add even more to the damage caused by the first leg down. If you agree with my view, the best way to short the housing market in general is to either buy puts on XHB (S&P Homebuilders) or ITB (Dow Jones US Construction). You can also buy SRS, which is the ProShares Ultra Short ETF. Finally, I'm currently short DR Horton (NYSE:DHI), the big homebuilder, which I discussed in this earlier report: DR Horton is a short. In Part II of my analysis, I'll discuss details on the big funds that have been buying portfolios of rental/investment homes, home sales and construction trends and an alarming trend in default rates.
Disclosure: I am short DHI. I wrote this article myself, and it expresses my own opinions. I am not receiving compensation for it (other than from Seeking Alpha). I have no business relationship with any company whose stock is mentioned in this article.