After covering Ford (NYSE:F) Europe, Ford South America, Ford Asia, Africa and Pacific, now it's time to cover Ford Credit. Many people don't realize the value and importance of Ford Credit for the company. In fact, Ford Credit contributes to Ford's success in more one way.
Since I always use Ford as an example in my Nokia (NYSE:NOK) articles, I will mention Nokia as an example in this Ford article. When most investors look at Nokia, they see a company that builds and sells phones. Many people don't realize that Nokia also has Nokia Siemens Networks and a mapping business called HERE. Last year, I wrote an article to talk about how a lot of people seem to ignore business units of Nokia apart from the handset business. Surprisingly, in 2012, the main contributor of Nokia's profits was Nokia Siemens Networks. Similarly, when people look at Ford, they only see the side of the business that builds and sells vehicles and many people don't realize Ford has a business unit that works similar to a bank.
Before Alan Mulally became the CEO, there were two separate ideas on how to utilize Ford Credit. Some executives believed that Ford Credit should work like a separate business unit and act like a bank. These executives believed that Ford Credit should not worry too much about car sales and that it should focus on being profitable as a standalone. On the other hand, there were those who believed that Ford Credit should act as a support unit for car sales. These executives believed that the only function of Ford Credit was to help sell more cars.
During the great recession, Ford Credit became a very valuable asset for the company. While GM (NYSE:GM) and Chrysler lost their credit units, Ford was able to keep its credit unit successfully. The business unit played a strong role in the company's turnaround as it helped car buyers find credit at a time credit was extremely difficult to obtain. Also, having a credit unit can significantly increase the revenue generated from each car. For example, if Ford sells a Ford Escape for $20,000, and offers a car loan with an interest rate of 3% over 60 months, by the end of the loan term, the company will have generated $21.540 in revenues from the car, which will effectively improve the margins.
Today, Ford Credit has three functions: 1) to help dealers fill their lots with vehicles to sell, 2) to help buyers or leasers to obtain car loans, 3) to make profit to contribute to the company's earnings. Keep in mind that these three functions are highly interrelated. For example, if dealers can't put cars on their lots, they can't sell cars. If buyers can't obtain car loans, Ford can't sell cars. Each function of Ford credit has to perform in accordance in order for the company to maximize its benefits from Ford Credit.
There are three general sources where Ford Credit generates revenues. These are: 1) Payments made under retail installment sale and lease contracts that Ford originates and purchases; 2) Interest supplements and other support payments from Ford and affiliated companies on special-rate financing programs; and 3) Payments made under wholesale and other dealer loan financing programs. Ford Credit's consumer segment deals with car buyers and sellers and non-consumer segment mostly deals with dealers who trade Ford vehicles. The business unit has two geographical segments: 1) North America (U.S. and Canada) and 2) International (everywhere else).
In 2012, Ford Credit generated an income of $1.7 billion compared with $2.4 billion in 2011. In 2013, the company expects to perform similar to how it performed in 2012. The North American Ford Credit earned $1.55 billion whereas the International Ford Credit earned $249 million for the year. While this may seem like a small contribution to Ford, it makes up a significant portion of the company's annual income. Look at it this way, based on how much Ford Credit earned in 2012; the business unit alone may be worth between $17-22 billion. Also, keep in mind that Bank of America (NYSE:BAC) earned $4.1 billion (valued at $142 billion) and Citibank earned $7.5 billion (valued at $150 billion) last year.
So why was there a decline in Ford Credit's earnings in 2012? In North America, there were fewer lease terminations (when leases are terminated, the company can sell the cars and post a profit) and lower financial margins (some of the high-yielding loans from previous years were paid off) compared with 2011. In the international markets, currency exchange rates, lower volume in Europe and a few other factors such as pulling out of Australia played a role in the decrease. In addition, residual values of the expired lease vehicles were not very strong in some markets.
The credit loss reserves and charge-offs have been declining sharply since the recession in 2009. When it comes to these two metrics, lower values are more desirable because lower values indicate a decline in loan delinquency rates. In 2008, Ford Credit's worldwide charge-off was as large as $1.14 billion and the credit loss reserves were as large as $1.67 billion. Last year, Ford Credit's worldwide charge-off was $136 million and the credit loss reserves were $408 million. Loss to receivables ratio is down from 0.84% in 2008, to 0.16% today and loss reserves as a percentage of end-of-period receivables fell from 1.40% in 2008 to 0.44%.
Now I will explain what the charts below mean and why they are important, without getting too technical. The top left chart shows the average placement FICO score (also known as credit score). This is a direct measure of lending standards at Ford Credit, which has been increasing consistently every year since 2008. Many of the readers will remember how extending easy credits to individuals that shouldn't have been extended those credits caused a massive economic turmoil and we wouldn't like a repeat of that. FICO scores are inversely related with the probability of default, which means that the higher average FICO scores mean lower delinquencies overall.
The top right chart shows over-60-day delinquencies. Even though this metric has been flat for the last 3 years, it's been performing much better than it was during the recession. Keep in mind that the current delinquency rates are pretty healthy for a company of Ford Credit's size.
The bottom two charts show the number of repossessions, charge-offs and loss-to-receivables ratios. Ford Credit's repossessions ratio has been falling every year since 2009. Currently, the rate it as 1.35% which represents the lowest figure it has ever been (or since the company started tracking this metric in the early 1980s). Even though the number of cars sold keeps increasing, the number of cars repossessed keeps decreasing, which is great for Ford Credit. The right bottom chart speaks for itself, the company's charge-offs and loss-to-receivables ratios fell down sharply since 2008 and they are at a very healthy level right now.
In 2010, the number of units leased (also called placement) totaled 120,000 whereas the number of terminations totaled 408,000. In 2011, the number of units leased increased to 219,000 whereas the number of terminations fell to 246,000. Last year, the number of leased units increased to 257,000 and terminations fell to 126,000. What do these numbers mean? It's good to keep the number of terminated vehicles at a fine balance. In 2012, the number of terminated vehicles were exceptionally low because most of the leases that were terminated in 2012 were originated between 2008, and 2010, when the economy wasn't performing that well. As the number of leased cars increase, so should the number of terminations.

The charts below shed some more light into Ford's lease performance in the last few years. The ever-increasing 36-month auction values are great for Ford Credit. It shows that the cars have a higher residual value after their lease is complete. This could be due to improvements in Ford's quality, economical conditions along with other factors. Also keep in mind that the mix of Fords that are being leased in 2012 may include a higher percentage of more expensive cars (such as Lincolns) compared with the Fords that were leased in earlier years.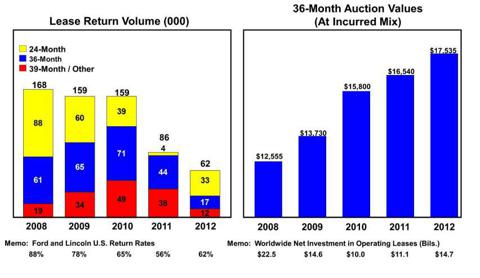 Well, I don't want anyone to fall asleep while reading a long article full of financial jargon, so I will cut it here. In my next article, I will talk about how Ford Credit gets funded. The take-home messages from this article are: 1) Ford Credit is an important part of Ford, 2) Ford Credit serves more than one function within Ford, and 3) Ford Credit's performance has been increasing greatly since the Great Recession. Long story short, Ford Credit is just another reason to buy Ford.
Disclosure: I am long F, NOK. I wrote this article myself, and it expresses my own opinions. I am not receiving compensation for it (other than from Seeking Alpha). I have no business relationship with any company whose stock is mentioned in this article.