When searching for investments in terms of both growth and income, there are many tools to associate with potential risk and reward. For long-term investors who can withstand the short-term gyrations of the stock market, the shares of Wal-Mart Stores Inc. (NYSE:WMT) are attractively valued and could be seen as the lowest risk versus reward U.S. large-cap equity over the next 5-10 years.
The current market discount of WMT, as reflected by the P/E ratio versus the S&P 500, is a market disconnect for three major reasons. First, the company risk assessment is low when taking WMT's size, valuation, market share, recent earnings history, recent dividend growth, increased dividend payout ratios and financial strength into consideration. Second, the company has an exciting five-year growth in earnings consensus at an annual earnings growth rate of nearly 10% per year with the prospect of large dividend increases. Finally, although WMT is a titan in the U.S., the likelihood of international long-term growth and exponential earnings growth both warrant WMT a leading contestant to achieve a market cap of one trillion U.S. dollars within the next 20 years.
WMT Risk Assessment
In viewing risk metrics, there are several reasons why WMT is a great buy for value, growth and income investors. At current levels, WMT is a mega-cap heavyweight with a $248 billion market cap and an enterprise value of $300 million. WMT is also one of the largest publicly traded companies in the world and currently ranks as the seventh-largest U.S.-exchange traded equity.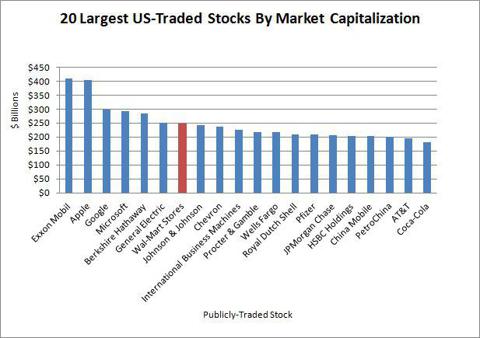 Once a company reaches a certain level, exponential growth can be difficult to maintain. Risks here include exponential decay (where the growth rate turns negative) and the shift to linear growth, which leads to decreasing year-over-year growth rates. For this reason, companies with larger market caps such as WMT are often discounted with a lower price-to-earnings ratio than their peers. When compared with Costco (NASDAQ:COST) and the S&P 500, WMT is deeply discounted with a trailing 12-month P/E ratio of 14.9, versus 24.3 for COST and 18.65 for the S&P 500.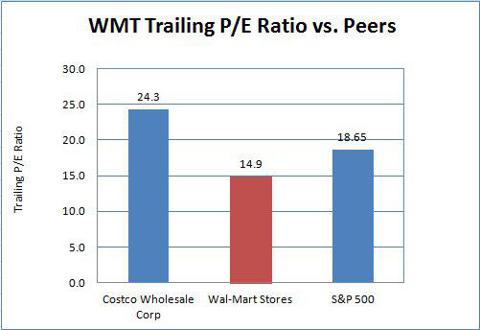 Regarding domestic market share, WMT is the dominant supermarket player as well as a major player in several consumer categories including apparel, home and entertainment. With $180 billion in the supermarket categories of grocery and pharmacy, WMT controls 35% of the $500+ billion U.S. market. To state the obvious, both grocery and pharmacy are heavily relied upon by society. Couple this with Wal-Mart's role as the low-price leader and simultaneous function of serving most other basic human need products (think clothes, TVs, bedding, ETC...), and you have a company with a guaranteed revenue stream.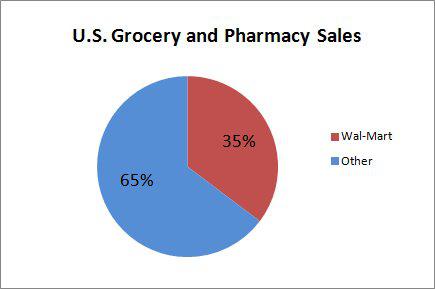 There is nothing sweeter to compliment market leadership than a strong earnings and dividend history. Over the past 10 years, WMT has improved both earnings per share [EPS] and dividends by 147.3% and 341.7% respectively. Also, with a consistent increase in earnings during the Great Recession, WMT showcased its business model as recession-proof with uninterrupted earnings growth.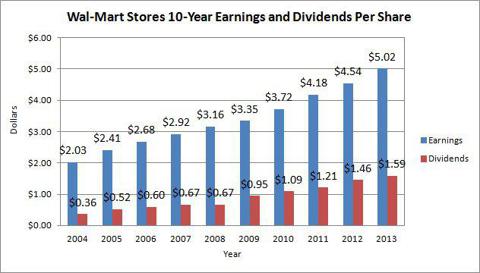 Also to note, WMT has increased the payout ratio (dividends/EPS) over the last 10 years from 18% in 2004 to 32% in 2013, an increase of 78.6%. In the graph below, the dip in the payout ratio in 2008 was due to a dividend that was stable while earnings grew by 8.2% from 2007-2008 (previous chart).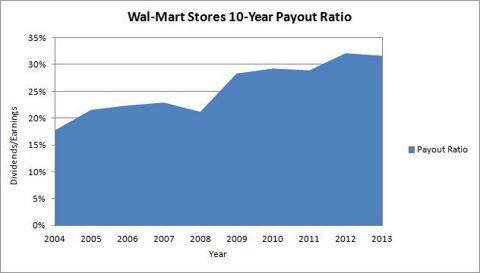 In addition to WMT's size and market share, as well as its 10-year EPS, dividend and payout ratio increases, the risk analysis would be incomplete without the financial strength to back it up.
One financial metric most investors look at is long-term debt-to-equity ratio (LT Debt/Equity). Value investors love a company with a debt-to-equity ratio of under 1. Over the last three years, WMT has reduced its LT Debt/Equity ratio to 0.54.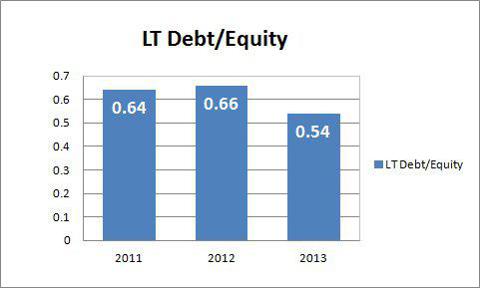 Another measure of financial strength, cash flow, is another net positive for WMT. Its cash flow has increased over the last three years from $4.35 per share to $5.24 per share. Excess cash flow, as well as EPS growth, will enable the company to continue to reduce debt, buy back shares, increase dividends and fund international expansion.
In conclusion, the risk of owning Wal-Mart Stores is low when taking size, valuation, market share, recent earnings history, recent dividend growth, increased dividend payout ratios and financial strength into consideration.
The fundamentals validate a higher price than the market is trading at this time, however, it is important to note that in times of higher volatility, a loss of liquidity could lower all asset prices across the board. In this regard, the biggest threat to short-term share price is one of undifferentiated marketplace selling. In the event that prices overshoot to the downside, the fundamentals will continue to validate a higher WMT price until liquidity is restored to higher levels.
5 Year-Growth Plan
According to NASDAQ, WMT is forecast to grow earnings at just under 10% per year on average over the next five years.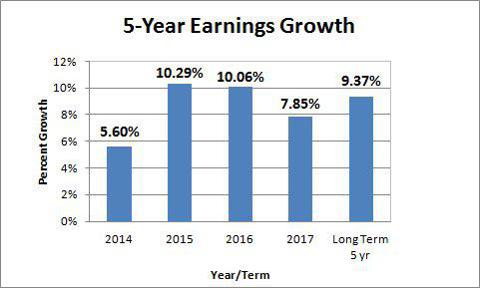 With earnings growth and an equally increasing dividend yield, the prospects of earning additional income for holding onto WMT grow each year.
In dividing the company divisions, WMT receives 71% of sales domestically in what could be coined a fairly mature businesses. The Walmart U.S. and Sam's Club divisions reported 59% and 12% of sales, while Walmart International served the remaining 29%. WMT has expanded its international footprint by completing a joint venture purchase in Africa last year and through an acquisition completed in the U.K. two years ago. Today its global store count includes 379 stores in Africa and 568 stores in the U.K. According to Standard & Poor's, WMT plans to increase its international square footage by 6% in FY 2014.
On the downside, international growth is limited to ex-Mexico and ex-Central America. Walmart de Mexico, known as WALMEX, is unavailable for retail purchase on U.S. stock exchanges. WALMEX also has a banking segment and its headquarters is in Mexico.
On the upside, WMT has barely penetrated several large markets, such as China and India. Other large markets, such as Indonesia and Russia, have zero penetration with a population of nearly 400 million between them.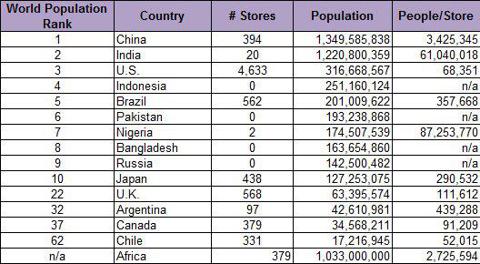 Also, when measured in a country's number of people per store (population divided by store count), one can dictate at what stage WMT could be defined as regarding the most populous countries in the world. By removing Nigeria as it is part of Africa, Bangladesh due to its poor economic environment and Pakistan due to its anti-Western views and political instability, we are able to showcase where WMT has penetrated the globe and at what level.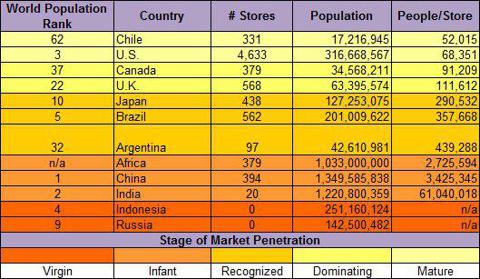 As noted, Chile and the U.S. are the only mature markets that WMT has on Earth. The company is dominating in Canada and the U.K., while Brazil, Japan and Argentina are registering a recognized stage of market penetration. The two largest countries in the world, China and India, have WMT sitting as an infant when measuring people per store. As noted above, Indonesia and Russia together hold nearly 400 million people with no access to domestic Wal-Mart operations.
The Road to a One-Trillion Dollar Valuation
Four ways to forecast WMT as a globally dominant, one-trillion dollar corporation in the future come via the consumer goods sector in general, international expansion potential and exponential earnings growth.
The reason investors want to own, or must-own, a one-trillion dollar company in the future is because they can buy it for 75% off today and that the mark may be hit within 20 years. WMT must trade at $300 per share at the current share count to warrant such a valuation.
The first forecasting method comes from the WMT's position as a consumer goods company. In tackling other businesses as potential $1 trillion market cap contenders, the market sector is of high importance. As noted in the Great Recession and technology bubble, sectors with a high-risk of unstable long-term value are those of the energy and commodity, technology and financial sectors.
When taking the largest 20 U.S. equities into consideration, it is easy to note how many fall into these unstable categories.
Setting these risks aside, WMT is the largest U.S. traded equity in the market. In this regards, while Google (NASDAQ:GOOG) may likely be first, WMT is the leader on the stable path to one trillion.

As discussed earlier, WMT also has barely infiltrated the global market and has only mature markets in the U.S. and Chile. While Mexico and Central America are off the table, Europe, Russia, Asia, Australia and Africa are open for the company to begin operations and facilitate exponential growth.
With only 29% of revenue coming from Walmart International, the company has room to run. In 2012, the U.S. GDP was $15.68 trillion, versus a gross world product [GWP] of $84.97 trillion. With the U.S. GDP/GWP ratio recently at 18.5%, WMT will continue to successfully use acquisitions to increase the superstore and discount warehouse business model.
To forecast WMT as a one-trillion dollar company, tools to use would be long-term earnings growth, valuation and time. When assuming 9.37% for 5 years, and a conservative 7% for the next 15 years, WMT will achieve a share price of over $300 in 20 years if valued at 13.9 times earnings.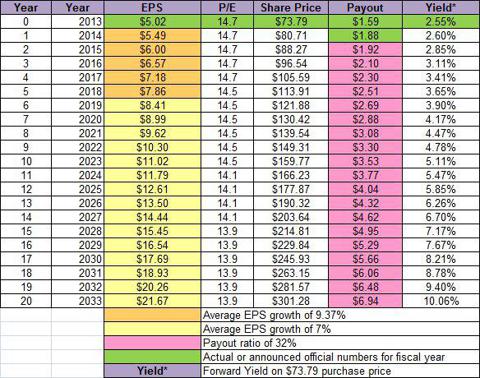 While the trillion mark will take into account total outstanding shares, actual growth and inflation, this does take into account the fact that investors will long-term time horizons could realistically achieve a 10% yield on capital invested after holding the stock for 20 years while collecting dividends along the way.
In closing, WMT is a stock that every long-term investor should own now due to its low risk, stable income and exciting growth prospects. While risk is inherent for any security, riding the train of the first, low-risk trillion-dollar company in the world may be quite the rewarding journey.
Sources: Standard & Poor's, C.I.A. World Factbook.
Disclosure: The author has no positions in any stocks mentioned, and no plans to initiate any positions within the next 72 hours. The author wrote this article themselves, and it expresses their own opinions. The author is not receiving compensation for it (other than from Seeking Alpha). The author has no business relationship with any company whose stock is mentioned in this article.