In an article on The Street Thursday, Jim Cramer said:
Companies without growth or minimal growth -- the REITs for instance (not the mortgage REITs, which have been disastrous because they were caught on the wrong side not of the taper, but of the real market, which is now very different) have very little growth -- must now be priced lower to where their growth takes them, not their yield.
Cramer went on to say:
All interest-rate-sensitive stocks will now be killed until they tell us how they are doing in this new environment. They are wrongly in the blast zone, but who cares.
Now I explained in a previous article that I firmly believe that REITs have "growth" and although the forced dividend component (for REITs) weighs into the total return story, there is strong opportunity for REIT investors to benefit from the current bull market. It is quite clear that many REITs have been mispriced; however, the evidence is overwhelming that REITs will advance. As I explained:
The multiple expansions that we've seen over the last couple of years has happened because FFO expansion is ahead of us -- and if you don't buy at current prices, you're going to miss the opportunity to get the dividends that will be paid as a result of FFO growth. It's that simple!
I also believe that Mr. Market is having a difficult time bifurcating bonds from REITs and although many of the REIT sectors are "bond like", the growth in the REIT sector can be best understood by looking into the macro level ownership trends. As I explained:
Today REITs own around 15% to 20% of all US institutional real estate...what other asset sector has that level of fragmentation? So with 80% of real estate non-traded, there is huge opportunity for REITs to "roll-out" and consolidate.
It's interesting to see the fuel of the long duration bonds (like the 10-year Treasury) whose value is determined by bond traders. They tend to pursue higher rate trades when they see the economy strengthening and then the ripple effect (for a growing economy) is almost always inflation pressure. As I learned in Economics 101, inflation will eventually speed up when the economy is growing - all good signs that jobs are being created and that consumers are spending, eating out, and shopping at malls.
It's clear that the day is coming that a basket of goods will cost more in the future than today. The Fed will, at some point, begin to raise interest rates and that is bound to have an effect on inflation. It seems to me that as soon as the labor market, improves there will be increased pressure on the monetary phenomenon we call inflation.
Ben Graham explained (in The Intelligent Investor):
Do the prospects of continued inflation make equity purchases undesirable at present market prices or indeed at any conceivable level? It is passing strange that this question should even suggest itself It seems only yesterday that everyone was saying that stocks, even at high prices, were definitely preferable to bonds because equities carried an important measure of protection against future inflation.
Ben Graham believed that the best markets for inflationary times are real assets. As he went on to say:
What are the investors' real choices-whether as an institution or as an individual? He can elect to keep his money in short-term obligations, at a good yield, expecting that future inflation will eventually produce lower market levels for all kinds of stocks, including those with low multipliers. This choice would be justified when the investor is convinced that stocks are selling above their true value, but otherwise it is only a kind of bet on future market movements. Or he may conceivably decide on an entirely new sort of investment policy-namely, to move from stocks or bonds into things: real estate, gold, commodities, valuable pictures and the like.
So we see The Intelligent Investor likes REAL ESTATE.
Why REITs Are Valuable Inflation Fighters
Earlier this week, I was on a radio talk show with Brad Case, Ph.D., CFA, CAIA, Senior Vice President, Research & Industry Information with NAREIT. After the talk show ended, I asked Dr. Case to provide me with some research relative to REITs and inflation. I asked him how different asset classes provide returns that at least equal the inflation rate - and therefore protect purchasing power - during periods when inflation is especially strong? He explained:
The answer is shown in the chart (below). Since the beginning of 1978 commodities have protected purchasing power during 70% of high-inflation periods, with REITs just behind them at 67%; stocks are next at 62%, TIPS lag at 55%, and gold is the worst at 43%. (Caveat: commodity indices are very different from each other; we use the GSCI because it has the longest history, but it's dominated by energy commodities, which provide the best inflation protection; non-energy commodities are much weaker.)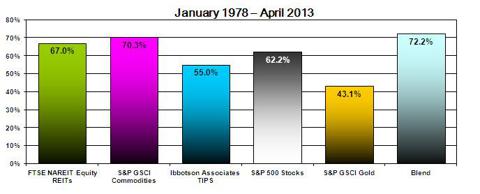 Click to enlarge
Dr. Case went on to say:
The main problem with commodities is that if you guess you're going into an inflationary period but it turns out you're wrong-basically the mistake that experts have been making for the last several years-then if you invested in commodities for your inflation protection you ended up in the worst-performing asset class because commodity returns tend to be absolutely terrible during low-inflation periods. So you want an asset that'll protect purchasing power without exposing you to "prediction risk" from guessing wrong-that is, you want an asset that protects against inflation but also provides reasonably good returns during low-inflation periods too. That's REITs.
Dr. Case said that there are several assets with good inflation-protecting characteristics, so probably an investor would do better by holding a portfolio of them. He explained:
We look for the portfolio that eliminates "prediction risk," meaning that returns are exactly the same (on a risk-adjusted basis) during high-inflation periods and during low-inflation periods. Historically, that has been a blend of 38.6% equity REITs, 20.9% stocks, 17.2% TIPS, 16.7% commodities, and 6.5% gold. The blend protected purchasing power during 72% of high-inflation periods.
Dr. Case summarized his argument:
There are several asset classes that provide inflation protection-equity REITs, commodities, TIPS, even stocks and, to some extent, gold-and investors who are concerned about inflation should probably hold a portfolio combining all of them. But equity REITs have historically done the best job of protecting investors against loss of purchasing power without exposing them to terrible returns during low-inflation periods.
Have Gun Powder?
As most of you know, I maintain a bullish sentiment with regard to the Triple Net REITs. I recognize that the sector has been on a 30 year bull run and that the prospects for growth are not as significant as most other REIT sectors. However, I contend that the Triple Net REITs provide a real "dividend anchor" for an income investor and that the sector has historically provided an "all weather" component that sustains in good times and bad.
Of course, since the Triple Net REITs are closest in resemblance to bonds, the sector gets punished like bonds. As Tom Yeatts with SNL Financial wrote in a June 20th article:
REIT stocks tumbled June 20 after taking a hit the day before when Federal Reserve Chairman Ben Bernanke outlined the Fed's plans to pull back on its monetary stimulus later this year. Among REITs, triple-net lease names, whose spectacular run hit a wall about a month ago, now have a bloody lip. The stocks were up until about a month ago, sitting very pretty, with low interest rates driving investors to the space in the search of high-yield spoils.
Yeatts asked Stifel analyst Joshua Barber about the triple net correction, and Barber said:
The higher you go, the harder you fall. A lot of these names had just unbelievable runs to start the year and continued that in a very, very strong way. From April to mid-May the names sort of went parabolic. Everybody was chasing the yield. Everybody was chasing the deals.
I'm sure you have heard the old adage, "Cash is King". That's true but in today's REIT environment I would argue that "Dividends are Queen". In other words, I think we are moving into an opportunity where some of the high-quality REITs are becoming very attractive BUYS. As I survey the list of REITs in my SWAN and SALSA portfolios (in my Intelligent REIT Investor newsletter), it is becoming increasingly apparent that interest rate risk is staring us in the face; however, there are sound opportunities that should be explored.
For example, Realty Income (NYSE:O) received a corporate credit rating upgrade Wednesday from Standard & Poor's from BBB to BBB+. Meanwhile, shares declined by almost 7% this week, and based on the current price of $41.02, Realty Income's dividend yield is 5.3%. I added more shares to my portfolio Thursday. (I expect O's dividend yield to bottom at around 5.5%)
Also, American Realty Capital Properties (ARCP) closed at $14.30 and the current dividend yield is 6.36%. I interviewed Nick Schorsch Thursday (ARCP's CEO) and I plan to write a detailed article on the company this weekend. (I expect ARCP's dividend yield to bottom at around 6.6%).
Ventas (NYSE:VTR) and HCP, Inc. (NYSE:HCP) also saw sharp share declines this week and the dividend yields for these blue chip healthcare REITs are looking better. Ventas closed at $64.38 per share with a 4.16% dividend yield and HCP closed at $41.89 with a dividend yield now north of 5%.
Finally, Healthcare Trust of America (NYSE:HTA), with shares that closed at $10.86, has seen its dividend yield move up to an attractively-aligned 5.29%. The great thing about medical office buildings is that they provide great yield with strong growth potential. (I expect HTA's dividend yield to bottom at around 5.5%). As HTA's CEO, Scott Peters, pointed out on a recent SNL panel that I moderated:
This sector has tremendous tailwinds from the Affordable Care Act, the aging demographics, and the improving economy. All of these should result in MOB owners being able to grow occupancy and rents over the next several years.
Sources: SNL Financial, NAREIT (chart 1 above)
Note: I have included price point and dividend targets in my monthly newsletter.
Disclosure: I am long O. I wrote this article myself, and it expresses my own opinions. I am not receiving compensation for it (other than from Seeking Alpha). I have no business relationship with any company whose stock is mentioned in this article.