Sometimes, disappointment can lead to opportunity. With the possibility of the Federal Reserve tapering some of its QE program going forward if the US economy improves, markets have been hit the past few days. That means that some stocks out there have come down nicely. One example is Philip Morris (NYSE:PM), the global cigarette giant that I've covered extensively on this site. Philip Morris' shares are at their lowest point since the beginning of this year, and investors looking to enter the name or accumulate might want to do so. Today, I'll discuss why I added to my position on Thursday, and why shares remain attractive going forward.
How averaging down on pullbacks works in your favor:
I've always recommended that investors wait for Philip Morris to pullback before entering. Over the past 18 months, the stock has had a number of pullbacks of at least $4.00. More often than not, these have been the best time to pick up shares, and the pullbacks don't last long. The company, which plans to buy back $6 billion of stock this year, will also be looking to buy shares on the cheap. Philip Morris' 52-week high is $96.73, so basically waiting for a $4 pullback means entering under $92.50. I mentioned in my previous Philip Morris article that the next level of support was probably the $88 to $90 range, and we found that on Thursday before going lower.
So how can averaging in as we go lower help? Well, let's consider three scenarios. In each scenario, the investor is going to buy 100 total shares, and I am excluding commissions as you can trade free with some brokers. In the first scenario, the investor started getting in at $94.00 with a 10 share purchase. The investor then bought 20 shares at $92.00, 30 shares at $90.00, and 40 shares at $88.00. While the initial purchase was at $94, adding more shares at lower prices got the average cost down to $90.00 overall. As someone who owns Philip Morris and discusses it often, I'd be a lot happier with a cost basis of $90.00 than $94.00, and I don't know who wouldn't be. Also, at $94.00, you are getting shares with an annual dividend yield of 3.62%, thanks to $3.40 in annual payments. With your overall basis at $90, your average yield is 3.78%. That doesn't seem like a huge difference, but those 16 basis points add up over time, and it would also be nice to not make the entire purchase at $94.00.
Two other quick examples. An investor that bought 25 shares at $92.50, then another 25 at each interval $1.50 below that (last purchase at $88.00), would have an average cost of $90.25. That's not as good as the situation above, but better than the first two buy points of $92.50 and $91.00. The final example is an investor that bought 20 shares at $92.00 and 20 more at $90.50. This investor then increases their purchases to 30 shares each at $89.00 and $87.50. This would result in an average of $89.45, which is a lot better than $92 or $96.
Current expectations:
When comparing Philip Morris to others in the space, I look at three other names: Lorillard (NYSE:LO), Altria (NYSE:MO), and Reynolds American (NYSE:RAI). The following table is one I've used in several articles for this industry. It shows the currently expected growth in terms of both earnings per share and revenues. These are the analyst estimates for 2013 and 2014, as well as a two-year total. I've also provided each company's dividend yield as another way to compare these names. The yellow highlight indicates the leader in that specific category.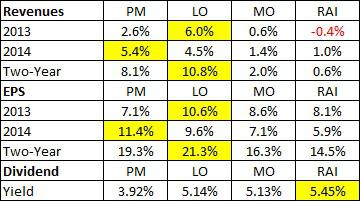 Strangely enough, Philip Morris is the only name that has seen its analyst estimates change since my last update. Philip Morris has the most analyst coverage of these four names, so the decline in estimates may have just been by one analyst. It's enough to move the needle though. Analysts have taken their 2013 revenue forecast down from $32.25 billion to $31.19 billion, and their 2014 forecast from $34.02 billion to $33.92 billion. Additionally, the analyst average for earnings per share has come down from $5.60 to $5.59 for 2013 and $6.26 to $6.23 for 2014. Most likely, analysts believe that Philip Morris will be hurt a bit by currency fluctuations. The current analyst average of $5.59 for earnings per share this year is actually a penny below the company's midpoint guidance of $5.55 to $5.65 at the Q1 report. While analysts have trimmed their forecasts slightly, you must realize that Philip Morris is still the leader in expected revenue and earnings growth for 2014. The company is also in 2nd place in all other categories, with Lorillard still leading the way. Philip Morris' growth profile is spectacular, and with the stock down $10 from its recent high, it makes the name look even more attractive.
However, analysts must also consider the company's buyback. With the stock now about $10 off its 52-week and all-time high, the buyback program will have a larger impact on earnings per share. Think about it this way. The company is buying back $1.5 billion per quarter this year (on average - $6 billion in total). At a $96.00 share average, the company can repurchase about 15.63 million shares per quarter. At $87.00 a share, it can get about 17.24 million shares. That's 1.6 million extra shares per quarter, or about 6.5 million extra shares per year at that rate. At some point, analysts might need to start raising their forecasts due to the buyback.
In terms of stock price movement since my last update, three of the four names are down, and that's not surprising given the recent fall in the stock market. Philip Morris has lost 4.71% since my last update, which has pushed its dividend yield up 18 basis points to 3.92%. Philip Morris is close to the 4.00% yield mark, which would be hit if the stock were to drop below $85.00. Lorillard is the only name up since my last update, and that 0.94% gain has pushed the dividend yield down 4 basis points to 5.14%. Altria has been the worst performing name, down 4.88% since my last update. Altria's yield has risen 25 basis points to 5.13% on the recent stock decline. Reynolds is down 3.80% since my previous post, pushing the dividend yield higher by 21 basis points to 5.45%. Reynolds has the highest dividend yield at this point thanks to its recent dividend raise. I mentioned that in my last article. However, Altria should be raising its dividend soon, which could give Altria the highest yield. Philip Morris is also expected to raise its dividend in the next couple of months.
Rising rates makes Philip Morris' growth attractive:
I mentioned in my previous article that rising interest rates have made some investors feel that dividend stocks are not as attractive. The Consumer Staples Select Sector SPDR (NYSEARCA:XLP) is down more than $3.00 since its recent high, a drop of 7.18%. That's a bit more than the 5.72% drop in the S&P 500 SPDR (NYSEARCA:SPY), and a bit surprising given that the XLP contains a lot of dividend names that are considered safer and less volatile investments. You would think that the XLP would only be down like 4-5% in this case. Why do I make such a big deal about the XLP? Well, the four cigarette names I focus on make up a little more than 16% of this ETF, almost 1/6 of the total. Philip Morris makes up about 10% on its own. So if you buy the XLP, every dollar you put in gets you almost 10 cents of Philip Morris, and about 6.5 cents of the other three names (Altria being second most).
So what separates Philip Morris from the pack? Well, think of the logic. If you have a name like Altria that has a 5.13% annual yield, that income seems great when a 30-Year US Treasury is yielding 3.00%. But as you can see from the chart below, that yield has spiked to more than 3.50%. Altria's yield doesn't seem as strong then. Altria doesn't offer much growth, with just 2% revenue growth expected over the two-year period. Reynolds' expected revenue growth is even lower.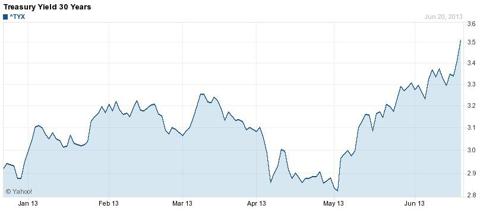 Click to enlarge
(Source: Yahoo! Finance)
That's where Philip Morris (and Lorillard to be fair) come in. Philip Morris is expected to show more than 8% revenue growth over two years. Additionally, Philip Morris and Lorillard are expected to show more earnings growth, although a lot of earnings growth in these names comes from buybacks. Also, the cigarette names I've mentioned all have yields over 3.9%, with three of the four over 5.0%. These yields are still higher than the 30-Year Treasury. These aren't names like Apple (NASDAQ:AAPL) and Microsoft (NASDAQ:MSFT) that now have lower yields than the 30-Year. So the cigarette group is still favored in that respect.
That's why I think you can throw away the rising yield argument in a sense when it comes to Philip Morris. Ask yourself this question. Would you rather own a 30-Year US Treasury yielding 3.50% now or Philip Morris' stock yielding 3.92%? Considering that most expect rates to shoot higher at some point, your bond holding would get crushed. Philip Morris offers revenue and earnings growth, and the reduction in the share count from the buyback makes shares more valuable.
Current Valuations:
You could have the greatest company on earth, with great growth, dividends, buybacks, etc., but that doesn't mean it will be the best investment. Sometimes, it all comes down to valuations. If that "greatest company" is just too expensive, it might not be worth it. As those who follow me know, Philip Morris' valuation is one item I've tracked extensively in the past. The following table shows valuation metrics for each company in this article, as of my last update and now.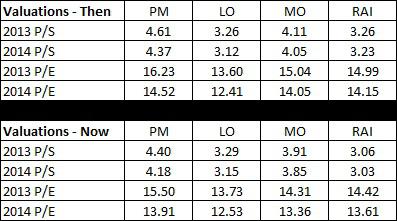 As you can most likely guess, Lorillard's valuation has risen since my last update. Lorillard's stock is up, while its analyst expectations have not changed. Altria and Reynolds have seen their valuation metrics come down, as those stocks have declined with no changes in analyst forecasts. Philip Morris' valuation has come down, thanks to a decline in the stock price, partially offset by the decline in expectations.
Anyone that has read my continuous coverage of Philip Morris knows that PM shares trade at a premium. Investors have been willing to pay for the solid amount of growth and the sizable buyback. I've continued to track that premium, on both a price to sales and price to earnings basis, with the results found below (compared to my last update).

The premium that Philip Morris trades at has come down significantly in recent months. When I covered this name back in late February, the price to sales premiums were about 38.6% (for 2013) and 34.6% (for 2014). The price to earnings premiums were 14.2% and 11.0%, respectively for those years. That means that the 2014 P/E premium has basically been halved. I can't remember seeing the Philip Morris premium this low in quite a while, if ever. That's surprising given how much more growth potential Philip Morris has over two of the three other names on this list. I wouldn't be surprised if this premium starts to rise, as investors realize what's going on with Philip Morris.
Analysts say buy Philip Morris:
I always like to look at what the professional wall street analysts think when it comes to the names in this space. The following table shows the average analyst rating, where a 1.0 is a strong buy and a 3.0 is a hold. The table also shows the average, or mean, price target currently, and the upside to that target from Thursday's close.

Since my previous update, Philip Morris has maintained the highest rating, which means the strongest buy. It is incredible to see Philip Morris have more than 14.4% upside to the average analyst target. The last time I saw that kind of upside was in December 2012, when the upside value was 16.36%. The stock closed that day at $82.95, and went on to rally nearly $14 over the next couple of months. Philip Morris investors made more than 16.6%, not even counting dividends, so Philip Morris basically traded to the target at that time. With almost 15% upside to the average target, it would not surprise me if a few analysts come out in the next couple of days with some positive notes. The valuation seems low at this point, which would be a great time for an analyst to reiterate a buy.
Philip Morris is technically oversold:
I don't use a lot of technical analysis in my work, but there are some times where you need to. Over the last couple of Philip Morris updates, I've shown how the company has traded in a range, and that Bollinger bands show decent buy and don't buy points. You can see in the 6-month chart below that we seem to be at one of those buy points yet again. Philip Morris' shares pull back when they hit the upper Bollinger band, and find support at the lower band. At this point, Philip Morris has broken through the lower band. I don't think this is the start of a trend. The last time that happened was in December 2012. I mentioned above how that was at roughly $83 a share, and the stock went higher from there. I believe that the stock is oversold at this point, and is ready for a quick bounce back of a few points. I'm not the only one that feels this way. Should the markets recover in the next week or two, it would not surprise me to see this name back at $90 in no time at all.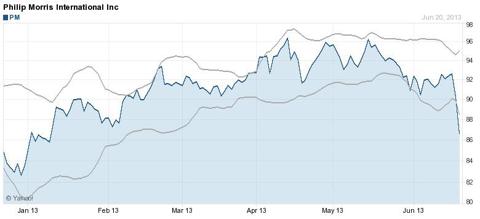 Click to enlarge
(Source: Yahoo! Finance)
Philip Morris and potential options:
Investors are always looking to increase their dividend yields (income) or find ways to get into a stock at a lower price. An interesting way to do that might just be selling some puts in Philip Morris, although I'd only suggest this for more experienced investors. With the recent fall in the stock, put premiums seem fairly juicy, which provides another potential opportunity for investors. The following chart shows the put options table for the $85.00 and $87.50 strikes, and I'll explain some possible ideas after the table.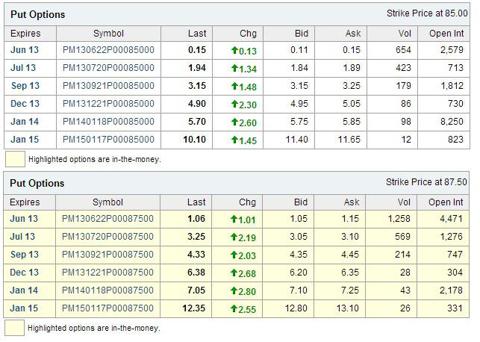 Click to enlarge
(Source: Yahoo! Finance)
Philip Morris closed at $86.63 on Thursday, kind of in the middle between the two strike points. I was hoping for a close that was near the $87.50 mark to make this a little simpler, but the late day drop didn't help that wish. For each put contract you sell (equal to 100 shares), you receive a premium based on which month's expiration you are using. So let's say you buy 100 shares of actual Philip Morris stock, and sell one September 2013 $85.00 put option for $3.15 right now. If the stock doesn't fall below $85.00 before expiration, you pocket $315 per contract. That would essentially lower your cost basis on the 100 shares you own by $3.15 (minus commissions), getting you in around $83.50 or so. If the stock goes below $85.00 and the option is exercised, you are forced to buy 100 shares (per contract) at $85.00. However, you still get the $315, so your cost on the shares would actually be $81.85 (excluding commissions again). The math obviously varies on which strike and monthly expiration you choose. Think about it this way though. If you don't see Philip Morris below $85.00 by the September expiration, you could pocket $3.15 per share, minus commissions. Philip Morris' annual dividend right now is $3.40. You'd get almost a year's worth of dividends over the next three months.
Final Thoughts:
Shares of Philip Morris declined by more than 4% on Thursday, the largest fall since October 2012. The stock is at its lowest point since the beginning of 2013. While analysts have trimmed their expectations slightly, the valuation has come down nicely due to the stock's decline. That means that Philip Morris will be able to back more stock for the money, and the dividend yield is again approaching 4.00% ahead of a dividend raise in a few months. The premium that Philip Morris trades at compared to others in the space has almost evaporated in certain respects, despite the impressive growth profile of the company. Analysts see more than 14.4% upside in the name currently, and technical factors show that the stock is oversold at this point. I added to my position on Thursday, part of an averaging down strategy. Investors may also want to look at options, including some put-selling strategies that could lower your entry price or increase your yield on the stock. We haven't seen Philip Morris this low in a while, and I think that leads to a golden opportunity for investors.
Disclosure: I am long PM. I wrote this article myself, and it expresses my own opinions. I am not receiving compensation for it (other than from Seeking Alpha). I have no business relationship with any company whose stock is mentioned in this article.
Additional disclosure: Investors are always reminded that before making any investment, you should do your own proper due diligence on any name directly or indirectly mentioned in this article. Investors should also consider seeking advice from a broker or financial adviser before making any investment decisions. Any material in this article should be considered general information, and not relied on as a formal investment recommendation.