Annaly Capital Management Inc. (NYSE:NLY) is one of the largest, if not the largest, mortgage REIT in the US. As such it tends to be slower moving than many of the others. However, it also weathers the economic storms better than many of the other REITs. NLY has gained over 500% since 1997. Over the same period the S&P 500 has gained approximately 100%. NLY has performed five times better than the S&P 500 including both dividends and stock price appreciation. It is more diversified than many other REITs.
For instance, it recently completed the acquisition of CreXus Investment Corp. (NYSE:CXS). This will now be operated under the name Annaly Commercial Real Estate Group. The name itself should tell investors that CreXus was a diversification from NLY's core of Agency RMBS investments. Other subsidiaries of NLY are Merganser Capital Management Inc. -- an SEC registered investment advisor, FIDAC -- another registered investment advisor, which externally manages Chimera Investment Corp. (NYSE:CIM), Charlesfort Capital Management Inc. -- a middle market lender, RCAP Securities Inc., a FINRA broker/dealer, and Shannon Funding LLC, a warehouse lender.
The diversity of NLY is important. When its Agency RMBS lose book value in times of rising interest rates such as in Q2 2013, NLY's subsidiaries often gain in book value. For instance most CMBS were bought at huge discounts to face value. As the real estate market and the economy have improved they have gained in value. As the mortgage rates have risen the CPRs (constant prepayment rates) have decreased. These both cause the value of the CMBS to go up. Many, if not all, of NLY's subsidiaries should see book value gains in Q2 2013. This will tend to offset NLY's book value losses due to its Agency RMBS holdings.
The table below describes NLY's Agency holdings in thousands as of March 31, 2013.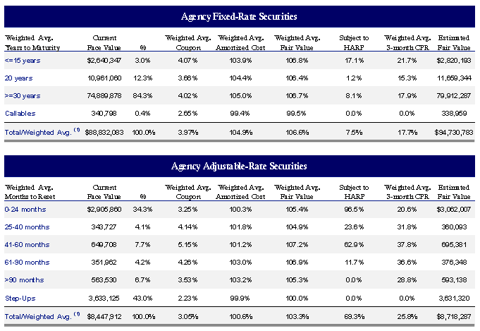 As you can see there are a huge amount of 30 year fixed rate RMBS holdings at $74.89B. These have an average coupon value of 4.02% and a weighted average fair value of 106.7% (market value as of March 31, 2013). The average coupon of 4.02% is much higher than that of many of NLY's peers. This means it will lose less book value in Q2 2013 per RMBS than most of its peers.
Those same 30 year fixed rate RMBS had an average CPR (constant prepayment rate) of 17.9%. This is higher than many of its peers. In this case that is good. When mortgage rates rise, as they have in Q2 2013, CPRs usually fall (prepayments due to refinancings fall). This means that NLY will regain more of its lost face value as CPRs fall. For instance, American Capital Agency Corp. (NASDAQ:AGNC) had an average portfolio CPR of 10 at the end of Q1 2013. Its average CPR simply cannot fall as much as NLY's can.
Further, AGNC had an average coupon of 3.70% for its 30-year fixed rate Agency RMBS. These will lose more value in Q2 2013 than NLY's 30 year fixed rate Agency RMBS with an average coupon rate of 4.02%. Finally AGNC had (including TBA dollar roll positions) leverage of 8.1x at the end of Q1 2013. NLY's leverage was only 6.6x. This should mean lower book value losses for NLY in Q2 2013.
How big are these losses going to be? Bigger than many thought. After June 20, 2013, the national average mortgage rate rose to 4.32% from Wednesday's 4.13%. OUCH! This is a rise of 77 bps from the March 2013 average mortgage rate of 3.55%. In NLY's case the 30 year FNMA 4.0% mortgage based RMBS cost changes should approximate the losses. This closed June 20, 2013 at 104-01. This was down from approximately 106-23 at the end of Q1 2013 (about -2.1% down). If you multiply the loss by NLY's leverage (6.6x), you get a loss of approximately -13.8%. This is bad, but it does not compare to AGNC's losses.
I will ballpark AGNC's losses with an average of the 3.5% and the 4.0% 30 year fixed rate FNMA losses. The 3.5% 30 year fixed rate FNMA was about 105-21 at the end of Q1 2013. Its price was about 101-15 at the close June 20, 2013 (I note this seems to have popped up to 102-09 in early June 21, 2013). This amounts to a loss of approximately -3.86%. AGNC's average coupon rate at the end of Q1 2013 was approximately 3.70%. I will approximate the AGNC loss by blending the above two rates' loss percentages at 60% 3.5% FNMA and 40% 4.0% FNMA. This gives an average loss rate of -3.16%. If you multiply this by the leverage of 8.1x, you get a loss of -25.6%. In each case 25% to 50% of the losses will be covered by hedges. I will choose 35% as an arbitrary value, knowing that the mortgage rate increases far exceeded the US Treasury Bond yield increases. This means that much of the interest rate hedges with not act as much as management had hoped.
By the method NLY's book value losses on its 30 year fixed rate Agency RMBS would be about -9.0%. By comparison AGNC's book value losses would be about -16.6%. One has to like NLY's outperformance in this area. Again these are only ballpark figures. When you consider that essentially all of AGNC's portfolio is in Agency RMBS, this percentage will apply to most of its portfolio, although some of its portfolio is actually Agency ARMs. These will lose book value too, but probably at a lesser rate. In NLY's case the loss percentage will apply to a smaller part of its overall holdings, which should make its book value losses an even smaller percentage of its holdings. With a book value of $15.19 per share as of March 31, 2013, a -9% or less book value loss would result in an approximate current book value of $13.82 per share. This should be make NLY a bargain at its closing price June 20, 2013 of $12.55 per share.
NLY should be even more of a bargain when you consider the net interest spread has widened demonstrably during Q2 2013. With an approximate 77 bps rise in the national average 30 year fixed rate Freddie Mac mortgage rate at the close June 20, 2013 (4.32%) from the average March rate of 3.55%, the net interest spread seems likely to widen by at least 40 bps. This should lead to much greater earnings for NLY.
The dividend rate had been trending downward in recent quarters as the net interest spread has narrowed. The Q2 2013 dividend rate is $0.40 (12.75% annually at the June 20, 2013 closing stock price). However, a 40+ bps rise in the 0.91% net interest spread of Q1 2013 should pump net interest income up considerably. Investors may well see a dividend rate rise for Q3 2013 (or at the latest Q4 2013). This apparent reversal of the recent dividend rate downtrend makes NLY an even bigger bargain at $12.55 per share. Yes, NLY could experience further book value losses in future quarters if US Treasury bond yields continue to rise. However, such losses seem likely to be smaller; and if they do appear, it will mean the net interest spread is rising quickly. NLY is a buy. NLY is set to outperform AGNC in the current environment.
The two year chart of NLY provides some technical direction for this trade.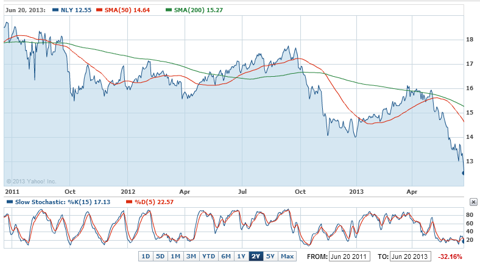 The slow stochastic sub chart shows that NLY is oversold. The main chart shows that NLY's price is far below both its 50-day SMA and its 200-day SMA. NLY may be in a downtrend, but it is almost sure to bounce soon due to its hugely oversold state. Further the apparent Q2 widening of the net interest spread (reversing the previous narrowing trend) is fundamentally a good reason to expect the stock price downtrend to reverse. NLY is a buy. However, given the current overall market downtrend, investors may wish to average in. NLY may be ready to rebound, but it could keep going down in sympathy with an overall market fall.
To partially explain my worries about the overall market, investors should be aware that the NYSE margin debt is at historically high levels. This could easily be a catalyst for a huge market sell-off. The charts below are really self explanatory.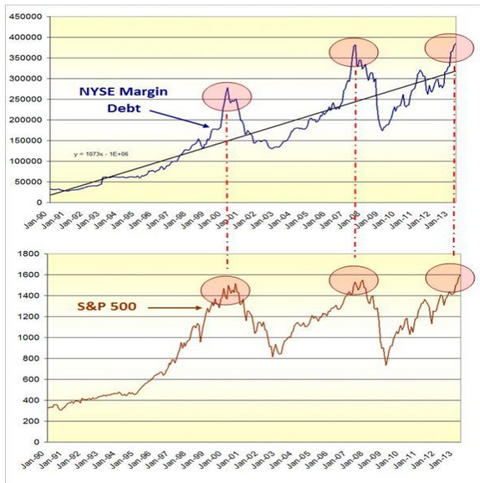 Investors may not wish to invest in anything soon, if the current overall market downtrend does not reverse itself soon. Margin debt is at $384B due largely to the long Fed led recent rally. The market has historically dropped significantly soon after margin debt has reached 2.25% of GDP (where it's at now). The last two times were in 2000 and 2007. You can never be sure history will repeat itself. However, a big sell off is more likely under the current conditions. The only question seems to be the exact timing. NLY still deserves your consideration though. It will pay a good dividend. Plus it has historically bounced back quickly from recession induced sell-offs. It should do so again. It should far outperform bonds over the long term.
NOTE: Some of the fundamental financial data above is from Yahoo Finance.
Good Luck Trading.
Disclosure: I have no positions in any stocks mentioned, but may initiate a long position in NLY over the next 72 hours. I wrote this article myself, and it expresses my own opinions. I am not receiving compensation for it (other than from Seeking Alpha). I have no business relationship with any company whose stock is mentioned in this article.