I've written 3 articles about Smith & Wesson (SWHC) and I mentioned adding the company to our "Retire Young" portfolio in my last article regarding the company. I kept talking about how cheap Smith & Wesson is for months, and people kept telling me that cheapness of the company didn't mean much because a lot of "big guys" were dumping this stock. After all, if a stock is being dumped by the big guys, being cheap may not really increase the share price of the stock in the short term. Let's go back to my last Smith & Wesson article and look at the comments: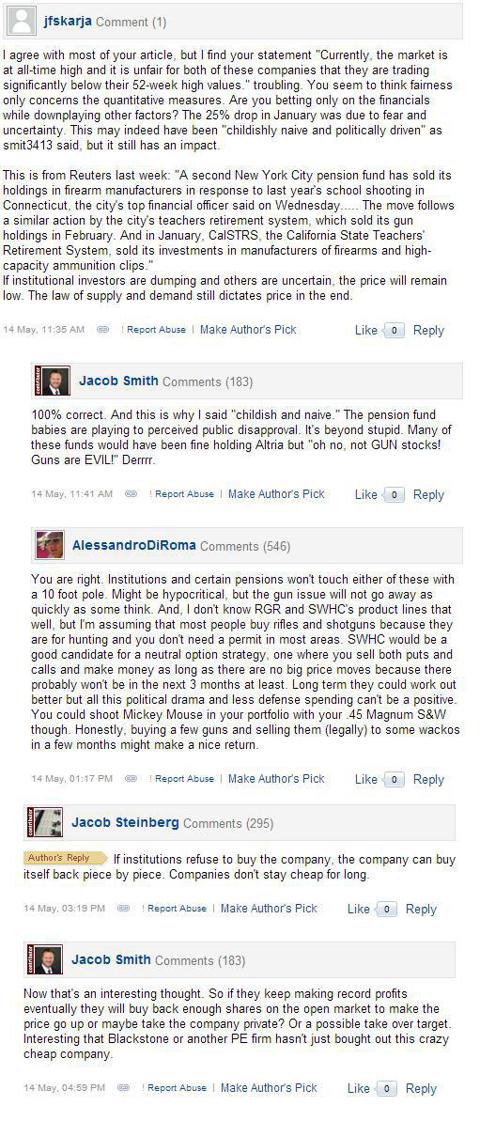 Since then, only a month has passed and Smith & Wesson started to do what I said it was going to do, which is buying back shares while they are cheap. When a company buys a large number of shares of its own stocks, you know that the company is cheap. According to the latest announcement, Smith & Wesson will be spending $100 million to buy some of its shares back in order to increase shareholder value. At the time of the announcement, the company was worth $570 million, which means that the company could potentially reduce the number of outstanding shares by nearly 18% which is massive. Smith & Wesson is clearly telling the investors that its stock price is too cheap to ignore.
Everybody agrees that a company growing at a double-digit rate should not be trading for a P/E of 10. Low P/E ratios are reserved for companies who are close to maturity with few growth prospects. Smith & Wesson's revenues grew by 20% and its earnings grew by 186% in the fiscal year of 2012. This year, the double-digit growth story continues as the company continues to have double-digit operating margins and strong demand. In the fiscal year 2013, Smith & Wesson has generated $588 million in revenues, which is up 43% compared to 2012's figure and nearly double of 2011's figure. Even those that are bearish on the company agree that the company is priced for a revenue reduction of up to 50% at the moment. Those who believe that Smith & Wesson is a good shorting candidate also believe that the company's strong demand was a one-time thing and that its demand figures will fall by 50% or more once the fear wears off.
In the beginning of the year, the company's backlog was as large as $668 million, which is probably closer to $800 million by now. At this rate, the current demand for Smith & Wesson's products is far above the company's annual revenues. For example, if we add the backlog to company's revenues, we see that the actual demand for Smith & Wesson products is as large as $750 million as opposed to the $570 million generated by the company. This is the number the company would have generated if it was able to meet all the demand and the backlog didn't exist. The worst case scenario calls that the demand for the company's products will fall by 50%, which would take the annual demand to $375 million per year. Even if this happens, the company can still generate $570 million for the next 3 years because it will take the Smith & Wesson that long to clear its backlog. Because of the company's huge backlog, we know that its revenues will be stable for at least 3 years even in the worst case scenario.
Every year, skeptics claim that gun demand is on the rise due to political fears and that they expect it to fall sharply next year. Yet, every year, the gun demand continues to be at least as strong as the last year, if not much stronger. Just 5 years ago, guns were a "guy thing." Now, women are buying guns in increasing numbers which automatically doubles the demand for guns effectively.
Besides, there is no indication that the gun demand will face a slowdown anytime soon. If the company saw a slowdown in its demand, it wouldn't commit itself to spend $100 million to buyback a large number of shares. At every earnings call, the management of Smith & Wesson is highly optimistic about the future of the company. As I mentioned in one of my past articles, the increasing demand on guns is not a one-time trend and it's been going on for a while. If the demand was due to certain fears (such as political fears) we would have seen the demand spiking up all at once, yet we see the demand trending upwards in a slow but steady motion over the years.
We added the company in our "Retire Young" portfolio when it was trading at $8.77. Furthermore, we sold covered calls on the stock, reducing the breakeven price to $8.27. Now the stock trades for $10.00, which was our strike price. We effectively earned a yield of 21% on this stock within one month. I link to the "Retire Young" portfolio article in the first paragraph; I urge my readers to take a look at the article along with my other Smith & Wesson articles.
Disclosure: I am long SWHC. I wrote this article myself, and it expresses my own opinions. I am not receiving compensation for it (other than from Seeking Alpha). I have no business relationship with any company whose stock is mentioned in this article.