LVMH (OTCPK:LVMUY) is undeniably the Berkshire Hathaway (NYSE:BRK.B) of luxury goods. The company owns the most coveted luxury brands, including Givenchy, De Beers, Berluti, and Céline. Certainly, this is the type of business I am excited to own long-term, of course if it's bought at an attractive valuation. However, I believe risk to the downside is currently not embedded in the stock price. Let's find out why, but first here are a few interesting facts about LVMH in fiscal 2012:
1. Japan accounted for 8 percent of the company's revenue
2. Perfume sales generated 48 percent of the revenue for the Perfumes & Cosmetics business group
3. Revenue per employee came in at $348,684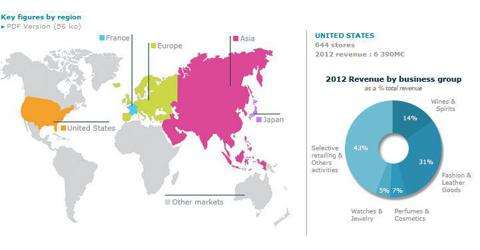 Click to enlargeImage courtesy of LVMH.com
Over the last five years, earnings per share and dividends have increased 10 and 12.63 percent, respectively. Current laws in France entitle the French government to a 25 percent cut of all dividends distributed by French entities. However, American investors can take advantage of the 15 percent rate permitted between the United States and France as part of a tax treaty, which became effective in 1996. Please note that this tax treaty rate is not applicable to tax-sheltered accounts such as IRA's, only fully taxable brokerage accounts.
Unequivocally, management's effectiveness at running the business positions the company for continued growth and expansion. For example, its five-year average return on assets is 7.96, which is 37.5 percent higher than the industry average for the given time period.
As of this writing, LVMH is trading for $162.23 on the Paris stock exchange. Its price-to-earnings ratio (trailing twelve months) is 18.48, not particularly attractive in my opinion. Another relevant valuation metric to take into account is the price to free cash flow, which currently stands at 62.85 and is 167 percent higher than the industry average. With a miniscule dividend yield of 2.3 percent, there are plenty of other investment opportunities with higher returns.
Will the new branding strategy lift sales?
The company's new strategic direction was obvious in a recent Louis Vuitton fashion show: to minimize logo fatigue. In the previous runway show, the renowned LVMH Monogram and Damier canvas were nowhere to be seen in the runway.
Here is a 2012 ad campaign displaying the popular monogram.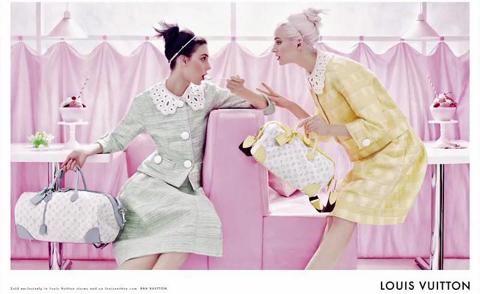 Click to enlarge
Here is a 2013 ad campaign without the renowned logo.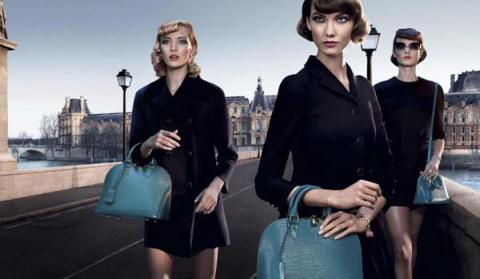 Click to enlarge
I live in Manhattan. It is guaranteed that on a daily basis you will see multiple consumers in the subway as they proudly carry their Louis Vuitton handbags. This has prompted sophisticated consumers to refer to these handbags as the "secretary handbags." Indeed, this is light years away from the strategic positioning management strives to achieve for the brand. Consequently, the wealthiest and most sophisticated consumers are flocking to other non-ostentatious and more exclusive brands. This is not an anecdote as change in consumer sentiment towards the brand may be the culprit affecting the top line as LVMH reported slowest revenue growth since 2009. In the first quarter of 2013 sales within the fashion and leather goods business rose only 0.4%. Total Q1 sales were up 7% compared to a 14% increase in the first quarter of last year. Louis Vuitton accounts for over 75 percent of revenue at LVMH.
Although I'm glad management is taking the necessary steps to spur growth and expansion, the success of the new branding strategy remains dubious. Meanwhile, there are currently other investment opportunities with more attractive returns. Therefore, patience will pay off to wait for a future opportunity when the stock is a better bargain and the outcome of the re-positioning strategy is more predictable.
Disclosure: I have no positions in any stocks mentioned, and no plans to initiate any positions within the next 72 hours. I wrote this article myself, and it expresses my own opinions. I am not receiving compensation for it (other than from Seeking Alpha). I have no business relationship with any company whose stock is mentioned in this article.