I've been tracking the product launches of Vascepa and Belviq for about a month now. The similarities and contrasts are riveting. And truthfully, I can't wait for each new story to appear in my "Latest Portfolio Headline" column here on Seeking Alpha.
My story today will focus on Amarin (NASDAQ:AMRN) and won't be quite like any other you've read. My angles on all of this are a bit more obtuse than they are direct. While most authors will enthrall you with their financial analysis, I've chosen to invest almost exclusively in biotechnology because I find that approach useless.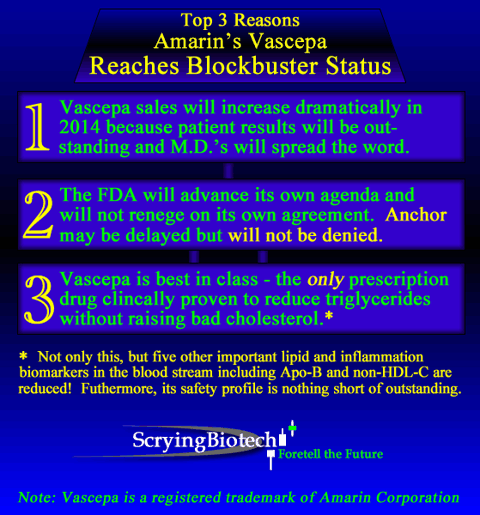 Despite everything you've read about Amarin's Vascepa and Arena's (NASDAQ:ARNA) Belviq, these two companies are headed for blockbuster sales in 2014 and beyond. This will happen primarily because the FDA has deigned it be so.
There is one card that trumps the Kings of tribalist alliance within the FDA and that card is the Ace of Agenda. Making ObamaCare work by keeping people out of the hospital is the driving force behind the FDA's approval of both Vascepa and Belviq.
Of course, the FDA is simply reflecting a larger movement in our society geared towards health consciousness through preventative care but it's for this reason primarily that Amarin and Arena will succeed.
To date, we've seen the FDA work hand-in-hand with Amarin to design each Phase III trial so that approval would come swiftly as a result of agreed upon data sets being achieved.
Arena's Belviq was approved despite its novel mechanism of action targeting brain chemistry by tricking a person into believing their full when they're not and a diet pill history that is littered with epic disasters.
In both instances, the FDA is giving a nod of approval to companies that take on the task of treating symptoms they believe are problematic [namely fat and fats in the bloodstream] before they become the full blown illnesses of obesity and heart disease.
The Psychology of Product Launches - Stock Depression
As of this day, both stocks are struggling as is customary for companies engaged in market startups. After the FDA has given approval to commercialize, several things happen which cause product launch stocks to wobble and trend down.
Initially, there's profit taking. Then there's the uncertainty surrounding the development of a sales plan, organizing a sales team and then executing upon that strategy. At the same time, the stock price is easily influenced by anyone's conjecture especially if that entity speaks with some degree of authority.
In Arena's case, the effects were minimized by management's quick action in signing a partnership agreement with Eisai Inc. which de-risked their exposure to capital loss and enhanced their confident realization of revenue moving forward.
Where Amarin is concerned, management stumbled badly out of the starting gate delaying the launch of Vascepa as a result. Additionally, Amarin chose the go-it-alone approach in order to keep their buyout options wide-open. The worrisome consequence of this choice is that their cash valve is wide-open as well.
As a result, Amarin has gone from sunny and optimistic in the days following their approval for the Marine indication to cloudy and brooding in slightly less than a year. Being a serendipitous sort of person, I wasn't surprised to learn the name Amarin comes from the Australian, "Amarina" meaning - rain.
The sunny part of Amarin's story revolves around the inception, approval and on schedule commercial growth of its only marketable product - Vascepa. Two of three clinical trials (Marine and Anchor) went with nary a hiccup and a third, Reduce-It is now underway. The product was approved for the Marine indication on July 26th of 2012 and is being marketed to patients with a cardiovascular disease known as, Hypertriglyceridemia.
The present market share of Vascepa encompasses those persons with elevated triglycerides in excess of 500mg/dL. The incumbent first line therapy is a product by GlaxoSmithKline (NYSE:GSK) called, Lovaza. Because Lovaza raked in over a billion dollars in 2012 and because Vascepa is comparatively a better product, it was believed that Amarin would be a quick acquisition target of a larger pharmaceutical entity long before a bottle of Vascepa wound up in a salesperson's bag. That hasn't happened.
Big pharma's disinterest in Amarin, at least at the lofty prices bandied about initially hasn't been the only cloud to roll up on Bedminster New Jersey's shore or Ireland's either for that matter.
NCE - New Clouds Encroaching
The FDA has, for months now withheld an important designation from Amarin designed to protect Vascepa against generic competition. The New Chemical Entity status or NCE, once thought by the company to arrive within a month or so after Vascepa's approval has been noticeably missing. In its absence, Amarin has filed with percussive regularity a number of patents designed to protect their intellectual property.
These two non-events have left shareholders out on a cold dock with little to protect them from freezing short sleet plying fissures of doubt into chasms of fear.
Deploy Your Umbrellas Folks, It's Raining Dogs
They come in the form misquoted insiders and hardly relevant authoritative studies. They also show up as nameless bio-bloggers hiding behind colorful pseudonyms eager to make a quick buck preying upon the fears of would-be investors.
In the dark trade of sewing doubt technique is everything. If NCE status hasn't been bestowed for instance, get an expert in the form of "an institutional investor who made money on Amarin" to say the lesser status of NME [New Molecular Entity] isn't coming anytime soon either. Take this a step further by suggesting that a potential partnership hinges on NCE and as a result Amarin's stock is "horrendous".
If you've been right recently about an important FDA decision and have had a theory about the approval of oncology drugs named after you, declare that the FDA won't approve Vascepa for the Anchor indication even though it doesn't fit the formula of your theory or the facts in front of you.
Break Out The EPA Tanning Oil, The Sun Is About To Shine
My position on Amarin is simple and straight forward. The critics couldn't be more wrong. And the following three things will transpire.
The FDA will stand firm approving Vascepa for the Anchor indication with a jaw dropping patient pool 10 times the size of Marine. Any delay will be due to ironing out the particulars of on-label claims and nothing more.
The FDA will bestow NCE status to Vascepa within a few weeks of this article's publication. Although withholding the designation would drive the FDA's agenda of preventative care by making cheaper generic versions of Vascepa available to everyone, I'm convinced the FDA will remain supportive of Amarin's product.
The long hoped for acquisition of Amarin will likely take place within weeks of Anchor approval. Everyone has a favorite, Pfizer is mine as Lipitor remains an easily recognized brand name that could be renewed with an added spritz of Vascepa.
The biggest mistake Amarin management can make is not having a plan in place to execute that aggrandize sales opportunity in lieu of a buyout offer. Amarin investors can only hope management has learned a valuable lesson and won't repeat a past mistake. A partnership agreement should be in place with notice given to all interested parties to swiftly present their intention of acquisition by a given deadline.
Anchor Won't Be Denied
There is significant talk emanating from the most influential bio-blogger on the web - Adam Feuerstein, that the FDA will delay approval of Vascepa for the Anchor indication until the Reduce-It study is complete. This larger group of potential customers, 36 million in number, have elevated but not extremely high levels of Triglycerides of between 200 and 500 mg/dL.
The essential reason given is that the FDA advisory committee meeting on October 16th will err on the side of saving itself from embarrassment by waiting until it can be proven that Vascepa has an actual cardiovascular event reducing profile in addition to the proven clinical results demonstrated in the mutually agreed upon trial.
To which I say: 'Nonsense!' The FDA does what it wants and often in confounding ways. It doesn't give a hoot what anyone thinks of its decisions and hasn't suffered a tinge of embarrassment from any drug approval which later fails or proves to be ineffectual for reasons unknown to it at the time.
Furthermore, the FDA isn't going to compromise its own integrity by identifying a pathway to approval through an SPA agreement and then rule against itself.
What it's going to do is carefully address with Amarin what it can and cannot claim about Vascepa in conjunction with this broader indication. Can it for instance say that Vascepa reduces bad cholesterol or that it simply doesn't raise it? This discussion will include several variables few of us can or will anticipate and could bring about a significant delay but nothing on the order of 2016 when Reduce-It will be completed.
Vascepa: The Only Triglyceride Reducing Drug Without A Hitch
All three reasons why Vascepa will reach blockbuster status can be summed up as follows - Vascepa works! And it works without qualification.
Lovaza works but it raises bad cholesterol. There's no wonder prescriptions for Lovaza declined from the 3rd quarter of 2012 through the first quarter of 2013. If a patient's bad cholesterol numbers are rising while his or her triglycerides are falling, that's not necessarily an acceptable trade-off. Doctors have noticed this and they're evaluating the risk-reward of prescribing it.
Vascepa will accomplish the task of lowering triglycerides without raising any troubling bloodstream bio-markers. In fact, it reduces them!
Doctors will notice the difference and participate directly in adding to the Amarin sales force by writing more prescriptions. And then, they'll tell their colleagues who will do the same thing all over again.
Notably, Lovaza revenues climbed in the first quarter of 2013 to a record $267.9mm while the previous two quarters were records as well. This seems to contradict the idea that doctors are some how disenchanted with "fish oil" as some would have you believe.
Epanova Works!
Omthera's Epanova is another example of the FDA's agenda driven orientation targeting preventative care therapies as its trials were conducted under SPA agreements as well. Unfortunately, it too raises so-called bad cholesterol but by a seemingly insignificant 1%.
AstraZeneca (NYSE:AZN) had $4.4bn worth of reasons to acquire Epanova. Its cholesterol reducing drug Crestor was the 8th highest grossing prescription drug in America in 2012 with $4.4bn in sales. Its patent expires in November of 2016 less than four years from now.
By that same time, AstraZeneca will be able to walk Epanova through the FDA approval process and will no doubt fashion a Crestor plus Epanova formula which will extend the life of the Crestor brand name. Look for "Crestor Plus" in television commercials throughout 2016.
I'm not convinced as other writers are that Epanova won't be approved for patients in the Anchor indication but that approval will come after Vascepa has had ample opportunity to establish its market share.
My Conclusion
Starting in July, the risk-reward scales are tilting heavily toward the positive where Amarin is concerned. Whether I'm right or wrong about NCE approval, no announcement is a non-event and approval is a boon.
All stocks trend up toward a binary event but Anchor is a PDUFA date unlike any other. It's the biggest pot of gold available in 2013 and investors will ante-up accordingly.
Now that the October 16th advisory committee date has been added to the calendar, I believe the stock will have two periods of trending significantly higher instead of one. The first between July 8th and September 26th in anticipation of the advisory committee meeting. And the second, after the meeting concludes with a recommendation to move forward toward approval. Any delay will move the PDUFA date into early 2014 and stagnate the upward trend by not reverse it.
I'll be initiating my first position in early July and adding to it throughout the summer.
Note to shorts: I've enjoyed your clever subterfuges and look forward to more as a shareholder.
Disclosure: I have no positions in any stocks mentioned, and no plans to initiate any positions within the next 72 hours. I wrote this article myself, and it expresses my own opinions. I am not receiving compensation for it (other than from Seeking Alpha). I have no business relationship with any company whose stock is mentioned in this article.
Additional disclosure: Nothing contained in this article should be construed as an offer to buy, sell or endorse a security. These are my opinions only and are written to entertain and nothing more. Do not act on anything you have read in this or any article without consulting an investment professional. All stocks carry great risk but most especially those covered in my musings. You are responsible for your own investment choices and I implore you not to act on my thoughts alone. Thank you!