click to enlarge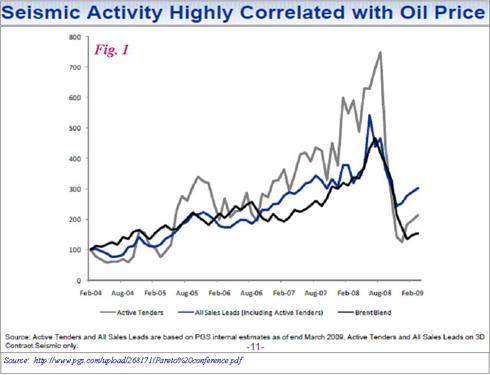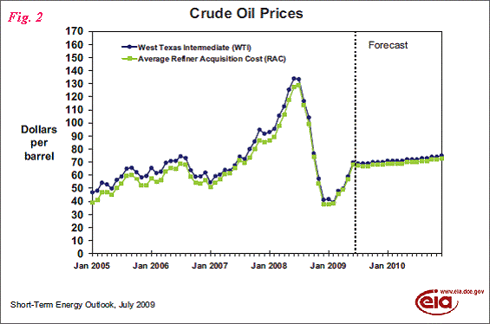 There are many sectors in the food chain of traditional energy that provide critical expertise enabling the efficient and profitable use of resources to expand our supply of oil, gas, and coal. One that comes to mind is the seismic data sector.

A Valuable Insurance Policy

Seismic data is collected with the purpose of creating a 2-D or 3-D image of the earth's subsurface. This data is then used by oil and natural gas companies to reduce their drilling risk, and to more proficiently locate reservoirs and define oil and natural gas fields. Thus, demand for seismic services is driven by the Exploration & Production (E&P) activity, which is in turn driven by the price of oil, natural gas and final consumer demand. The land seismic segment is driven more by natural gas prices due to increasing shale activity; whereas the marine seismic segment is almost entirely dictated by the price of oil.

On an intellectual level, seismic surveying is like an insurance policy for a project. The value is especially high due to its relatively low marginal cost (typically less than 5% of the total project cost), and the vital role it plays in determining the economic viability of a project.

Highly Correlated with Oil Prices

After remaining fragmented for many years, this market sector has now consolidated around 4 main players, Schlumberger/WesternGeco (NYSE:SLB) , Compagnie Générale de Géophysique-Veritas (CGV), Petroleum Geo-Services (PGS) and Fugro. There is the presence of a new market entrant - Polarcus; and the ramp-up of Chinese players - BGP and COSL, which are subsidiaries of CNPC, and CNOOC (NYSE:CEO).

In the past two years, oil prices have hit new highs and then rapidly dropped back to levels that have forced many producers to look again at the economics of exploration and extraction. The sector demand has exceeded capacity since 2006, but now, like most aspects of the oil and gas industry, it has been hit hard by the worldwide economic slowdown. According to ODS-Petrodata, the market has been in a downward spiral, with falling day rates and less work available, particularly for older 2-D vessels. (Fig. 1)

Mired by Overcapacity but Risk Diminishing

Although the seismic industry is facing a challenging period, revenue in 2009 is somewhat protected by backlogs. However, the real impact is expected to manifest in 2010. The seismic sector continues to suffer from over-capacity of marine seismic vessels. Based on Petroleum Geo-Services estimates, a 20% growth in capacity is expected for 6+ 3D streamers in 2009 vs. 2008 and a 25% growth in 2010. The pressure on marine contract prices (15-30%) continue as over-capacity persists. However, further cancellations/pushbacks of new-build vessels can be expected in 2009 as players adjust trying to rebalance the market.

Current Down Cycle Sets up Next Surge?

As an early cycle segment, seismic is expected to fall harder than the other E&P sectors both in terms of scope and pricing levels. The bright side is that there is limited downside. The current oil price forecasts are in the range of $50-$75/bbl for the next 2 to 3 years, which could bump up seismic budgets from 2010 onwards. For example, in its July 2009 Short-term Energy Outlook, the US EIA projected the WTI crude price to average near $70/bbl through the second half of 2009, and about $72/bbl in 2010. (Fig 2)

In addition, according to consultancy Douglas Westwood, there are already $17 billion of investments (= 2 million b/d of future oil supplies) postponed or cancelled and an additional 4.2 million b/d delayed by at least 18 months. Meanwhile, OPEC cut its five-year forecast for E&P spending by about 30%.
The reduced E&P investment could translate into a tighter oil market down the road due to the long time frame of oil projects (about 4 years). The current oil inventory overhang is expected to get worked off as the global economy slowly recovers. The US EIA already warned of severe impact come 2012 and much higher oil prices. That warning was echoed by Saudi Arabian Oil Minister Ali al-Naim that the world could face another oil price spike similar to that witnessed in 2008 within two-to-three years.

A Different Exploration Cycle

Although energy demand has fallen recently, oil and gas companies continue to search for new reserves to compensate for the 5-8% a year depletion of the oil fields, as well as for ways to extract hydrocarbons from fields that were previously dismissed as too expensive or difficult to exploit.

New technologies, such as WAZ, electromagnetics, and 4D, are changing the nature of this business. Previously reserved for the exploration of new fields, it is now being adopted as a reservoir management tool in the most mature fields due to the economies of scale allowed by these new technologies. For example, WAZ surveys provide six times more data with just four times the resources.

Sustained Revenue Stream - Multi-client Data Library

Seismic companies also have been investing heavily in multi-client (MC) data libraries, usually with high pre-funding. The MC investment and its business model should generate a long revenue stream over the next 10+ years.

How to Play the Seismic Shift?

As growth seems to be out of favor in the oil services sector at the moment, and the market remains very uncertain, the more diversified Schlumberger and Fugro (FUR.AS) are safer bets than the pure seismic players like Compagnie Générale de Géophysique-Veritas, and Petroleum Geo-Services.

Schlumberger, the largest diversified oil service provider in the world, has adopted seismic as a core business line by investing billions in the seismic sector over the last five years. This strategy is unique and strongly contrasts with its large rivals Baker Hughes (NYSE:BHI) and Halliburton (NYSE:HAL), which have invested little in this area. Likewise, Fugro, a European service company, is leveraged in the ROV (Remotely Operated Vehicle) segment, which has a very positive outlook in regards to growth and margins. The ROV segment is expected to benefit from continuing offshore construction activity.

Fugro stock currently trades at a discount of approximately 20% compared with the other European oil services companies like Saipem (SPM) and Technip. Schlumberger stock historically traded in the 16-27x EPS range, it currently trades at around 20x estimated 2010 EPS.

Disclosure: No Positions