It has been five weeks since I last wrote about Medical Marijuana, Inc. (OTCPK:MJNA) following its Q1 earnings release and OTC disclosure filing. While I remained negative on the company due to weak fundamentals and a high valuation, I was encouraged that the company seemed to be embracing more transparency. At the time, the stock was $0.17, but today it finally cleared the lows of $0.12 that had been set on 4/29 before the company's press release from 4/30. Today, I want to review what has led to this continued bloodbath and to take a stab at where it might be headed.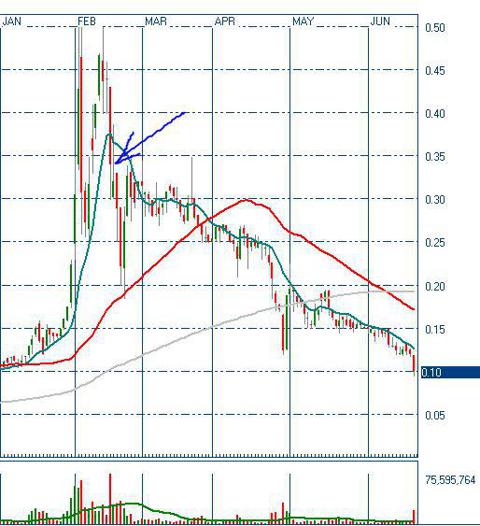 The stock is down 80% from its all-time high and 71% from when I first wrote about it on 2/18. My review will draw upon the material I have shared over the past four months and some new information. Here is a link to a complete listing of those articles:
Reefer Madness: Pot Stocks In A Bubble
Medical Marijuana Inc.'s Recent Transaction And Guidance Raise Questions
Why Medical Marijuana Inc. Has Lost Its Buzz
The Haze Lifts: 96% Of Medical Marijuana Inc. Q4 Sales From Questionable Transaction
How Management Misled Investors When It Gained Control Of Medical Marijuana, Inc.
Medical Marijuana Inc.: Whistling Dixie, Blowing Smoke
Medical Marijuana Inc. Q1 Report Feeds The Bears But Gives Bulls Some Promise
Concern #1: Who's On First?
MJNA has a void in leadership, and this remains an obvious overhang on the stock as investors await with hope for a new CEO. The current executive officers include just the COO/Chairman Michelle Sides, Tripp Keber, the President of Red Dice Holdings and Chuck Smith, the COO of Red Dice Holding as well as three "directors" from CanChew Biotechnologies. Keber and Smith are employed by Dixie Elixirs as well, and Keber left the Board of Directors of MJNA in early March. The company hasn't had a CFO in a while. Companies who lose executives and directors suggest some caution, while companies who can't find replacements suggest a big problem.
Concern #2: The Slip of Tripp
Last month, Tripp Keber was arrested on drug charges in Alabama. The issue is described in this Denver Post article. Keber is the reason many investors came to MJNA in the first place, and he has been a strong spokesperson in contrast to Ms. Sides, who hasn't conducted an interview available to the public to the best of my knowledge. He had previously stated in interviews that he doesn't use drugs. I don't judge him for potentially using them, but it dents one's credibility to say one thing and do another and brings into question his judgment.
Concern #3: Weak Press Releases
MJNA has issued several press releases over the past month, but they have been vague and about the industry rather than the company. Investors are unable to decipher the messages and to figure out what it means for the bottom-line, if anything, even when they refer specifically to new products.
Concern #4: No Audit - Restatement Coming
As I have discussed, after two years of promising audited financials, the company hasn't made much progress. If one reviews the first quarter that they audited (Q4-12), it's apparent that the financials don't properly reflect the CannaVEST transaction. The cash flow statements show a missing $1mm roughly. Today, we received an indication that there may be a restatement ahead, as the company filed six "Articles of Correction" to Oregon, where the company is based legally:

I called Oregon and was told that these are currently available only via snail-mail. Stay tuned as we learn more here. Remember, the company has engaged outside counsel for an internal investigation. The uplisting that has been promised for a while isn't going to happen in 2013 without completing audits for the prior two years. Closing below $0.10 will also deter this from happening for at least 90 days.
Concern #5: CanChew Gum Launch
MJNA owns 50% of CanChew Biotechnologies, which has launched a novel gum that delivers up to 10mg of CBD per stick at a cost of as much as $4. The original label was 10mg, but they changed it and now indicates 8-10mg. The company updated supply availability, but there has been no mention of demand beyond selling out in their first batch.
There has been no buzz for this product - very few media mentions or public endorsements. I ran a Google News Search for "CBD gum" and "CanChew" - nothing comes up! MJNA has minimal experience in direct-to-consumer marketing. It needs to partner with a company that can handle this aspect.
Concern #6: Challenges With Funding Growth
On the one hand, MJNA has lots of expansion plans. On the other hand, it has an authorized share-count of 950mm and is up to 936mm outstanding. I was unable to confirm speculation that they increased the A/S to 2 billion shares. With just $1.5mm in the bank, where will they get money if they can't keep issuing shares? Perhaps a reverse split. I expect the share-count solution will prove more likely.
Concern #7: Unrealistic Guidance
Right after my first article, the company gave guidance for 2013 and 2014 that seemed overly aggressive and appears to have described the CannaVEST payments as cash flow (when they are shares of stock). None of the press releases have subsequently have addressed the guidance. I think investors would like to have clarity here regarding the current expecations and perhaps some indication of how the company can achieve its goals within its current line-up of offerings.
Concern #8: CannaVEST (CANV.OB)
CANV filed a press release today that you can read here. This follows a similar press release by MJNA cited above but seems to suggest that there may be some sort of conflict:
On June 18, 2013, Medical Marijuana, Inc. (MJNA) issued a press release reporting events and other information related to Phytosphere Systems. Medical Marijuana, Inc. purported to jointly announce with Phytosphere Systems the expansion of hemp production capability. As previously reported by CannaVest Corp. in its Form 8-K/A filed on February 13, 2013, on January 29, 2013 CannaVest Corp. acquired certain assets of Phytosphere Systems, LLC, including all vendor and supplier contracts for the securing of raw hemp product, as well as all Internet domain names and an exclusive license to use the name Phytosphere Systems for the purpose of developing and commercializing, buying, selling, marketing and promoting hemp-based products.

CannaVest Corp., through its Phytosphere Systems operations, supplies raw hemp product to Medical Marijuana, Inc. and its related companies. The company is in discussions with Medical Marijuana, Inc. to enter into formal supply and distribution agreements that will allow Medical Marijuana, Inc. and its related companies to secure raw hemp product at pricing discounts to be determined from current market values, and allow certain of those companies distribution rights for finished products owned by CannaVest Corp. No such agreements are currently in place, although the company expects they will be completed in the near future.
It's disturbing that the companies still have no supply and distribution agreements after four months. Worse, CANV appears to be chiding MJNA for using the PhytoSPHERE name and for issuing the press release instead of them. I have been very cynical about this transaction and will share my concern. CANV was funded last November with just $350K (borrowed). This worked out to $0.05 per share. The deal with MJNA will result in approximately 7mm shares being issued to MJNA in total by the end of the year, about 50% of the company. CEO Mona, through Roen Ventures (which has been linked to Michael LLamas, the former CEO), has lent money to CANV and is highest in the capital structure. The company can also apparently issue shares (a very high authorized share-count). My fear is that MJNA could end up with worthless stock as Mona, who has very little invested in the equity, could achieve a "takeunder". Maybe I am too speculative here
Where Is It Headed?
If you find valuing MJNA difficult, you aren't alone. My guess is that most people can't and don't. It's easier to say "it's going to $1" or "it's going to zero". My own rationale is derived a lot differently than how I typically might value a company, as I tend to focus on companies that have real revenue, real earnings, and real book value. With MJNA, there are so many things one must contemplate:
How many shares should we assume?
What sales, earnings and cashflow are possible?
What's the value of the CannaVEST stock?
If we don't know the number of shares, we don't know the value of a share. My underlying assumption is that the company is worth about $50mm, which works out to a little over $.05 per share assuming no further dilution (bad assumption). This is arbitrary, to say the least, as it represents a very large premium to the company's current operating model metrics. Fellow Seeking Alpha contributor Ashraf Eassa could very well be right in his call for $0.02 to $0.05. The current book value per share is about $0.03 ($28.5mm on 936mm shares), so this provides little comfort. Worse, only $1.5mm is cash. Almost half is CannaVEST stock. What's interesting here is that the PhytoSPHERE deal should leave MJNA with about 7mm shares that are currently trading at $12. I use trading loosely, as the shares don't really trade. While there would be taxes to pay, even so, the CANV holdings, on paper, represent a large amount of the current value. I expect CANV to plunge over time and wouldn't want to incorporate much value for the shares that MJNA holds. Many of the other assets are very difficult to liquidate, like the capitalized R&D at CanChew Biotechnologies.
Looking at the technicals, there is nothing magical about $0.10, just like there was nothing magical about $0.25 or anything in between. A year ago, the stock bottomed below $0.03, and there are lots more shares outstanding today. Bulls have called for a "short squeeze", but the short-interest plunged, down to just 610K shares as of 5/31 compared to a peak near 9.3mm at the end of February. 40K investors sounded scary, while 40K disillusioned holders sounds like trouble. More sellers? Besides the company itself, which is no stranger to selling, shares issued a year ago to pay for CanChew Biotechnologies were subject to a one-year lock-up that has expired (I base this on an interview I heard with Mr. Keber).
I think it's too early to change to get positive on the name despite the large price decline. The fundamentals are questionable and the stock is in a downtrend with lots of supply and little reason for demand. The valuation isn't cheap enough. I had hoped that the move towards transparency suggested in the 4/30 press release and the earnings report might lead to some questions being answered soon, but they have not. Until we see director and management appointments, stay away. It probably won't happen until after the accounting is restated for 2012 and perhaps earlier, as I expect, and the capital structure is clarified.
Disclosure: I have no positions in any stocks mentioned, and no plans to initiate any positions within the next 72 hours. I wrote this article myself, and it expresses my own opinions. I am not receiving compensation for it (other than from Seeking Alpha). I have no business relationship with any company whose stock is mentioned in this article.