When I first wrote on CardioNet (NASDAQ:BEAT) in September of 2012, most investors were down on the stock as a result of sales being down for three years consecutively and showing profitability in only one year since the company went public in 2008. As you can see from the chart below, things changed in a hurry at this cardiac monitoring company.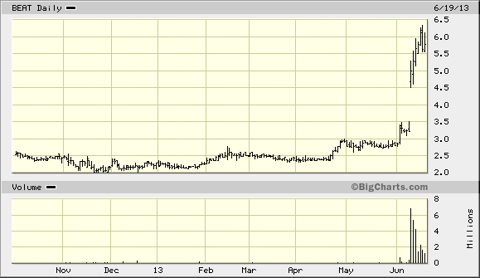 At the time, my thesis was that after a few years of disappointing results, there were multiple catalysts that could lead shares significantly higher. First, the company spent two years consolidating the space, which could lead to revenue and cost synergies. Second, management implemented a $7 million cost reduction plan to get the company back to profitability. Finally, there was notable insider buying at the time. To backstop these catalysts, the company had a tangible book value of $1.80 per share and $0.70 per share in cash, while the stock was trading at $2.45.
Since September, things have changed. After the company reported its first quarter results in April and showed sales growth and a narrowing loss, investors cheered by bidding shares up 20%. Additionally, the company brought down its bad debt % to its lowest level in two years, which boosted cash flow for the period and portends well for the company's ability to be profitable in the future. But that was only the beginning. On June 10, the company announced that it entered into a 3-year national agreement with United Healthcare (NYSE:UNH) covering all of CardioNet's monitoring modalities. The primary benefit of the agreement is that it opens CardioNet's most advanced product, the MCOT, to United's 70 million members. Since this announcement, the stock is up 80%.
Now that the stock has run up more than 100% since our recommendation, I want to revisit the story at its current valuation. Before the run up, the stock was trading at less than 0.4x Enterprise Value/Sales, while it now trades at 1.1x EV/Sales. Also, while there was notable insider buying when the stock was around $2, there has not been any since November of last year. And while the United contract opens up more doors for the company, it still is charged with the task of convincing doctors to order that the monitoring be done. While we believe it's entirely possible for it to pull this off, time will tell how successful the company is. Finally, while the company is headed towards profitability on its current path, if it faces any additional headwinds including lower utilization and reimbursement pressure, we may not see profitability as soon as we'd like.
In conclusion, the story has so far played out as I expected and at the time I wrote the article, I set a $5 price target. As that target has been surpassed, CardioNet has changed from a distressed story to a show-me story. Management will need to continue executing on driving synergies from recent deals, capitalizing on expanded reimbursement coverage and attaining and maintaining profitability in order to drive shares higher. In the meantime, we advise investors sit on the sidelines. In order to maintain its current valuation, the company has to swing from an annual operating loss to a profit of at least $6 million per year. While we hope this can be done, we would prefer to take this risk at a more appealing valuation.
Disclosure: I have no positions in any stocks mentioned, and no plans to initiate any positions within the next 72 hours. I wrote this article myself, and it expresses my own opinions. I am not receiving compensation for it (other than from Seeking Alpha). I have no business relationship with any company whose stock is mentioned in this article.