Given the increased market volatility over the last month, today it is companies with international exposure, strong positions within their industry, stable business models, and which offer an attractive dividend yield that are expected to protect investors from these uncertain times. Roche (OTCQX:RHHBY) is clearly a company that fits these criteria. It is from the pharmaceutical sector, which is usually considered defensive, and is based in Switzerland, which is one of the few remaining 'safe-havens' in the world. Also reflective of its defensive status is Roche's credit rating, which is AA by Standard & Poor's. One of Roche's main shareholders is Novartis (NYSE:NVS), the other big pharmaceutical company based in Switzerland.
The company has a very long history given that it was founded in 1896, having nowadays more than 80,000 employees in over 150 countries across the world. As a research-focused healthcare company, Roche discovers, develops and provides innovative diagnostic, therapeutic products, and services that deliver significant benefits to patients and healthcare professionals. Roche is also the world leader in biotechnology, with six of Roche's 10 top-selling medicines manufactured using biotechnology. Its reporting units are pharmaceuticals and diagnostics. The pharmaceutical division is focused on five therapeutic areas: oncology, virology, inflammation, metabolic disorders, and the central nervous system. In the diagnostic division, the company develops and markets products that support clinical decision-making in a wide variety of indication fields that include oncology, virology, inflammation, cardiovascular and infectious diseases.
In 2012, Roche achieved more than $49 billion in sales, an increase of 7% from the previous year including exchange rate gains. The U.S. and emerging markets, especially China and Brazil, were the main regional growth drivers. Pharmaceuticals account for over 75% of Roche's drug sales and diagnostics about 25%. Roche has very strong international exposure, with group sales spread over the continents as shown in the graph below.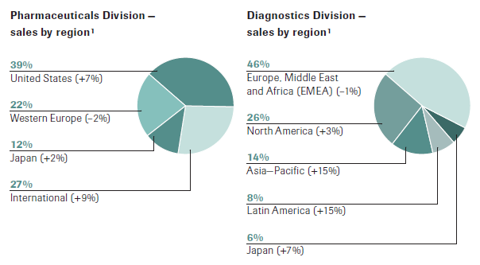 Click to enlarge
The company continues to invest significantly in research and development activities, and invested over $9 billion in R&D during 2012. This was an increase of 5% from the previous year, representing about 19% of Roche's sales. The company's profitability is very good with an operating margin of 37.7%, increasing from 35.6% in 2011.
Regarding its dividend, Roche has an impressive long-term dividend growth history with the 2012 dividend being the group's 26th consecutive annual dividend increase. Roche paid $1.94 per ADR share related to 2012 earnings, an increase of 5.4% from the previous year. Note that each ADR represents one quarter of one ordinary share. The payment frequency is annual. Over the past five years, the average annual dividend growth rate was 10.1%. The dividend payout ratio was 53% in 2012, slightly below its average payout ratio of 55% from 2008 to 2012. This ratio can be considered low given that Roche has a stable business from a defensive industry, is very well diversified geographically and continues to improve its profitability. Moreover, the dividend is amply covered by the company's operating free cash flow, which was almost $17 billion in 2012 and increased at a faster rate (10%) than its dividend (8%) in Swiss francs. For 2013, Roche expects to further increase its dividend. Currently, Roche offers an attractive dividend yield of approximately 3.1%.
Pharmaceutical companies are in the midst of the second big year of patent expirations. This is one of the key issues facing the industry right now and can negatively impact a large pharmaceutical company's revenue growth, earnings, and therefore its ability to pay dividends. For instance, Pfizer (NYSE:PFE) saw its revenues decrease by 10 percent in 2012 to $59 billion, primarily due to the loss of Lipitor exclusivity in most major markets. Sales of this drug declined by $5.6 billion in 2012, a drop of 59% from the previous year. However, Roche has a very limited patent expiry in the next couple of years and has also a broad range of medicines and products, thus it is less prone to this issue. Nevertheless, revisions to government healthcare budgets or policy changes pose a risk to all pharmaceutical companies and Roche is no exception.
Disclosure: I have no positions in any stocks mentioned, and no plans to initiate any positions within the next 72 hours. I wrote this article myself, and it expresses my own opinions. I am not receiving compensation for it (other than from Seeking Alpha). I have no business relationship with any company whose stock is mentioned in this article.