The 13 closed end fund (CEF) types on average were up 2.7% for the week ending 7/24/09. The S&P 500, as measured by the SPDR S&P 500 ETF (NYSEARCA:SPY), registered an increase of 4.2%.
On an aggregate, unweighted basis, the weekly price increase for 641 CEFs was up 2.6%. The weighted 51 CEFs comprising the Claymore CEF Index registered an advance of 3.2% for the week. The 641 CEFs' aggregate, unweighted current distribution yield is 7.9% and is trading at a 5.1% discount.
Year-to-date, CEFs on average have extended their price appreciation to 28.6%. (Click here for YTD CEF Performance)
Consistent with the CBOE Volatility Index (VIX) drop of 5.1%, the Eqcome CEF Fear Index subsided for the week. The unweighted average price rose greater than NAV (2.6% versus 1.9%, respectively). The biggest spread between the weekly price and NAV change was for Nuveen Virginia Div Advantage Muni Fund (NYSEMKT:NGB) at 8.9%; the least was for First Trust Strategic High Income Fund (NYSE:FHI) at -23.0%. (A positive spread between the price and NAV could be viewed unfavorably subject to other metrics, and visa versa.)
CEF Weekly Fund Type Performance: With equities continuing to add on to last week's strong gains, equity-oriented fund types continued to outpace fixed income. The one exception was LoanPartFnds which logged in a better than average performance. There was a tilt towards global CEFs even within some of the winning fund types. "Other" fund types (OtherFnds) lagged as they are dominated by "buy/write" or "option/arbitrage" CEFs. These investment strategies are typically considered conservative.
While on average all fund types posted weekly positive price changes, several of the fund types recorded expansions in their discounts, i.e., their price change was less than the change in their NAV. These fund types included InvGrdFnds (7.2%), SpecEqFnds (6.2%) and GenEqFnds (3.6%).
Weekly Comparisons: For sake of weekly comparison, the equity markets rambled on. Better than expected earnings news—sans Microsoft (NASDAQ:MSFT), encouraging housing numbers, non-earning money market returns and political gridlock on Obama's health care plan all bolstered investors' spirits and increased their appetite for equities. Next week's economic data will feature a reading on the health of the consumers with retail sales, consumer confidence and housing data. (Click here for next week's economic calendar)
The debt segment (blue) of the ETF market posted flattish results with no sign of inflation on the horizon. Vanguard Total Bond (NYSEARCA:BND), iShares Muni fund (NYSEARCA:MUB) and iShares mortgage backed securities fund (NYSEARCA:MBB) registered changes of: 0.4%, 0.0% and 0.1%, respectively. Their CEF counterparts were all up 1.0% or better. Next week's record amount of bond supply ($205 billion) will test the depth of debt markets.
The commodity segment (red) of the market continued to signal an expectation of a global economic recovery. Such gains were also aided by a decline in the US dollar (USD).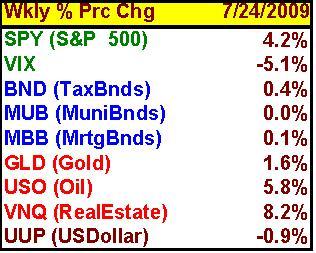 Commercial real estate, as measured by Vanguard Real Estate Investment Trust ETF (NYSEARCA:VNQ), continues to confound.
After posting a surprisingly strong performance of 7.2% the previous week, the ETF tacked on another 8.2% this week. The Ultra Real Estate ProShares ETF (NYSEARCA:URE) was up 16.1% for the week.
Investors' general consensus is that while commercial real estate is increasingly worrisome to bank regulators, many of the publicly traded real estate companies have already put their balance sheets in order. It's likely they will be the acquirers in this depressed real estate pricing environment. (Click here for ETF YTD sector performance)
CEF High & Low: For the sake of data points, Nicholas-Applegate Convertible & Income Fund (NYSE:NCV) was one of the stronger performing CEFs, up 12.3%. ConvSecFnds was this week's best performing fund type.
One of the worse performers of the week was First Trust Strategic High Income Fund (FHI), off 22.7%. FHI, a high yield fund, earlier in the week reduced its monthly common share dividend 60% from $.06 to $.025 per share. This should be a cautionary tale for owners of PIMCO High Income Fund (NYSE:PHK). (See "CEF Focus for the Week" below.)
CEF Insider Trading: There was a continuation of insider buying in MBIA/Capital/Claymore Man Duration Investment Grade Muni Fund (NYSE:MZF) in July. Insiders increased their holdings by $1,508,515. Western Investment LLC, MZF's largest shareholder, picked up an additional $216,303 of stock value (19,100 shares) at an average stock price of $11.31 from July 7th to the 15th. Western has stated its intention to select two nominees to MZF's board. MZF has continued to deny Western's request for its shareholders' list. Benchmark Plus Management, LLC was the majority inside buyer in July prior to the July 7th.
Insiders also continued to acquire shares of Boulder Growth & Income Fund (NYSE:BIF). Insiders added another $23,400 of stock value to bring the total purchases in July to $307,017. This brings insiders' ownership stake to 5.178 million shares; over 20% of the outstanding shares.
A new insiders' position was established in General American Investors (NYSE:GAM) in July by Daniel Neidich, a GAM director. Mr. Neidich acquired 4,200 shares at an average cost per share of 19.83 for a total outlay of $83,301. Neidich is a former Goldman Sachs partner and founder of Whitehall Investment, the real estate investment arm of Goldman Sachs.
CEF Focus for the Week: PIMCO High Income Fund (PHK) is the focus stock of the week. The question isn't whether PHK will reduce its monthly distribution rate, but by how much and when? The market is already anticipating a cut as it is currently trading at a distribution yield of 16.8%. This is contrast to the average 9.5% distribution yield of 53 high yield CEFs. Currently PHK is trading at an unsustainable premium of 45.7% to NAV. This is in contrast to its peer group's average discount of 3.7%.
Consider the following case. First Trust Strategic High Income Fund (FHI), a high yield CEF, was trading at a distribution yield of 13.7% and at an unsustainable premium of 65.6% at the end of May. At that time its peer group was trading at 10% distribution yield and a 4.2% discount. This week FHI reduced its monthly dividend 58.3% to bring it more in line with its peer group. It is now trading at a 10% distribution yield and a discount of 9.0%. The stock is off 45.7% since the end of May.
If PHK were to reduce its distribution by 58.3%, as did FHI, it would result in an annualized distribution of $.61 per share. Applying the current average peer group distribution yield of 9.5%, its implied price would be $6.42 per share. Coincidentally, that would be around its current NAV of $5.97. This would be about a 26% drop in the stock price.
Is the Market Efficient? If the stock market is efficient, what it could be telling us is that investors are anticipating PHK's annualized distribution to be reduced around 40% to 45% to an annualized rate of $.84 per share. At an average distribution yield of 9.5% for its peer group, the implied price for PHK would be $8.85. This is where it has recently been trading. However, if investors choose to focus on its premium, it may not be able to sustain that level.
PHK typically declares its distribution the first day of the month. Since August 1st falls on a Saturday, the first business day in August will be Monday, the 3rd. It will be an interesting week to see how investors handicap the stock in anticipation of its distribution declaration.
It is possible that it will sustain its current rate; but at some future point a reduction is inevitable. The market is already telling us that.