(Editors' Note: The accuracy of some portions of this article have been disputed.)
Lately I have been flooded with inquiries from investors on Kandi Technologies (NASDAQ:KNDI). The stock has doubled in the past two weeks on the back of two encouraging press releases from the company. There have also been several bullish Seeking Alpha articles.
The question these investors have is: with all of the recent positive news, why can't Kandi hold its gains. Kandi has twice soared to over $8.00 following company press releases, only to quickly fall back by 25-30% into the $6.00 range.
Many investors have become so focused on researching the technology that they failed to do some very basic reading which could significantly change their current investment theses.
I have lived in and out of China for over 20 years and I have formally studied Mandarin for more than 8 years. I have also owned two electric vehicles while in China which I have absolutely loved. In years past, I would describe the pollution in Beijing as either: bad, extremely bad or absurd. But 2013 is the first year in which "absurd" no longer does it justice.
However, I am not a bull on Kandi at current prices. The market has missed some very important information. Once clarified, it is likely that Kandi will return to $4.00-5.00 as soon as next week.
I am not a China bear. Of my last 4 China stock articles, I have written 2 bull pieces and 2 bear pieces. My next planned article is a bullish piece on a Chinese small cap buyout. If I thought that Kandi had further upside, I would be the first one to buy the stock in size and I wouldn't hesitate to tell the world why.
On April 25th, Kandi filed an "ATM" registration statement under which it can sell up to $60 million of equity "from time to time" in the market. No investment bank is needed, only brokerage firms. Reporting can be done much later such that investors won't even know it is happening. Yet given the low price and volume at the time, such an offering would have been impossible.
The rise this week is extremely fortuitous. Kandi needs the stock to be high and needs to issue equity immediately for one simple reason. Next week the company has over $25 million in short-term debt and payables coming due, beginning on Monday, June 24th. Yet those promoting the stock have simply ignored the fact that Kandi has only $3 million in cash.
Fortunately, for Kandi, author, investor and former brokerage head Art Porcari appeared exactly two trading days after the filing of the ATM with a series of extremely bullish articles on Kandi. He likened it to Tesla and predicted an epic short squeeze. Mr. Porcari informed me by phone that he has also been the architect of a coordinated buying campaign being done through various firms and promoters.
Mr. Porcari's relationship with Kandi dates back at least 6 years to before its reverse merger in 2007. He has accompanied management on multi-city road shows to introduce them to investors. He has approached the company to try to raise money for them from his investors. He is in the process of trying to get a brokerage firm to publish research on the company. Now his investment banking company is also sending out promotional emails on the Kandi. Mr. Porcari told me by phone that none of this is for business purposes, because he is retired.
Yet these are all of the services for which an investor relations firm would be paid at least $10,000 per month. Since the time of the IPO, that would mean around $720,000 in fees (and some warrants on the stock). But Mr. Porcari told me that he performs these services for free.
Porcari claimed to me by phone that he has generated over 4 million shares of buying into the stock. He also claimed that his buyers would not sell until $50.00. But given that many of Mr. Porcari's claims about Kandi are entirely incorrect, I believe that many of these buyers will flee the stock when they uncover the misstatements that are circulating with respect to Kandi.
In the past, Porcari's registration was terminated by FINRA for a near identical scheme in which he misrepresented facts to brokers in order to pump up a stock. At the time, Porcari had been retained as a "financial relations" consultant to perform the services he now provides for Kandi. The SEC noted that he had been pumping a stock as a short squeeze without any basis. He ended up settling with the SEC. He was also charged with insider trading for trading ahead of non-public announcements. The details can all be found at FINRA BROKER CHECK. I strongly encourage people to read this, as the charges are very serious.
The ammunition for those promoting the stock has been two perfectly timed press releases from Kandi. The first one was an approval by the China's Ministry of Industry and Information Technology ("MIIT"). Yet so far no one appears to have actually read the actual document. I have included links to the original Chinese and translated copies below, along with an explanation of why this document is actually quite problematic for Kandi shareholders.
The second announcement could have come on the same day as the first announcement. It was released in China weeks ago. Instead, Kandi kept this fire power in its back pocket until needed. When the share price dipped to $6.06, Kandi put out a press release about the pending sale of 5,000-10,000 cars in HangZhou. The share price soared by a much needed 30% for Kandi.
Yet this was actually old news, having been released in 2012. At that time, the original number was 20,000. Yet this 50-75% reduction in vehicles has been spun by promoters as a positive development to those "newbies" who are just getting into the stock without any background information or knowledge. Details are included below.
Investors would be wise to view with caution the timing and content of the two recent press releases and the coordinating momentum campaign. These coincide perfectly with a $60 million stealth equity offering and an urgent need for money.
Similar activity with other Chinese reverse mergers.
A few weeks ago, Cleantech Solutions (NASDAQ:CLNT) put out a press release noting that it had become a certified supplier to Sinopec. Naturally the stock price tripled. The normally illiquid stock quickly traded over $200 million in volume. But when I verified the details with Cleantech and with Beijing New Century Certification Co. (北京新世纪认证有限公司), I found out that this was just a perfunctory 3rd party certification that does nothing to ensure actual sales.
Like Kandi, various US-based parties had been pumping Cleantech as a multi-bagger stock. But when I wrote my article disclosing my findings, Cleantech quickly plunged.
Following my article, the stock is now down by 50% from those highs.
Sometimes these "news" releases are just plain false.
On the day when Kandi soared 70% based on misunderstood MIIT information, ChinaBak Battery (NASDAQ:CBAK) was up by 65%. A headline was somehow disseminated stating that
China Bak confirms deal with Kandi to make batteries.
Saying that a company "confirmed" such news is a very strong statement. Yet ChinaBak has never done any business with Kandi and in fact did not even know who Kandi was prior to the false headline.
How did I know this? I simply called ChinaBak in Shenzhen and asked their management team. The stock had traded over 1.5 million shares, so it seems I was the only one to have done this.
Following my article on ChinaBak, the stock is now down by around 35% from its highs.
The mere idea that ChinaBak would be supplying batteries to anyone was absurd. ChinaBak is deeply insolvent, its CFO has resigned, its audit chair has resigned and it has already received a delisting notice from the NASDAQ. ChinaBak is now selling its remaining inventory at below cost in order to repay the banks that it owes. But someone clearly made money off of the false headline.
Kandi's upcoming debts
The details of Kandi's $25 million in debt which comes due next week can be found in the recent 10Q. Yet no one who is promoting the stock seems to give it any mention. This is surprising given that Kandi only has $3 million in cash.
Kandi does have $7.9 million in restricted cash, but the amount for loans and notes payable now totals over $55 million.
On page 26, we can see that there are $22.3 million of Notes Payable due next Monday and Tuesday. On page 25 we can see that there are an additional $3 million of short-term bank loans due next Thursday.
The "ATM" registration statement
Kandi's S3 filing is known as an "At the Money" registration statement. These stock offerings are referred to as ATM's for their ability to simply withdraw cash from the market "from time to time" and without using an investment bank. Companies can simply sell to brokers who then resell. Reporting of the sales can be done much, much later. Investors who are buying at the same time the company is selling may not find out about it for months.
There are two problems with ATM's. First, they create an invisible overhang which investors cannot see. The stock will appear strong, but then fail to rise as the company sells into it. Investors never know why.
But second, the timing of "major news," which drives the stock upwards into the offering, can then become very suspect.
Without the news, the Kandi ATM offering would be impossible to execute due to the low price and volume. Without selling stock, Kandi would only have $3 million in cash with which to pay these $25 million in debt next week.
Fortunately for Kandi, two very well-timed press releases and a string of bullish articles have now enabled Kandi to sell $60 million in stock. No press release is required.
Mr. Porcari has told me (and presumably many others) that by Friday, Kandi's stock will surge because market makers are short many call options and they will need to scramble for cover. Yet even a market novice knows that market makers do not sell naked options. When they sell a call, they simultaneously buy some common stock to hedge. This is how they make their tiny arbitrage spread. He has also likened Kandi to Tesla (NASDAQ:TSLA), predicting an epic short squeeze. Yet as I will show below, this statement is entirely unfounded.
But getting the stock price higher as possible was obviously very important for Kandi.
The Porcari promotion campaign - suddenly reignited
Mr. Porcari has now written a grand total of 17 articles on Seeking Alpha. All 17 of these articles are centered around a single company: Kandi.
Mr. Porcari informed me that the real "muscle" behind the buying comes from Phil Hummel of New Jersey and New York. Hummel had previously worked for Blinder Robinson.
Blinder and Robinson was a notorious brokerage which was shut down for committing stock fraud with microcap stocks. Founder Meyer Blinder was jailed for securities fraud following the collapse.
A lengthy and detailed expose on how Blinder would own stocks while hiding the ownership can be found here. It makes for very colorful reading. The nickname "Blindem and Robem" can first be found in a Forbes article which focused on the stock fraud. In fact, when mentioning Hummel, Porcari stated simply that "he came from Blindem and Robem," assuming that this was funny.
Hummel now works for World Equity. Mr. Porcari notes that he has known Mr. Hummel for 31 years. When the stock hit $6.90 on Wednesday, Mr. Porcari quoted the muscle as saying "watch me run the stock" and within an hour it was back to $7.50. That is certainly power. But by the end of the day it was hitting $7.00 again.
Understanding the MIIT approval - the initial surge in Kandi
The initial news spark which caused the 100% leap in Kandi's share price was a very brief press release noting that the Kandi / Geely car (model JL7001BEV) had been approved by the China's Ministry of Industry and Information Technology and would qualify for subsidies.
I found the doubling of the stock to be odd given that Kandi has released nearly identical press releases in the past. These press releases provided a temporary boost to the stock but have never resulted stratospheric sales.
Back in 2010, Kandi put out a press release stating
Kandi Reports Another of Its EVs -- Model KD5010XXYEV -- Has Been Approved for Sale in China by the Ministry of Industry and Information Technology
The share price soared 30% as expected. But then it fell back to its original level, as expected.
The most recent press release only pertained to the Geely model and stated
According to No. 27 public announcement of MIIT, Kandi Brand/JL7001BEV model is among the latest vehicles on the lists of "Approved Vehicles (No. 248)" and "Recommended Models for Energy Saving & New Energy Vehicle Demonstration and Promotion in China (No. 45)". As a result of this approval, the purchaser of such pure electric sedan will now be qualified to receive all levels of national and local subsidies and incentives for EVs.
Yet of all the people writing about Kandi in articles, it seems that no one makes any reference to the actual text within this MIIT announcement. In Mr. Porcari's recent article, he did not include any reference to this link. Instead he included a link from a commercial site called ChinaCar.com. This site has nothing to do with MIIT approval.
For anyone who cares to actually read the actual document from the actual MIIT, what they will see is that "248" and "45" lists are a massive list of Chinese and international automakers. There are quite literally hundreds of carmakers who have been approved for thousands of models on these lists.
International carmakers approved include Honda, Buick, Mercedes-Benz, Chevrolet, Suzuki and Peugeot, among others. Domestic carmakers approved included giants such as FAW, DongFeng, Beijing Auto and ChangAn. It also included dozens of smaller manufacturers.
Readers should also make note of what types of vehicle made the extensive list. There are literally dozens of electric sedans listed, but there are also electric dump trucks and even electric cement mixers. The point is that there is nothing exclusive about this list. Anyone who makes an electric vehicle can get on the list, and thousands of models are already on it.
Most other companies did not even bother to make an announcement. Certainly their share prices would not have doubled just for getting a single model placed on this extensive list.
It certainly was not "news" for Geely. Geely's share price was basically flat to slightly down on the day of the announcement. Volume was light.
The MIIT put up the announcement on May 17th. While no one else felt it worthwhile to highlight their spot on this list, even Kandi did not put out their press release for two full weeks. They controlled the timing completely.
The "news" of being one spot within this massive list did not generate any attention in China whatsoever - until Kandi released it and Porcari promoted it. At that time, various authors began to make it into something that it clearly wasn't. Being on this list is truly a non-event.
I have posted a copy of the original announcement in Chinese along with an English version at moxreports.com. The translation was done automatically using the Translate feature in Word. The model referred to is listed under the brand "Lucky." (Geely in Chinese is pronounced JiLi 吉利 and it means Lucky in Chinese).
Key point: Kandi's approval by the MIIT (which caused the stock to double) was a non-event. There are hundreds of other manufacturers who received the same approval. No other vehicle makers felt the need to sensationalize this news. Geely's stock did not budge on the news. Prior to the headline, Kandi was trading at $3.92.
The HangZhou EV sharing - Kandi's second surge
Following the MIIT announcement, Kandi soared as high as $8.50. But unfortunately the buzz didn't last. Within days, Kandi was down to $6.06 and it looked like the hype was fading.
With perfect timing, the company then announced that the city of HangZhou would be launching a "mini-public transport system" and that 5,000-10,000 Kandi vehicles would be in use in that system within 1 year. As would be expected, the stock soared again, briefly hitting $8.30 - up a whopping 30%.
But those who are suspicious of Chinese ATM facilities are quick to point out that the latest "news" had actually been announced by the HangZhou government two weeks earlier. It was only when Kandi's share price began to plummet that this news was released by Kandi.
These suspicions towards ATMs only grow stronger when watching an otherwise strong share price quickly fade by 20% to $6.72 on heavy volume after hitting that high of $8.30.
Back in 2012, Mr. Porcari wrote an article trumpeting this development, well before it had occurred. The number which had previously been contemplated was not 5,000-10,000 vehicles, but instead was a much larger 20,000 vehicles. Mr. Porcari noted:
Four days prior to KNDI's US press release, this article came out on China's preeminent "Electric Grid" website which seems to confirm my point clearly:

Kandi Vehicles Co., Ltd. Signed a Cooperative Letter of Intent With China Aviation Lithium Battery Co., Ltd. (CALB) to Promote 20,000 Pure Electric Vehicles in Hangzhou

It is reported that Hangzhou 20000 pure electric car rental project will be implemented in August, is expected to be completed before the end of 2013
The Kandi press release took the share price from a low of $3.60 to over $4.00. Mr. Porcari's subsequent article further took the stock to $4.92. Yet within weeks, the share price was back to trading as low as $3.84.
The implementation of the HangZhou plan has clearly happened as planned and on schedule. Yet the decline from 20,000 vehicles down to as low as 5,000 vehicles has somehow been ignored. Actually the 5,000-10,000 number has been somehow portrayed as a significant positive.
The stock price quickly faded and closed yesterday at $6.90.
Understanding the relationship with Geely
Many investors in Kandi have a serious misunderstanding about who Geely is and what Kandi's relationship with Geely is. I continue to see Geely referred to as a "major" Chinese automaker. This is not the case. Geely's market share has been consistent at around just 3% in recent years.
Earlier this year, it was announced that Geely would be partnering with Kandi to produce and distribute electric vehicles.
The fact that Geely would choose to partner with Kandi is not surprising. Both companies happen to be based in the Zhejiang, China. In fact, Kandi's relationship with Geely goes back much further.
Kandi Vehicle Co. was established in March 2002 and was owned 83% by chairman Hu Xiaoming and 17% by Haoqing Vehicle. Haoqing Vehicle was actually a subsidiary of Geely such that the two were already acting as a joint venture until 2004.
This information can be found in the documents filed with China's State Administration for Industry and commerce ("SAIC" 工商局). The reference to Geely's (吉利) ownership can be found as the second line item in the table on this page from Kandi's SAIC file.
Personal relationships go a long way in China. Geely did not wake up one day and decide to partner up with new upstart Kandi. These two companies have a long personal relationship. No one that I have spoken with was aware of Kandi's long personal relationship with neighboring Geely.
More importantly, bulls have ignored the fact that Geely is actually partnered with a different EV maker, Detroit Electric, even months after Kandi. The much larger Detroit partnership may end up supplanting the Kandi partnership.
The Detroit-Geely car will have a range of up to 160 miles and a top speed of up to 124 mph. Kandi's current vehicles have a top speed of about 35 mph. When I asked Kandi about the specs for their Kandi-Geely vehicle, they said that they have not yet been released and would be released later this year.
The stated value of the JV between Kandi and Geely was $160 million, with each side contributing 50% of the money. Yet Kandi currently has just $3 million in cash and $50 million in short-term debt, so it is unclear where they will suddenly find the $80 million needed to take this JV forward.
How Kandi will actually fund this remains a big question.
Even at the current elevated share price levels, Kandi's market cap is only $200 million, meaning that funding this JV by issuing equity will be very difficult. Kandi is highly likely to issue a large amount of equity under its ATM at current levels, but raising the full $80 million would be almost impossible. Even raising $60 million will put extreme pressure on the share price.
And even then, most of the money raised will need to be used to repay near-term debts, leaving Kandi without a clear funding source for this $80 million need.
Looking at Kandi's competition in China
Many US investors have been led to believe that Kandi is unique in China and produces one of the only electric vehicles in China. As we can see from the MIIT list, there are many, many competitors in this market from cities all across China.
Anyone who has actually lived in China knows that there are similar electric vehicles everywhere. Most of these are basically identical to the Kandi vehicles and can be purchased from small dealers in every major city.
The only reason why American investors think Kandi is so unique is that Kandi is the only Chinese electric vehicle maker to trade on a US exchange (non pink sheets).
I have included this link to Alibaba, where I ran a search for electric car (电动汽车). Clicking the links will reveal hundreds of different electric cars with identical prices and specifications to Kandi cars (top speed, range, etc). For those who are not familiar, the prices are listed with the Chinese unit of "wan" (万). When you see that symbol it means 10,000. So seeing a price of ¥3万 means 30,000 RMB, which equates to around US$4,800. It should be noted that there are a number of electric cars available for less than $3,000. According to its most recent 10K (page 2), Kandi is selling its electric cars for an average price of around $4,500.
I strongly encourage anyone with an interest in Kandi to take a look at that Alibaba list and compare the types of cars which are on the market. The list is extensive and the competition is immense. These are the vehicles that will be competing for the business of consumers, but also for the business of locally run EV rentals.
Kandi has not developed any new and revolutionary technology for electric vehicles which might set it apart from other manufacturers. Over the past few years, Kandi's total R&D expense has totaled around $0.6 million per quarter. This is basically just the expense of updating existing models and would not involve substantially new technology.
Tesla has spent over $500 million on R&D in just the past two years! This is more than double the entire market cap of Kandi. New technology is not cheap, and with just 0.6 million per quarter in R&D, Kandi is not developing anything new.
Key point: Kandi is a low tech, commodity manufacturer of EVs with hundreds of identical competitors. Kandi will not have scarcity or pricing power in trying to sell its EVs.
Comparing Kandi to Tesla - the good and the bad
Kandi makes a form of electric car. Tesla makes an electric car. That is where the comparison ends. People who are trying to tout Kandi as the next Tesla are simply taking advantage of the sharp rise in Tesla's share price to draw attention to Kandi with the hope that the extra attention will benefit Kandi's share price. So far, it has clearly worked.
Mr. Porcari has now penned 5 separate articles which contain both "Kandi and Tesla" in the title. But in 2010, his efforts were focused on likening Kandi to a different high flyer.
EV maker BYD was up by as much as 1,000% and Mr. Porcari quickly likened Kandi to BYD, even speculating that BYD shareholder Warren Buffet could buy Kandi!
This hype caused Kandi to rise from $3.65 (before his articles) to over $6.00 on substantial volume. As with his recent Tesla-Kandi articles, the strategy clearly worked. Yet within weeks, the stock was back to around $4.00 again.
Now that BYD is no longer the hot stock, Mr. Porcari has simply analogized Kandi to a different (and equally dissimilar) EV maker, Tesla.
BYD is still around, but its share price has fallen by nearly 70%. It still boasts a partnership with Mercedes Benz and Buffett is still involved. But since BYD's stock has collapsed, the analogy to BYD no longer helps Mr. Porcari's cause, so this has all been forgotten.
When a high flying stock emerges, stock promoters will use that high flyer to attract attention to a different stock that they hold simply to try to boost its price. When the analogy helps them, they use it. When it doesn't help them, they abandon it.
The slew of recent Tesla-Kandi headlines has been picked up by other media sties, who look at nothing more than Kandi's soaring share price and the Tesla articles written by promoters.
Even CNN Money came out with a short piece. But it was only 4 sentences long and stated:
Look Out Tesla, There's a New Kid In Town
The picture they included appears identical (except for the color) to the low speed, low tech Kandi car which I recently test drove. The Kandi EV truly has nothing in common with the Tesla Sedan. CNN Money does not appear to have done any specific work other than disseminating a well timed headline. Yet the share price immediately bounced on the headline alone, hitting $8.00. The next day it traded down to $6.72.
Tesla has spent over $500 million on R&D in the past two years to develop game changing technology. Their car has received rave reviews from all corners, including Consumer Reports. This puts it in stark contrast with Kandi which continues to produce a very functional, but very generic and commoditized, low speed elective vehicle.
Telsa's stock has tripled this year. This is partly because it greatly exceeded expectations with its game changing technology and design. But it is also due to a very high short interest in Tesla, which generated a massive short squeeze. The high short interest also creates short buyers when the stock falls. As a result, it slows any decline in the share price.
Tesla's short interest has stood at 20-30% of shares outstanding for most of the year. With short interest this high, Tesla continues to be a dangerous and unrewarding short unless one is extremely well capitalized and can afford to be extremely patient.
With Kandi, the short interest has been consistent at only 2% of shares out. It is irrelevant. This is why the share price was able to drop from $8.50 back to $6.06 in just days. This is also why the share price is likely to drop back to $5.00 or below without much resistance as soon as the recent hype starts to fade. Mr. Porcari cited a very large short interest in Kandi when comparing it to Tesla. He conveniently noted that average daily volume on Kandi was just 40,000 shares, translating to 18 days of trading to cover the short position. Yet earlier in this same article he mentioned that the volume had risen to 18 million shares. Had he used that as the basis for his calculation, the time to cover the short position would have been expressed in minutes not days.
Kandi's short interest is not responsible for its rise, as it was in Tesla. Instead, the stream of promotional and inaccurate articles are responsible. More importantly, unlike Tesla, the short interest will not slow a fall in Kandi's shares. We have already seen this on multiple days where the share price has fallen by double digits.
Tesla is held 70% by institutional investors. Nearly every major mutual fund has a stake. There are many institutional holders who hold individual positions of over $100 million. With Kandi, only 1% is held by all institutions combined, just $2 million. The notion that Tesla holders are now buying in to Kandi is clearly unfounded. Retail investors who bought Tesla may now be buying Kandi, but that is not what would ever take this stock to $30.00.
Tesla's product is unique. Not just in America, but in the entire world. Tesla built a vehicle that is actually desirable enough on its own merits to result in substantial sales despite a whopping 6 figure price tag. Kandi is producing a commoditized product and it will vie to compete with identical models from other manufacturers, even though its price tag averages just $4,500.
This is actually a good thing for Kandi. Tesla has beaten the odds in getting as far as it has. The market is littered with failed attempts at creating a Tesla style vehicle. Companies simply engage in a strategy of "build and burn." The tendency has been towards failure.
For example, Fisker Automotive had built a complicated and sophisticated electric car and it expected to sell 100,000 of them in 2013. But instead it only sold around 2,000.
Fisker had the benefit of a $500 million line of credit from the DOE. Despite a few billion raised and spent, the company is now facing bankruptcy.
Coda Automotive is now facing bankruptcy after its highly anticipated electric vehicle sales failed to materialize. Coda debuted in 2010, so it only took 3 years to go from start to bust.
The point from this is that Kandi is pursuing a different market. Kandi is not pursuing the high cost, high performance end of the spectrum. Kandi is pursuing a low cost, low end highly competitive (and low margin) segment of the market.
The good news is that (unlike the companies above) Kandi is far less likely to spend itself into bankruptcy. The bad news is that Kandi is never going to be a Tesla with a stratospheric share price. Not unless it chooses to first burn half a billion in R&D and wait 5 years.
Test driving a Kandi Car
Most of the people investing in Kandi are US-based retail investors. There is not even a single institution which holds more than 0.3% of the shares outstanding. Kandi has also failed to attract any research coverage. Those who are predicting that Kandi will trade at $30.00 (or higher) this year should ask themselves why well funded and capable institutions are basically ignoring this stock completely. Institutions like to make money even more than small US retail investors.
Had institutions been buying Kandi, we would have already seen a flurry of 13G's and 13D's which disclose institutional ownership.
Why is there no institutional interest ? It is likely that they are familiar with Kandi's product.
I recently had the opportunity to test drive a Kandi car, straight off of the lot. The car was a 2012 model which was still for sale, so it was not an old model. The model contemplated by Kandi / Geely is actually based on the Panda model, which debuted in 2008.
On the positive side, this car is surprisingly roomy on the inside. Even though I look huge when standing next to the car, when I get inside and put the seat all the way back, it is really not too bad. It is not a car I would want to spend several hours in, but the range is only 60+ miles, so driving for an extended period is not even an option.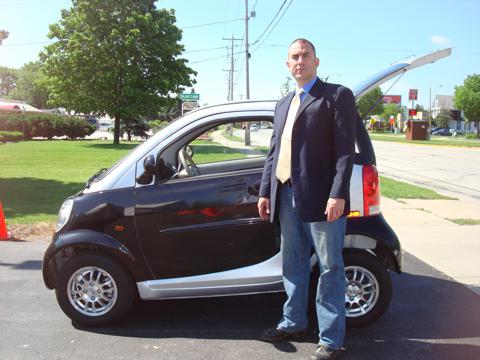 The car drives just fine, but it tops out at about 35 miles per hour. The car comes with a preset (programmed) speed limit of 25 mph, but this limit can be overridden by the dealer.
One positive about the Kandi car (and in fact about all competing Chinese electric vehicles) is that they are low tech and easy to plug in. Total charging time is about 8 hours, so it can be done overnight. For those who get stuck somewhere, battery swapping capability is expected to increase in the coming years.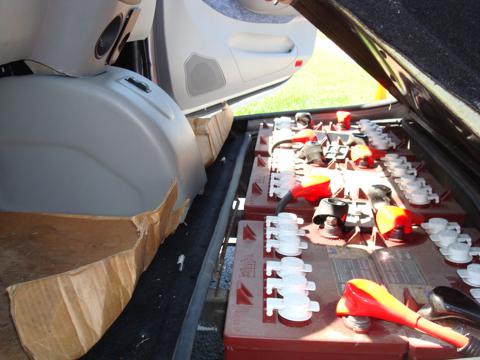 However swapping batteries during the day is likely to be time consuming and expensive. I expect most people will try to avoid it if they can.
On the negative side, this car definitely feels like a Chinese made car. The noise from the propulsion definitely interferes with conversation. It is a very loud whirring noise. Each time I hit a bump, the glove box would fall open. Shifting from forward to reverse is a bit clunky. Driving at 35 mph is a slightly nerve racking experience.
Anyone who has the opportunity to drive this car would never, ever compare the company to Tesla. A Tesla car can accelerate fast enough to snap the driver's head back. The Kandi car is so slow that it made me self conscious while driving in traffic. No one would ever want to be stuck driving behind one of these cars.
Even though it is roomy for the driver, there is almost no additional space to store anything. A few bags of groceries in the back would entirely fill up the "trunk" type space. This is clearly a necessary compromise. If the car were too small for the driver, no one would want it. But by making space for the driver, extra trunk space had to go.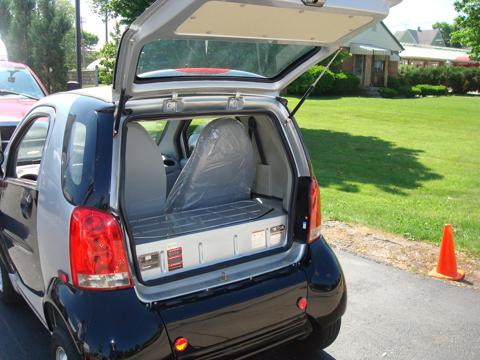 The batteries are kept under the seats. Accessing them was complicated and time consuming. They are wired in in a very fixed way, such that getting them out and then back in will be very cumbersome and time consuming when trying to swap them.
These cars are quite obviously not made for highway driving. But many Americans assume that they are still fine for all types of intra-city driving. This is clearly not the case in China. For example, Beijing is an enormous city of over 20 million people. To get from the business district in ChaoYang to the technology district in ZhongGuanCun, one must take a series of high speed "ring roads" that encircle the city. The trip should normally take about 45-60 minutes.
Electric vehicles such as this one made by Kandi are not permitted on the "ring roads" due to their speed. Taking normal streets to make the same trip is not feasible and could take 5-6 hours each way.
Other cities in China are also massive. Beijing is the size of New York and Los Angeles combined, and Shanghai is actually double the size of Beijing! If you haven't been to China, then you can't appreciate how massive and sprawling these cities are. There is a misconception that Chinese cities are old and have narrow streets. It is a misconception which is held by foreigners who have not been to modern China in the past 20 years.
That does not mean that Kandi's car won't sell any units. Instead it means that it will sell a small number of units to those who want an alternative to taxis for very short local trips to the gym, to the store or to meet a friend for dinner. I have used electric vehicles for these purposes in China and they are perfect. Anyone who has been waiting to catch a taxi for 4 hours in the rain in Beijing will understand my point perfectly.
This vehicle is not going to be a Tesla style daily driver. There are also hundreds of identical competing vehicle models for those who want such an alternative.
Conclusion
Just 2 weeks ago, Kandi was trading at prices of around $3.70. It then doubled to over $8.00 due to two well timed press releases. Since the filing of the ATM registration statement in April, there have been 4 articles from Mr. Porcari. When the stock began to fade to $6.00, another well timed press release pushed the stock briefly above $8.00 again. But now it is fading again.
The recent run-up in Kandi's stock has nothing to do with any improvement in the company. The MIIT news is a non-event which applies to hundreds of other manufacturers besides Kandi. The HangZhou news is actually a let down vs. previous expectations of 20,000 vehicles, which has now been reduced to as low as 5,000 vehicles.
But the special promotion of these headlines by authors (along with a coordinated buying campaign) has caused the share price to temporarily spike.
Kandi has historically only traded around 40,000 shares per day, but this new attention has seen this volume spike by 100-400x compared to normal. Yet the share price can't hold its gains, despite the staggering volume.
The recent filing of an ATM registration statement casts doubt on the content and timing of the recent news releases. It would certainly explain why the stock keeps giving up all gains on high volume days. To the extent that this has all been a run up to facilitate a much needed financing, Kandi would not even need to report the stock sales until much later.
It would be a very grand coincidence if all of this happened to come together just days before Kandi needed to pay $25 million in debt next week. Kandi has $3 million in free cash, $7 million in restricted cash but over $50 million in notes payable and short-term bank loans.
As with companies such as Cleantech, a dramatic spike in the share price which immediately follows an ATM registration statement should be viewed with extreme caution. It should also be reason for ample skepticism of recent "news" and of promotional efforts.
Kandi is not Tesla. It is not even close. The good news is that Kandi is less likely to spend itself into bankruptcy through billions in R&D. The bad news is that Kandi is not new or unique. It should not ever be expected to ever be a star performer like Tesla.
Those who own the stock (and benefit from its rise) have been making inaccurate and irresponsible analogies to Tesla simply in order to create hype for Kandi. This is the same technique that was used in comparing Kandi to BYD when it was up 1,000% in a year. It worked in the short run, and Kandi rose to over $6.00, before falling back into the $3.00 range. The information being spread about a "short squeeze" on Kandi is both wrong and misleading.
People are free to continue to believe that Kandi will eventually command a dominant role in the Chinese EV market. They are free to believe that the share price will rise. But given that there has been virtually no foundation for the recent explosive move, these people should fully expect that the share price will correct to $4.00-5.00 within the next few days or weeks. By knowing this, they can then make a decision as to whether or not to continue to hold Kandi vs. selling now and buying back at $4.00 again.
Disclosure: I am short KNDI. I wrote this article myself, and it expresses my own opinions. I am not receiving compensation for it. I have no business relationship with any company whose stock is mentioned in this article.