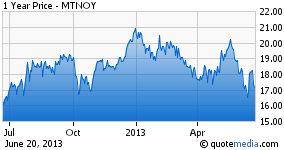 MTN Group (OTCPK:MTNOY) is an African telecom operator that offers investors a very compelling growth opportunity over the coming years and pays an hefty dividend while waiting. Currently, MTN's dividend yield is about 5.1%, which compares favorably with most American telecom companies. For instance, this is in-line with AT&T (NYSE:T) that currently also yields 5.1% but higher than Verizon (NYSE:VZ) which yields about 4.1%. However, MTN can be more attractive than these companies because it is entirely exposed to growth markets in Africa and the Middle East, instead of a mature market like the United States.
In the U.S. the mobile penetration rate is above 100%, which mean the market as a whole does not offer much growth going forward. On the other hand, in Africa the number of subscribers has a lot of room to grow. There are nowadays about 600 million subscribers, and this number is expected to increase to 1 billion in 2016. MTN is the dominant player in the continent and may be the best way to play this growth theme over the coming years. Its role in Africa is similar to Vodafone (NASDAQ:VOD) in Europe or China Mobile (NYSE:CHL) in its domestic market.
The company is based in South Africa but is present in 22 countries across Africa and the Middle East, including Nigeria which is the biggest single market in Africa. It has about 195 million subscribers, being one of the biggest emerging markets mobile operator. Its market capitalization is about $32 billion and the company is traded in the U.S. as ADR's in the OTC market. In 2012, MTN had almost $15 billion in revenues, an increase of 11% from the previous year. South Africa and Nigeria together accounted for about 60% of the company's revenues. The company's profitability is very high, achieving an EBITDA margin above 40% at the group's level.
Nigeria will continue to be MTN's major growth engine over the coming years, as the company is the market leader and the mobile penetration rate is only at 73%. Thus, the market still has plenty of room to grow and MTN is very well positioned to increase its subscriber base. As of 31 March, 2013, MTN had 51 million customers in Nigeria. The country has a population of 161 million, so there is at least around 45 million possible new customers until Nigeria's market achieve the same penetration rate as the U.S. Given that MTN has a market share of about 50%, this means it can increase its customers over the coming years by more than 22 million just in Nigeria. However, due to increased competition the average revenue per user (ARPU) has declined over the past few years, but the larger subscriber base more than compensate this effect. Another positive factor for MTN is that it achieves EBITDA margins in Nigeria at around 60%, which is much higher than the group's average and among the highest within the telecom industry.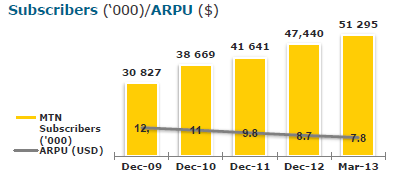 Source: MTN
Elsewhere, MTN has also good growth prospects in countries like Sudan, Uganda or Sudan which have mobile penetration rates below 70% and population between 20 and 35 million. Moreover, MTN is also the market leader or the number 2 operator in these markets, so it should be able to add a few million new customers over the medium to longer term. On the negative side, South Africa and Iran are two of MTN's major markets but on both cases the mobile penetration rate is higher than 100%, so the growth potential seems limited.
Regarding its dividend, MTN has posted annual increases every year since 2009. The last annual dividend payment of $0.09 represents an 10% increase from the previous year. The dividend payout ratio was 70%, which is acceptable for a company with high profitability levels. Moreover, MTN has a very strong balance sheet being in a net cash position which also supports the dividend going forward. The company's commitment is to increase the dividend annually between 5% to 15% over the next three years.
Conclusion
MTN offers an compelling opportunity to invest in the growing mobile market in Africa and generate a very good income stream over the next few years, which is a rare combination for investors who focus solely in developed markets like the U.S. or Europe. Give the recent weakness of emerging markets following the Federal Reserve's tapering fears, any dips on MTN's stock price should be a buying opportunity.
Disclosure: I have no positions in any stocks mentioned, and no plans to initiate any positions within the next 72 hours. I wrote this article myself, and it expresses my own opinions. I am not receiving compensation for it (other than from Seeking Alpha). I have no business relationship with any company whose stock is mentioned in this article.