Looking for a good dividend paying stock, but feeling left behind by the market's reawakened rally? Here are three steps you can take to find an undervalued stock that's been somewhat left behind:
Look for an unloved sector: Health Care is only up 7.3% year-to-date, far behind the most of the other sectors, the majority of whom have posted double-digit gains.
Look in an unloved income sub-sector, such as the REIT sector:
The Vanguard REIT ETF is down over 11% this year, due to concerns about the refinancing difficulties that REITs with heavy short-term debt loads have had in the credit crisis. (Analysts usually follow FFO, "funds from operations", to monitor a REIT's ability to cover its dividend).
Look for an atypical REIT: Instead of focusing on shopping mall owners, who are heavily dependent upon an ailing American consumer, why not look at companies who stand to profit from the aches and pains and aging of the biggest demographic bulge in history, the baby boomers?
Big Pharma and medical supply companies are increasingly reliant upon biotech/life sciences companies to fill their drug and product pipelines.
Guess who's the biggest U.S. biotech/life sciences landlord?
That's right - Alexandria Real Estate Equities, (NYSE:ARE).
Although it may be classified as an "Office REIT", it's really a Health Care stock, since its customers are all in the health care business.
Here are some key figures for ARE:
7/24/09 closing price: $39.24
30% above 52-week low 64%+ below 52-week high
Short term debt: none
From 3/31/09 earnings report, comparisons based on 3/31/08:
Long Term Debt/Equity: 1.44
EPS: Up over 117%
Funds from Operations: Up over 48%
Dividend Payout/FFO: 55%
Dividend $1.40 Current Yield: 3.6%

Since ARE's dividend yield is above-average, but not outstanding, try taking a look at the preferred shares. The various brokerage and public equity websites often have different symbols for the same preferred stock, so try adding a "-", or a "/", or "PR" before the last call letter, or do a symbol lookup.
There are two different preferred stocks, as follows: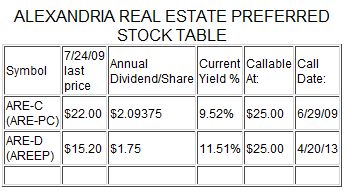 The ARE-D/(AREEP) shares are convertible, and both of these preferred stocks are cumulative, meaning that any unpaid dividends are accrued to shareholders upon being called or converted. They both pay quarterly.
Here are two alternative ideas, if you want to hedge your investment:
1. Sell cash-secured puts against the ARE common shares.
October $35.00 put, (AREVG): $1.50 bid, a 4.3% yield for 84 days, or 18.62% annualized.
2. Sell Covered Calls:
Buy the ARE common shares, in 100-share lots*
Jan. 2010 $40 calls, (AREAH), currently bid at $3.70, a 9.42% yield for a 175-day term, or 19.67% annualized.
In addition, you'd qualify to collect $.70/share in dividends prior to expiration for an additional 1.8% yield.
If your shares get assigned/sold, you'd realize an additional $.76/share gain, an additional 1.94% yield.
Breakeven: $34.84
Total Static Yield: 11.22% ($4.40/share) (23.4% annualized)
Potential Total Assigned Yield: 13.16% ($5.16/share) (27.45% annualized)
*(Each option contract corresponds to 100 shares of the underlying stock)
Alexandria reports its second quarter earnings on August 6th.
(REIT dividends are not eligible for the 15% qualified dividend tax rate).
Disclosure: Author is long Alexandria Real Estate REIT preferred shares and short ARE put options.