Many financial advisors agree gold should comprise some part of an investor's portfolio depending on that person's risk tolerance and their personal financial situation. For someone with a well-diversified stock portfolio, often the best way to garner this exposure is through well-capitalized gold mining stocks with positive earnings and solid balance sheets. As opposed to just buying a gold ETF that tracks the price of the commodity, by buying individual stocks one gets exposure to the price or value of gold itself (which is traditionally about 80%-90% correlated). And you'd have an option for additional price appreciation if that particular company gets acquired for a premium or mining operations exceed expectations.
One company that fits that description is Allied Nevada Gold (NYSEMKT:ANV). Allied Nevada has no international risk as all of its operations are based in the U.S. and also possess valuable reserves and mining assets that would make it a good acquisition candidate. Most importantly, ANV is selling at a very attractive valuation due to the recent sell off in gold and gold-related securities. Therefore, this article doesn't make a macro case for gold prices to rise or fall as the issues involved are complex, generally misunderstood, and somewhat unpredictable -- at least in the short to mid-term. Understanding a gold mining company as an investment is not always an easy task either, but at least it's a business that can be evaluated on its own merits.
Allied Nevada's key mining asset is the Hycroft mine located in Northern Nevada. This mine is an open pit gold and silver heap leach operation in which the company has a long-term strategic goal to significantly increase gold and silver production starting in 2015. According to the company, current plans are to develop the Hycroft mine from a run-of-mine heap leach operation to a world-class, large-scale heap leach milling operation. This will be accomplished through a staged growth plan involving:
An increase of the mining rate through larger capacity haul trucks, shovels, and production drills.
Expanding leach pad operations through increased pad size, additional processing capacity, and the addition of a gyratory crusher to enhance the exposure of ore to the leach process.
Constructing a mill to process transitional and sulfide mineralization.
Upgrading infrastructure items to handle the milling demands, such as power transmission, the construction of a railroad extension, and new employee housing.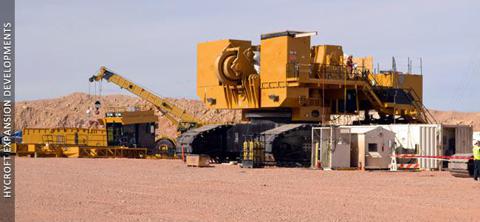 As a result of this major expansion, gold production is expected to increase from 225,000-250,000 ounces in 2013 to average in the range of 350,000-500,000 ounces for the 10-year period beginning in 2015. The Hycroft project is expected to be one of the largest gold producers in the U.S. and one of the largest silver producers in the world once this major expansion project is completed by 2015. The expansion is expected to cost $1.2 billion, of which $723 million has already been spent or committed as of March of this year.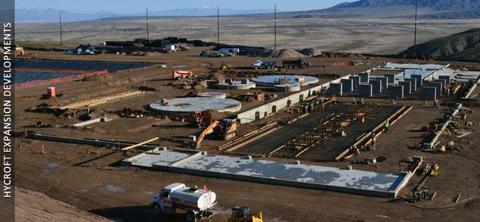 In addition to its flagship Hycroft mine, the company has developed exploration programs at a number of its owned properties. However, due to the recent volatility in commodity prices, further exploration drilling is not likely to occur in 2013. During this expansion phase, the company continues to grow gold and silver production at the Hycroft mine and remains profitable. For the quarter ending March 31, 2013, gold revenue increased 26.0% and gold production increased 33.9%. The company also produces smaller amounts of silver from the Hycroft mine. Silver revenues increased 20.3% and silver production increased 36.2%. The company's net earnings in 2012 were $47.7 and for the first quarter of 2013 was $8.8 million. However, free cash flow was negative over both periods due to large capital spending associated with the Hycroft mine expansion.
All this seems to make for a good story, however, even before the gold crash in April, the company experienced problems of its own doing. The stock was negatively affected earlier in 2013 after a rumored employee whistleblower event brought attention to the company. This was solely related to employee complaints regarding the former CEO who many employees believed to be disruptive, unprofessional and had acted in a manner not conducive to employee morale or the future growth of the company. He was removed on March 27 and replaced by the company's executive chairman.
Then during a conference call on April 9 to discuss the removal of the former CEO as well as provide an operational update, the new CEO stated liquidity is in good shape and claimed emphatically the company would not raise equity at these levels to help finance the Hycroft expansion. Following that, on April 30 Allied announced a potentially scaled back development plan due to commodity price volatility as well as a deal to sell stock -- exactly 21 days after they stated this would not happen. Granted, a lot of things happened in that three-week period, most importantly the dramatic gold selling frenzy that experts say has never happen that quickly and intensely in the history of modern-day gold trading.
Management creditability issues aside, the equity raise at $10.75 per share went a long way to shore up its finances and put aside any liquidity fears. The company raised over $150 million and combined with current cash on hand, now has approximately $385 million on the balance sheet. Allied also has an undrawn credit facility totaling $120 million, available capital lease programs, and continues to generate positive operating cash flow.
So What's It Worth?
In their investor presentation from February 2013, the company claimed the stock was selling at 50% of NAV when the price was at $22.00. NAV was calculated at $1,400 gold and $25 silver according to the footnotes in the presentation. So was the NAV earlier this year really close to $44.00? The stock was actually trading above $45.00 in September 2011 and above $40 as recently as October of last year. Of course, things have changed since then as there are now 14 million more shares outstanding after the latest equity offering, which was about a 15% increase.
There is also an increased level of debt. The company has a gold and silver reserve and resource base totaling 55.3 million ounces as of year-end with proven and probable gold reserves of 11.9 million ounces. Using today's gold price and a conservative all-in sustaining operating cost of $1,100 per oz., a base case NAV comes out to around $20.00. Our discounted cash flow valuation that incorporates the low end of production estimates and gold spot prices dropping to $1,200 by 2015 comes out with a $16.00 price. Both of these methodologies ignore the silver byproduct derived from the Hycroft mine.
So it's hard to determine a precise intrinsic value per share in a case like this, but as most great investors understand, it's better to be roughly right than 100% wrong. So any valuation technique comes out to a stock price substantially above the $7.00 where it's trading today. Will it get back to $44.00? Not likely in any reasonable time frame, but it should at least head in that direction at quite a rapid pace once the story is widely understood and the irrational trading comes out of the gold markets. What I don't understand is why larger, well-capitalized gold mining companies or other deep pocket investors wouldn't be interested in these valuable assets at a fraction of NAV (but that's a lengthy topic for another article).
Finally, despite my earlier comment regarding the unpredictability and futility in predicting gold prices, I will say that it is still hard to believe that the massive monetary expansion from the world's central banks in recent years will not result in above-average global inflation at some point in the future. The phrase "this time, it's different" has rarely, if ever, been proven to be a reliable investment strategy.
Disclosure: I am long ANV. I wrote this article myself, and it expresses my own opinions. I am not receiving compensation for it. I have no business relationship with any company whose stock is mentioned in this article.
Disclaimer: Material presented here is for informational purposes only. Nothing in this article should be taken as a solicitation to purchase or sell securities or mutual funds. Before buying or selling any stock, bond or fund, you should do your own research and reach your own conclusion. We may have positions in securities mentioned in this article. You should take this into consideration before acting on any advice given in this article. The contents of this article do not take into consideration your individual investment objectives so consult with your own financial advisor before making an investment decision. Mutual fund, stock and bond investing includes certain risks including loss of principal.