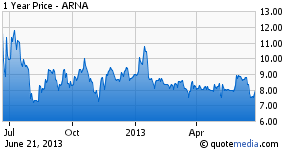 Twitter is abuzz and Arena (NASDAQ:ARNA) investors, as well as the street are initially excited about the first script numbers of the recently launched anti-obesity drug Belviq. IMS Health is reporting that Belviq had 1,087 prescriptions filled during the week ending June 14th. Belviq launched on June 7th, but was not available in pharmacies until June 11th.
As I have stated several times, the equity would move on the script numbers. What I have cautioned for quite some time is that these numbers may or may not be accurate, and that depending on how they come in, the reaction could go either way. In this case it appears that the street liked the news. Arena has traded as high as $7.92 as of this writing.
It will be tempting for investors to assign all kinds of meanings to this data. As it is still early in the process, we all need to be careful. It will take a few weeks worth of data to even begin to build a trend model that has any chance of being in the right ballpark.
One item of note is that the sales data pulls numbers for a week, but pharmacies only had product on shelves for 3 days out of that week. Once again, be careful how you interpret that. If patients could not get their script filled one day due to lack of product, they simply come back the next. On the other side of the coin, if the stock is still not available due to demand, there will be scripts in patients hands that have not been filled yet, and therefore will spill into the next week.
I have personally stated that I would like to see the company get to 40,000 scripts in the first three months of sales (i.e. June, July, August). In my opinion, if the company can do that number they have a shot at seeing 12 month sales at $250 million. Hitting $250 would trigger purchase price adjustments and the lowest tier of bonus payments.
I look at the nearly 1,100 scripts in launch week as a positive that can lead to that 40,000 number if traction continues to build up in the near term. That makes me optimistic that my target of "good" performance has potential.
In my opinion we are seeing a positive spike. Active traders and investors may play this news, which is something I inform investors to be cautious of. The next focus will now be the two week numbers that should trickle out sometime next week. In addition, we may see some figures from Symphony Healthcare, another organization that tracks drug sales.
If you are a longer term investor simply sit back and watch the ride. If you are an active trader, be cautious in either direction, and remember, basing a decision on direction of the first weeks sales can be a tricky proposition. One key for the fundamental success of Belviq is getting good sales traction. The Belviq story is just getting started, and with the American Medical Association recently voting to classify obesity as a disease the pathway for broader and better insurance coverage may help to boost sales and perhaps get Belviq to the blockbuster status ($1 billion in annual sales) that many hope to see in the next 3 to 5 years.
I see Arena as a buy here with the caution that we are still very early in the process of understanding sales.
Disclosure: I am long ARNA. I wrote this article myself, and it expresses my own opinions. I am not receiving compensation for it (other than from Seeking Alpha). I have no business relationship with any company whose stock is mentioned in this article.