The first article of the series has introduced the Carbonate Triangle of the renowned Canadian oil sands. The region is the world's third-largest oil reserve with its rich carbonate-hosted bitumen deposit located in northern Alberta's deep underground. Precisely, the Carbonate Triangle is situated between three major bitumen areas, Athabasca, Cold Lake and Peace River.
In today's investment guide on the Carbonate Triangle, I will present the main characteristics of the Cold Lake area to have a better assessment of its potential. Then, I will introduce an oil producer involved in that specific play.
So far, I looked into the following producers involved in the first region of the Carbonate Triangle, Peace River:
An analysis of the current operations of the company will be examined with the objective to give the most complete information available to the potential investors before deciding to seize the opportunity that the 54,132 square miles of the Carbonate Triangle has to offer. Let's start by introducing Cold Lake, the second- largest oil sands deposit of the Carbonate Triangle.
The Cold Lake Region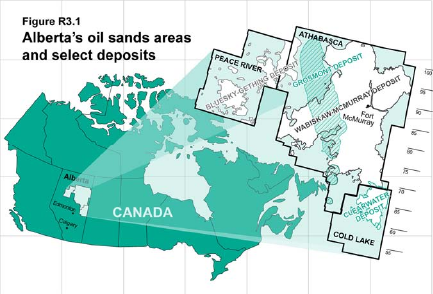 Source: ERCB
Historically, the majority of the primary bitumen has been produced from the Cold Lake oil sands area using vertical wells and progressive cavity pumps that tolerate the large volumes of sand produced with the bitumen. More recently, with improvements in
horizontal and multilateral drilling technology, primary bitumen is being produced from the Athabasca and Peace River oil sands areas.
The Cold Lake oil sands lie within a package of stacked incised valleys that rest encased within more regional deltaic, shoreface sands and marine mud. These overlie the fluvial and estuarine sands of the Clearwater formation. This formation is overlain by regional deltaic, progradational barrier complexes and incised valley-fills of the Lower and Upper Grand Rapids formation, which extends to the top of Mannville group.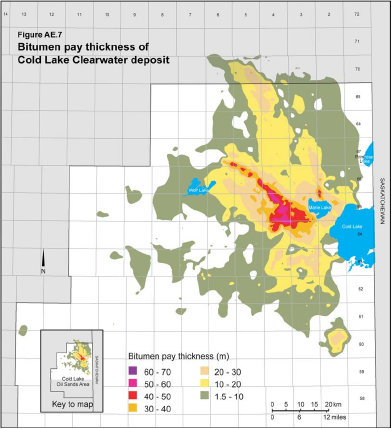 Source: ERCB
Each of the original shoreline successions, near the Cold Lake oil sands/Lloydminster heavy-oil contact, is a result of a fall in relative sea level, followed by cut and backfill of associated estuarine incised valley-fills. Notably, the bitumen pay thickness map for the Cold Lake Wabiskaw McMurray deposit based on cutoffs of 6% mass and 13 feet thickness is shown below.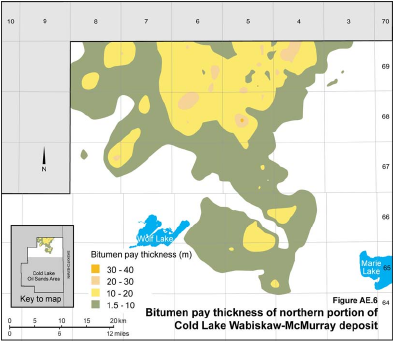 Source: ERCB
Although crude bitumen within both Grand Rapids deposits is pervasive through much of the Cold Lake oil sands area, the able to be developed resource (primary bitumen for the most part) is generally associated with Paleozoic highs, as seen below.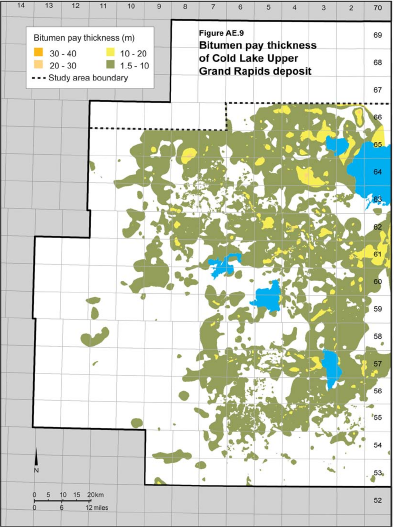 Source: ERCB
The entire Cold Lake area is estimated to contain approximately 201 billion barrels of initial in-place volumes, within a total oil sands reserve estimated at 1.8 trillion barrels for the entire Carbonate Triangle. Approximately 8% of the 201 billion barrels would be accessible given the available technologies, which would represent 16.08 billion of recoverable barrels for Cold Lake.
Husky Energy (HUSKF.PK)
Husky Energy is one of Canada's largest integrated energy companies. With its headquarters in Calgary, Alberta, the company is one of the top holders of oil sands resources in Alberta. Its significant portfolio of oil sands leases holds about 376 square miles of land in Alberta's bitumen carbonates with over 50 billion barrels of discovered petroleum initially in place. Husky operates worldwide with upstream, midstream and downstream business segments as well.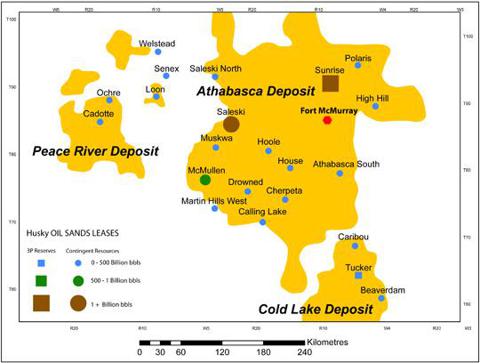 Source: Husky Energy
With extensive conventional oil and natural gas assets, significant heavy oil production and upgrading and transportation infrastructure, the company is pursuing new oil and gas resource plays and is using technological innovation to unlock value by being active in the exploration and production of heavy oil, light crude oil, natural gas and natural gas liquids.
Husky continued laying the foundation for the transformation of its Western Canada business with its ongoing shift towards oil and liquids-rich unconventional resource plays, the company more than doubling oil production for 2012 from unconventional resource plays to 7,000Bls/d compared with 3,000Bls/d in 2011. Husky's oil sands properties use in-situ recovery methods focused on SAGD technology to extract its resources.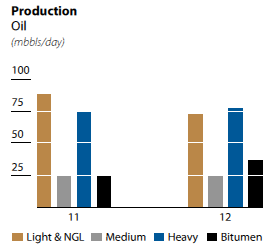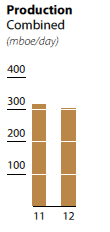 Source: Husky Energy's 2012 Annual Report
Total upstream production was 321,000Boe/d for Q1 2013, up from 320,000Boe/d in Q1 2012, with production weighted 72% towards oil and liquids compared with 69% in Q1 2012. Capex allowed for its oil sands projects reached $658 million compared with $263 million in 2011.
The producer has a strong land position in Western Canada with more than two million acres in prospective oil and liquids-rich gas plays. Overall, with new technologies like thermal development and horizontal wells, Husky expects to grow its total heavy oil production by approximately 36% by 2017.
According to its 2012 annual report, Husky drilled 778 net wells in the Western Canada, heavy oil and oil sands business units in 2012 resulting in 745 net oil wells and 29 net natural gas wells compared with 878 net wells resulting in 805 net oil wells and 66 net natural gas wells in 2011. During 2012, it invested $2.3 billion on exploration, development and acquisitions, including heavy oil throughout the Western Canada Sedimentary Basin compared with $2.9 billion in 2011. Property acquisitions totaling $21 million were completed in 2012 compared with $874 million in 2011.
In Cold Lake, production rates at Husky's Tucker oil sands project have remained stable at approximately 10,000Bls/d in 2012. Production from the Grand Rapids pilot well pair commenced in Q1 2012, adding 20,000Bls/d.
Tucker facilities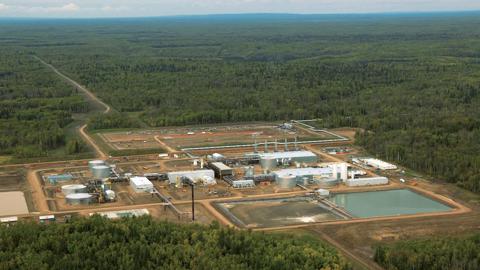 Source: Husky Energy
Based on positive performance from the pilot, Husky initiated drilling of an additional five Grand Rapids well pairs in November 2012, with production expected during this year. Another project called Caribou has been approved for construction and is expected to produce 10,000Bls/d in the Cold Lake area. Start-up has not been determined yet.
The operating costs to produce one barrel of oil equivalent from the bitumen's oil sands were $21.61 in 2012, a drop of 14% from $25.13 achieved in 2011 and 55.7% from $48.75 totaled in 2010. However, Husky received an average of $55.29 per barrel of oil equivalent last year, a drop from $61.77 in 2011, mainly because of the lower prices of crude in attributed sales during 2012.
Husky Pipelines
Husky owns and operates Husky Pipelines infrastructure. The companies gathering pipelines can be divided into the Alberta system and the Saskatchewan system. The pipeline transports oil from Cold Lake to Hardisty, Alberta. It is the only transporter of Cold Lake area bitumen, accommodating Encana Corporation (NYSE:ECA), Imperial Oil (NYSEMKT:IMO), Canadian Natural Resources (NYSE:CNQ) and Shell Canada's in situ projects.
The pipeline is 615 miles in length and is used to transport oil sands bitumen and condensate. The latter is transported from the Strathcona area to the Cold Lake region. The pipeline capacity is 650,000Bls/d of bitumen blend.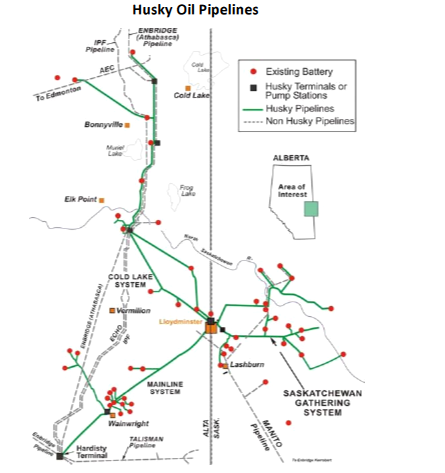 Source: CERI's Canadian Oil Sands Supply Costs & Dev. Projects
As stated in its 2012 annual report, infrastructure and marketing net earnings increased by $211 million compared with the same period in 2011 as a result of marketing activities using Husky's access to infrastructure to move crude oil from Canada to the U.S. to mitigate the impact of wider Western Canadian crude oil differentials on the exploration and production business by capturing widening Canadian crude discounts through integration.
Core Financials
Q1 2013 cash flow from operations was approximately $1.3 billion compared with $1.2 billion the previous year. Net earnings of $535 million were achieved despite continuing pressure on heavy oil differentials that saw average benchmark prices for Lloydminster heavy crude fall 22% from Q4 2012.
Husky set a target of increasing its ROCE (return on capital employed) by 5 percentage points by the end of its plan period in 2015. It made solid progress in 2012 with a rate of approximately 9.5%, compared with 6.4% in 2010. Revenue increased slightly last year from 2011. It totaled $23.12 billion over $23.08 billion the year before.
Husky's TTM P/E ratio is good at 14.10 compared with its industry's average of 24.93. Moreover, its long-term debt-to-equity ratio is fair at 20.28, way better than the industry's average of 67.41, suggesting that the company is making good use of its financing. Finally, let's see the measure of profitability for the company, as it will reveal how much profit it generates with shareholders' invested money. The TTM return on equity ratio of Husky is 10.52%, almost double its industry's average of 5.82%, suggesting that the company's management is efficient with its shareholders' money.
By the end of 2012, Husky had total proved and probable reserves of 1.7Bboe (billion barrels of oil equivalent), adding 130Mmboe (million barrels of oil equivalent) of proved reserves during the year and best estimate contingent resources of 13.1Bboe. The company's oil sands portfolio was responsible for 11.6Bboe of the best estimate contingent resources total.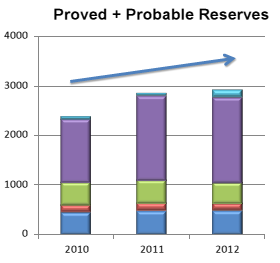 Source: Husky Energy's 2012 Annual Report
Bottom Line
Husky Energy produces oil and gas worldwide. However, rejuvenating its assets in Canada's oil sands and in the heavy oil business makes a lot of sense considering the large amount of oil that Canada has to offer. The company has some other great assets, particularly in the Athabasca region, the third and most prolific part of the Carbonate Triangle that will be seen in further articles.
In conclusion, here is the upsides for Husky Energy:
One of the top holders of oil sands resources in Canada's 3rd largest oil reserve in the world
Husky's oil sands properties offer long-term oil volume growth with limited exploration risk
Focused worldwide integration of its upstream, midstream and downstream businesses
Management efficiency in creating profitability
A meaningful 4.27% dividend yield compared with its industry's average of 1.55%
Over 140% in reserve replacement ratio efficiency
The current low stock price compared with Morningstar's fair value assessment of $33/share
Disclosure: I have no positions in any stocks mentioned, and no plans to initiate any positions within the next 72 hours. I wrote this article myself, and it expresses my own opinions. I am not receiving compensation for it (other than from Seeking Alpha). I have no business relationship with any company whose stock is mentioned in this article.