Everyone knows the story of the tortoise and the hare, and we all know how it ends. The tortoise's slow but steady plodding trumps the hare's volatile sprints and stops. Some companies behave like the hare, and they thrive on innovative ideas in growing markets. Others follow the path of the turtle and simply stick with a long term business model that works and grow their sales organically through calculated expansion plans. While the former type of companies are often the ones businesses investors flock to in hopes of making a quick return, the stock prices of theses businesses often face volatile and unpredictable moves due to the nature of their growth. It is often the tortoises that come out ahead in the long run. Vera Bradley, Inc. (VRA) is a great example of a company that is growing the smart way, and some recent events are making the stock an even more attractive investment. There have been a number of articles recently pointing to VRA as an opportunity or lack thereof; however, it is surprising to see that these are missing a focus on two promising features making this a great opportunity.
With management's recent lowered guidance on June 5, 2013 for 2014 FY revenue and earnings per share, the stock price fell 10% in one day. However, investors seem to be forgetting key points and long term fundamentals in favor of short term news. Vera Bradly, Inc. is still a solidly growing company with new expansion plans, and the recent drop has simply provided a buying opportunity for prudent investors. While plenty of analysts and investment writers focus on Vera Bradley's fundamentals, few seem to be tuning in to the massive potential associated with two new business moves that seem to have fallen under the radar. Those that are paying attention to these revenue growth catalysts will stand to benefit by buying this stock while it is still cheap. The company's new product lines in baby apparel and accessories, as well as growth in the Japanese market seem to have gone largely unnoticed. These strategic expansion plans, along with the company's underlying fundamentals may come together as the perfect storm for the VRA sock price to outperform expectations.
First Things First - Vera Bradley, Inc. Fundamentals
Because of the sheer number of recent articles pointing to VRAs fundamentals, I will focus only on key items here. First, the company has grown revenues and net income to maintain a steady profit margin over the last five years. The three and five year average revenue growth numbers have been impressive at 23.3% and 22.72%, respectively. Second, regardless of the fact that recent guidance from management was lowered from EPS of $1.86 to $1.76; the lowered guidance still represents an increase in EPS year-over-year. The company has had slow growth years in the past but has maintained solid revenue and net income growth over the long run, leading to EPS growth.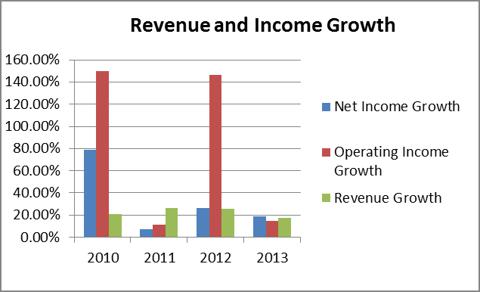 Click to enlarge
*Data Sourced from Morningstar Financials on VRA
Further, the fact that operating income and net income growth has also increased shows the company is able to maintain it margins and control its costs while growing revenues, and important factor in long term profitability.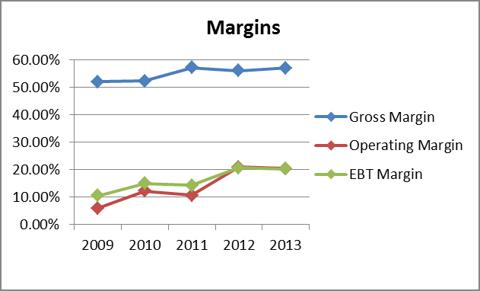 Click to enlarge
*Data Sourced from Morningstar Financials on VRA
A quick glance at the numbers over the last 5 years, confirms that this is certainly a growing and profitable company across many different metrics.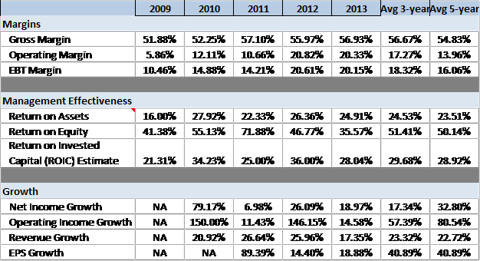 Click to enlarge
Having maintained an average ROE of 50% over three years and Return on Assets of 23.51% over the same period appears to indicate an effectively run company, despite some criticisms of departing CEO Michael Ray. The last point that seems to be bothersome to some investors is the fact that the Debt-to-Assets of the company have been higher than some competitors in the past. However, a glance at the historical assets and liabilities shows growing assets and declining liabilities, leading to a much lower Debt-to-Assets ratio.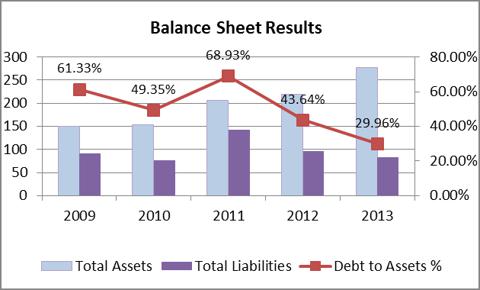 Click to enlarge
*Data Sourced from Morningstar Financials on VRA
Intrinsic Value Currently at a Discount
At the current price, VRA is a bargain from a long term standpoint. Using the company's history of growth along with future expectations shows an undervalued stock even without taking into consideration the potential that may come from international sales and the baby product lines.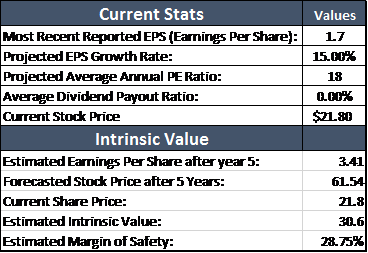 The $1.70 EPS rate used in the intrinsic value calculation is the FY 2012 number, and the EPS Growth rate of 15% is very conservative given the company's three year average growth rate of 40%. The 18x P/E is also conservative being well under the industry average of 19.4x Projecting the current EPS over 5 years at the average EPS growth rate would place earnings per share $3.41 after five years, making the current intrinsic value of the company $30.60/share, a 28.75% premium over the current market price. In addition to the undervalued price, the two growth initiatives add more compelling reason for this stock to outperform.
Japan Initiative:
After rolling out plans to open stores in Japan in 2011, this news seems to have faded quickly. However, since the company announced its international expansion plans in early 2011, it expanded to 15 department store locations with direct sales to the market through its Japanese website. While the company doesn't separate international sales from domestic sales in its annual reports, total revenues increased 26.64% and 25.96% in 2011 and 2012, the most across two years, the years following implementation of the Japan market initiative. While the revenue attributable to Japan is difficult to determine, it is reasonable to assume that some of that growth was the direct result of international sales. The company expanded from an initial test of seven pop-up stores in Japan to 15 department store locations after the test runs were successful in the Japanese market. Successful test runs certainly don't guarantee future growth, particularly in the retail designer and accessories market. However, the success of the early pop-up stores and subsequent expansion into department stores indicates that this is a potential growth market for the company. As these expansions continue in Japan, it is plausible that the international direct and indirect sales lines may contribute a significant amount of growth in future years.
Baby Product Lines:
The second area of potential growth that has garnered a lack of focus is the new developments in the Vera Bradley, Inc. baby clothing and accessories. This is even more baffling given the potential of this product line to succeed due to VRAs existing distribution channels, retail partners, and direct sales. The most difficult barriers to the success of a new retail product launch by a new company are customer acquisition, retail partners, and distribution. Vera Bradley, Inc. already has a captive customer base of young women who are potential purchasers of the baby line. Further, the company already sells its other lines through 65 of its own full-price stores, 11 outlet stores, 3,400 retailers, department stores, and direct to consumers through the website. All of these retail locations are potential carriers of the baby lines as well, providing the company with a huge advantage in growing these lines. Finally, the company already has distribution in place with all of these sales outlets, making the expansion of the baby line a much easier and profitable process. The costs of setup that most new product launches face can be avoided by VRA's existing business model.
In essence, the company is able to add an additional product into a $4 billion baby accessories market with no additional risk and relatively little investment. If it doesn't work as expected, the company is still undervalued today and strong in its existing product lines. If it is successful, it could mean significant growth and great returns for investors willing to give this some time to play out until others to pick-up on this major potential opportunity.
Risks
While VRA is a great company, there are always risks in equity investments, particularly in this industry. Companies face the challenge of constantly creating new designs that keep current customers coming back and new customers coming in. With it's unique design patterns and narrow product line, VRA runs the risk of losing customers as fashion trends change and certain accessories fall out of favor. Further, expanding internationally presents political risk, currency risks, and supply chain risks that companies with only domestic sales do not face. These issues could negatively impact the financial health of the company. These risks should be weighed against the long term return potential should the company continue to successfully carry out its plans.
Summary
The fashion and design industry changes constantly as fashion trends and consumer tastes change, making it difficult for some companies to maintain a customer base and grow over time. Many investors and analysts like to point to this as a reason Vera Bradley's growth and sales will slow and some have referenced this as a reason that the company lowered the current year guidance. While Vera Bradley, Inc. only went public in 2010, some people seem to forget the fact that this is a thirty year old company that has managed to continue growing in this difficult industry. The historical growth rates and fact that it is undervalued is reason enough to buy this stock. If the international and baby line initiatives don't work out, this company is still a good value. If they do work, it's simply icing on the cake that will lead to further growth.
Disclosure: I have no positions in any stocks mentioned, and no plans to initiate any positions within the next 72 hours. I wrote this article myself, and it expresses my own opinions. I am not receiving compensation for it (other than from Seeking Alpha). I have no business relationship with any company whose stock is mentioned in this article.