The increasing complexity of technology, coupled with information access, has created an environment whereby patent infringements are more easily identified and litigated. Non-practicing entities (NPEs) have been on the rise, and they have cost corporations billions of dollars.
Sources: RPX Corporation Investor Presentation
NPEs operate by leveraging their position on a single patent, which is then used to litigate against numerous companies. While NPEs share numerous costs (such as production research, etc.), the companies that are litigated do not. Each company has to set up their own defence against the NPEs, resulting in large financial burdens. Many Small and Medium Enterprise (SMEs) do not have the capacity to deal with such costs and are therefore forced to capitulate.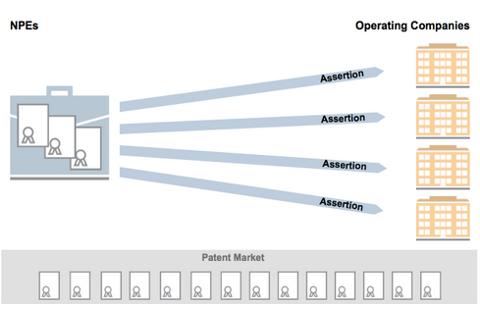 Sources: RPX website
There must be a way to counter this. Enter RPX Corporation (NASDAQ:RPXC).
RPX provides an innovative way to mitigate patent litigation. It does this by purchasing patents from the open market and then turning around to lease them to its clients.
It is kind of like a school of fish coming together, it deters NPEs from litigating, as it is much harder and scarier to litigate against a shark, than many small fishes. It also minimises litigation costs because of joint costs.
This is a beneficial business model for both RPX and the clients; RPX can benefit from the regular cash flow in the form of annual subscriptions, while the clients can benefit by reducing mitigation costs. Such a model ensures no conflict of interest, as the interest of RPX and the client are essentially the same: to minimize litigation costs. This no conflict of interest can be a very powerful force in helping RPX to obtain clients.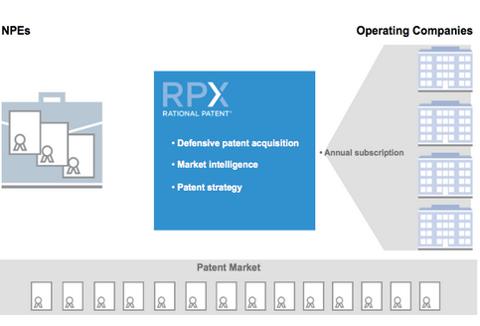 Sources: RPX website
By providing an innovative way to deal with an increasing problem, coupled with being the first in the industry, RPX Corporation is a company that has enormous upside potential.
Quantitative metrics
Financial strength
No debts
No interest coverage due to 0 debts
Total liabilities to total assets of 29%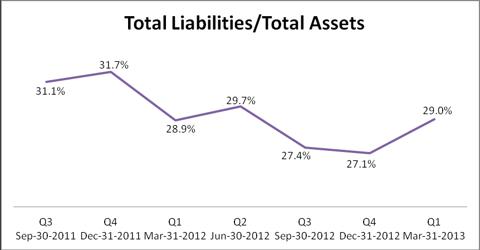 Sources: Capital IQ
Zero debt, high cash reserves along with a strengthening balance sheet gives RPX the necessary strength to take advantage of CAPEX opportunities, most likely in the form of patents. It would be able to lever their position aggressively by adding more patents to its war chest and getting more clients as a result.
Profitability
Net Margin at a healthy 24% and rising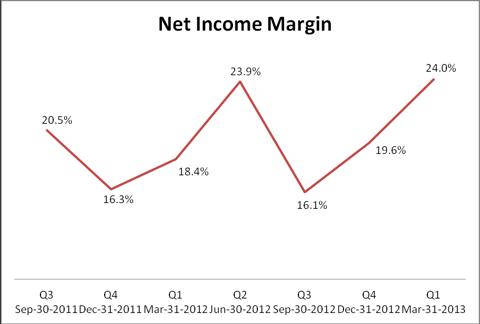 Sources: Capital IQ
Total revenue and EPS growing QoQ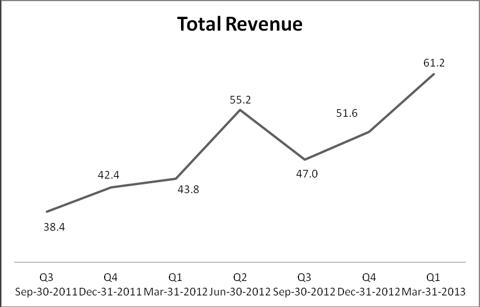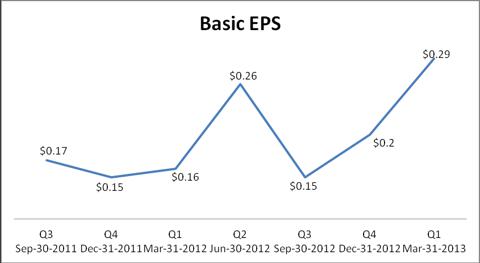 Sources: Capital IQ
Revenue and EPS have been increasing rapidly generally QoQ and are set to grow even more in the future as RPX establishes its ground in the marketplace.
Due to the nature of the business, there are great opportunities for economies of scale. Litigation cost per client would be more cost effective with a larger client base. This can be seen with the rising net margins.
Valuation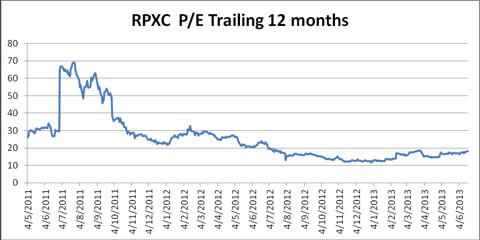 RPX is currently trading at a very attractive multiple on a historical basis, and for a company that continues to have a strong growth prospect along with an improving balance sheet.
Qualitative analysis
First in the Industry
RPX is the first in this industry and as such, would give it a first mover advantage by creating a moat around the business. The moat can come in the form of branding or patent chest. Being the only in the field also means that its profit potential as the market is likely to be large and underserved.
Client base and earnings visibility
Total number of clients has been rising consistently. This is likely to accelerate into the future as it establishes its grounds as a viable source of defence. Due to the nature of the business, it is likely that RPX has near to 100% client retention rate. This means that revenue is very visible and is thus easy to forecast.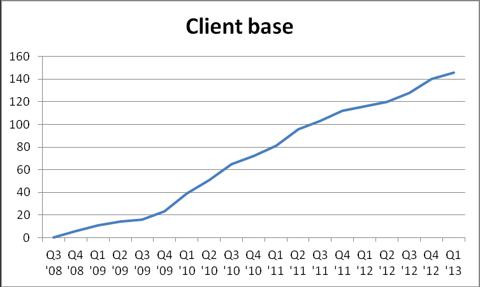 Sources: Operating and Financial Metrics
Patent chest
RPX has been increasing their Patent chest quarter after quarter. This would pay off in huge dividends in the future as it cumulate a large enough chest. Increasing the patent chest would create a moat around the business, as stated above, by preventing entry into the industry as it covers more grounds. Also, it allows RPX to lock in more clients now, increasing earnings going forward.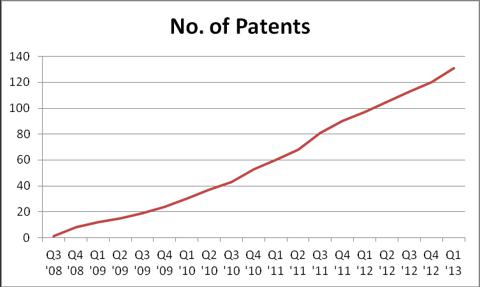 Sources: Operating and Financial Metrics
Points of concern
New entrance
Although I had previously stated that RPX has the first-movers advantage and is building a moat around its business, the business concept is relatively easy to emulate. It is easy for new firms to enter the industry and disrupt the growth potential of RPX.
Future losses
Due to the nature of the business, it is likely that RPX may experience tail risks. Expensive cases coupled with an unusually large amount of cases can cause unexpected impairments in RPX business.
Sources: RPX Investor Day Presentation
All in All
I believe that RPX Corporation is a great growth company serving a large underserved market. As RPX earnings are very visible and easy to project forward, I believe a Discount Cash Flow model would be adequate.
Assumptions
EPS: $0.87
Tangible Book Value: $2.75
Growth Rate in the next 10 years: 0% - 20%
Terminal Growth Rate: 0% - 5%
Years of Terminal Growth: 10 years
Discount Rate: 6% - 8%. (US AAA Corporate Bonds to historical S&P market returns)
Bearish Case: $11.29 (-29.08%)
0% Growth rate for both Growth and Terminal Period and a 10% Discount Rate.
Moderate Case: $24.27 (+52.45%)
10% Growth Rate for Growth period and 3% Growth rate for Terminal Period with a 6% Discount Rate.
Bullish Case: $49.64 (+211.81%)
20% Growth Rate for Growth period and 5% growth rate for Terminal period with a 6% Discount Rate.
All the above cases are very conservative figures as I use tangible book value, which excludes patents, which is RPX's main business and core assets, in the calculations.
Disclosure: I am long RPXC. I wrote this article myself, and it expresses my own opinions. I am not receiving compensation for it (other than from Seeking Alpha). I have no business relationship with any company whose stock is mentioned in this article.