If there is one thing that long-term investors look for when deciding to add a stock to their portfolio, it is how a solid company has treated shareholders. Dividends paid by companies means cash in shareholders' pockets. When a company increases dividends year after year, a reliable stream of income can be counted on like clockwork. When the share price dips, it might be a good time to consider adding it to our core holdings, especially if the share price seems low, based on some very key analyst's ratings.
When it comes to paying, and raising dividends, year in and year out, Dover Corporation (NYSE:DOV) has few peers. For 57 consecutive years, DOV has increased dividends. That places the company in the same rarefied air as some of our biggest and best stocks within the Team Alpha Retirement Portfolio.
The Team Alpha portfolio consists of Ford (NYSE:F) Chevron (NYSE:CVX) Apple (NASDAQ:AAPL), McDonald's (NYSE:MCD), Exxon Mobil (NYSE:XOM), Johnson & Johnson (NYSE:JNJ), AT&T (NYSE:T), General Electric (NYSE:GE), BlackRock Kelso Capital (NASDAQ:BKCC), KKR Financial (KFN), Procter & Gamble (NYSE:PG), CSX Corp. (NYSE:CSX), Realty Income (NYSE:O), Coca-Cola (NYSE:KO), Annaly Capital (NYSE:NLY), Cisco (NASDAQ:CSCO), Bristol-Myers Squibb (NYSE:BMY), Newmont Mining (NYSE:NEM), and Wells Fargo (NYSE:WFC).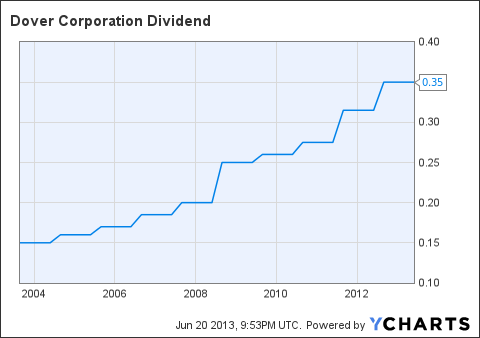 In 10 years the dividends have more than doubled, and I believe that the company is in great shape to continue this trend.
The Basic Fundamentals
Quarterly yoy revenue growth increased by 4.30%, while earnings growth increased by 7.10% during the same period.
The company has a forward PE ratio of 13.48, which is well below the S&P 500 averages.
Over 90% of all outstanding shares are held by institutions.
The dividend payout ratio is only 30%. To me this is a metric that shows that the company can continue its remarkable dividend-paying record.
The current dividend yield is roughly 1.90%
While the current rate of capital appreciation is nothing spectacular, there are signs of life for our appetite of growth, but I will get to that in a moment. The company itself has been around since 1925. Today the company is a global manufacturer consisting of four business segments:
Energy
Communication Technologies
Printing and identification
Engineered systems
The company has grown internally as well as externally with over 200 acquisitions since 1955; 25 of them since 2009. The combination of the growth of each of the business segments, which has returned decent results, as well as the more recent acquisitions, has led the company back on a growth path that was duly noted in this article:
The end result for Dover and investors is a growing company, especially following the financial crisis. From 2009 through 2012 the company rebounded nicely, increasing revenues roughly 13% annually since then to last year's $8.1 billion total. Earnings also have rebounded splendidly, from $357 million in 2009 to $800 million as of 2012. Analysts expect another 14% uptick in earnings for fiscal 2013, and 13% improvement in FY2014.(emphasis added by this author)
Here is a look at an earnings progression chart: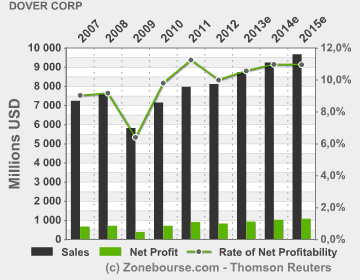 The projections are headed in the right direction.
Analysts Have Rushed To Raise Price Targets And Ratings
Since January 2013, many key analysts have raised their rating of DOV; Nomura raised its price target from $84/share to $92/share and reiterated a buy rating just three weeks ago. BofA/Merrill Lynch raised its rating from neutral to buy on May 23rd, with a $90.00/share price target. On March 21, Goldman Sachs resumed coverage with a buy rating and a $94.00/share price target. On January 8, Morgan Stanley upgraded the stock from equalweight to overweight.
One of the more telling comments were made by Nomura Securities analyst Analyst Shannon O'Callaghan:
The planned spin of Knowles Corporation (announced May 23rd to be completed by 2014) shows that Dover is a different, better, and more shareholder friendly company than it has been historically. Despite historical involvement and strong belief in Knowles, this management team is willing to spin the business off into a more natural analyst and shareholder base. While our reaction is positive, skepticism remains high around Dover, particularly in relation to its communications and energy businesses. In this note, we take a detailed look at the spin-co Knowles Corp as well as the Dover remain-co and present our case as to why we think both Knowles and Dover Energy deserve better multiples.
Upon completion of this transaction, Dover's annual revenue, on a pro-forma basis for 2013, will be approximately $7.4 to $7.6 billion. Dover will have leading positions in its growth spaces, namely energy, refrigeration, fluids, and printing and identification, and will remain focused on the ongoing objective of generating consistent revenue and earnings growth, and strong free cash flow.
Given that the stock closed today at $77.49/share, a $92.00 price target, if achieved, represents roughly 20% in capital appreciation within 12-24 months. Since the dividend payout is only at 30%, I believe DOV could significantly increase dividends going forward, at an even more rapid pace than it has in the past.
The Sector Is Positive Within The Current Business/Market Cycle
The sector Dover plays in is the industrial sector, in a "conglomerate" sort of way. If you read my last article on business and market cycles, industrials generally outperform other business sectors.
Since we have already discussed technology, with Intel (NASDAQ:INTC) and Microsoft (NASDAQ:MSFT) being on our radar, and the portfolio has the two best stocks in the energy sector in Exxon Mobil and Chevron, Dover Corporation seems like a perfect fit in any dividend-income-seeking portfolio, including Team Alpha.
There appears to be plenty of room for share price appreciation as well.
Disclosure: I am long AAPL, BKCC, BMY, CSCO, CSX, CVX, F, GE, JNJ, KO, MCD, NEM, NLY, O, T, WFC, XOM. I wrote this article myself, and it expresses my own opinions. I am not receiving compensation for it (other than from Seeking Alpha). I have no business relationship with any company whose stock is mentioned in this article.
Disclaimer: The opinions of the author is not a recommendation to either buy or sell any security. Please remember to do your own research prior to making any investment decisions.