CME Group Inc.'s (NASDAQ:CME) second quarter pro forma earnings of $3.37 per diluted share substantially topped our estimate as well as the consensus, primarily as a result of higher-than-expected quotation data fees and transaction fees on an increased average rate per contract. Expenses reduction initiatives also helped increase the bottom-line.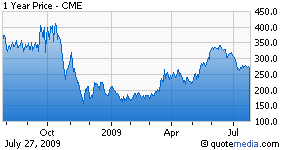 GAAP net income for the quarter came in at $221.8 million or $3.33 per diluted share, up 11.3% sequentially but down 9.3% year-over-year on a per-share basis. During the quarter, the company had a reduction of $2.6 million in net income from merger-related charges. This impairment charge was the primary factor for reduced GAAP net income.

Excluding one-time charges, we see pro forma earnings of $224.4 million or $3.37 per diluted share, up 5.5% sequentially but down 14.3% year-over-year on a per-share basis.

Net revenue for the quarter increased 3.5% sequentially and 14.5% year-over-year to $633.0 million. Investment income decreased 16.2% year-over-year to $10.1 million. However, clearing and transaction fees increased 23.0% year-over-year and quotation data fees increased 37.3% year-over-year during the quarter.

Total expenses decreased 4.5% sequentially but increased 13.4% on a year-over-year basis to $249.0 million. The pre-tax margin improved to 60.7% in the second quarter compared to 57.4% in the prior quarter and 60.3% in the prior-year quarter.

Average daily volume (excluding TRAKRS) in the reported quarter was 8.8 million contracts, down 2.2% from the prior quarter and 20.8% from the same quarter a year ago. Equity-E mini contracts were up 1.2% (on a year-over-year basis) but Foreign Exchange contracts weakened (down 14.6%).

Commodities were also down 12.3% year-over-year. Globex volume represented 83.7% of total volume (excluding TRAKRS) in the reported quarter, up from 81.9% in the year-ago quarter.

Growth remains a huge positive driver for the company and the stock. We continue to believe that CME is successfully differentiating itself through technological and product innovation -- in effect, creating demand for its services.

We also expect CME's top line to benefit for a longer term from secular growth in demand for derivatives products for risk management. We believe this has been driving the impressive trading volumes over the last couple of years.

With some of the major acquisitions having been completed, the company intends to execute its global growth strategy in the important emerging markets of Europe, Asia and Latin America.

However, trading activity is inherently variable, both seasonally and cyclically, whereas many of CME's costs are fixed. This is creating a positive operating leverage today, but could become negative just as quickly in a declining-revenue environment. As such, we maintain our Hold recommendation on the shares.