Microsemi Corporation's (NASDAQ:MSCC) fiscal third quarter revenue missed the consensus by a sliver, but EPS beat by 3 cents. Revenue was at the high-end of the guided range, while the EPS exceeded the guidance by $0.01.

Revenue

The company reported revenue of $107.0 million, which was up 1.2% sequentially and down 17.2% year over year.

Microsemi's Analog/Mixed Signal products cater to three end markets -- mobile/connectivity, industrial/semicap and notebooks/LCD TVs/display.

The mobile/connectivity business (9% of revenue) grew 4.5% sequentially and declined 53.1% from the year-ago quarter. The business is currently being driven by the WLAN product line, as the high capital requirement of POE installations limit adoption in the current environment.

The industrial/semicap business remains weak, generating just 6% of revenue in the last quarter. Segment revenue declined 17.6% sequentially and 30.1% year over year.

Notebooks/LCD TVs/displays generated 5% of revenue, representing sequential and year-over-year declines of 6.3% and 63.2%. Although notebooks and LCD TVs grew strongly, this was more than offset by slower automotive and storage applications.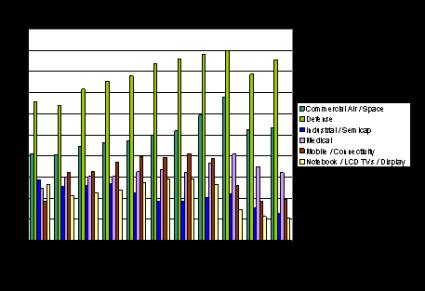 The High Reliability product line also caters to three end markets—defense, commercial air/space and medical.

The defense segment generated 40% of third quarter revenue, up 8.6% sequentially and down 0.2% year over year. Acquisitions, new products, growing electronic content in defense equipment and pricing power helped growth in the last quarter. The company saw particular strength at Northrop Grumman (NYSE:NOC) and Raytheon (NYSE:RTN).

The commercial air/space markets generated 25% of revenue, growing 2.3% sequentially and 3.3% year over year. The slow growth is related to inventory at customers, especially Boeing (NYSE:BA), as the recession has had a significant impact on air traffic. The satellite business was strong.

The medical segment (15% of quarterly revenue) is usually more resilient. Revenue growth is currently being driven by ICDs. However, capital equipment spending has weakened, affecting MRI equipment sales. This has resulted in sequential and year-over-year declines of 7.9% and 0.9%, respectively.

Orders

Bookings growth slowed, yielding a book-to-bill ratio of less than 1. Lead times in the analog/mixed signal business have shrunk from the normal level of 10-12 weeks. Last quarter, they were in the 6-week range. Overall high-reliability lead times have shrunk from 20-30 weeks to 15-26 weeks, although satellite lead times remain in the 36-week range.

Operating Results

The pro forma gross margin was 47.2%, up 15 basis points (bp) from the previous quarter's 47.1%. The operating expenses of $29.1 million were lower than the previous quarter's $34.5 million. Production efficiencies were primarily responsible for the growth in gross margin.

The operating margin was 20.0%, up 550 bps sequentially from 14.5%. Lower SG&A expenses were the primary reason for the higher margin, although lower COGS and R&D also helped.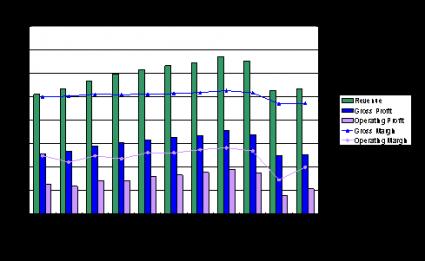 The pro forma net income of $17.8 million, or 16.6% of sales, compares with $15.5 million, or 14.7%, in the previous quarter and $27.0 million, 20.9%, in the year-ago quarter. Special items in the last quarter were transitional idle capacity, profit on acquired inventory, restructuring charges, in-process R&D and intangibles amortization, which had a net impact of -$0.12 per share on a tax adjusted basis.

Including these items, the fully diluted GAAP EPS was $0.10 per share compared to loss of $0.21 per share in the previous quarter and income of $0.17 per share in the year-ago quarter.

Balance Sheet

Microsemi has a strong, debt-free balance sheet. Inventories declined 5.1%, with inventory turns decreasing from 2.5x to 2.0x. The cash and investments balance at quarter-end was $180.5 million, down $5.3 million sequentially. The company spent $2.8 million on capex in the last quarter. DSOs went down significantly from 73 to 64 days.

Guidance

Management has guided to a revenue increase of 1-4% in the fourth quarter, with the non-GAAP EPS expected to come in at around $0.22-0.23.