Once again car sales in the United States are skyrocketing in spite of the reports of gloom and doom, according to a report released Friday. June is expected to be up almost 8% over last year, which has not happened since December of 2007. And consumers are spending more this month, with the average transaction price topping $28,900 for the first time ever in June. This is especially good for automobile companies like Ford (NYSE:F), which is leading the pack with a 16% increase for 2013. Auto-dependent companies like Sirius XM Radio (NASDAQ:SIRI) that rely on new car sales for additional revenue will jump in value:
J.D. Power and LMC Automotive said June sales will show a seasonally adjusted annualized rate of 15.7 million vehicles sold, up 7.6 percent from a year ago and the best showing since December 2007. "There is little question that the automotive market has strong momentum as we close out the first half of 2013," said Jeff Schuster, head of forecasting at LMC Automotive. "Looking forward, all the key fundamentals are in alignment to continue the current growth trend, with production capacity limitations being the only major visible risk."
Additionally, on Wednesday Sirius and Ford jointly announced that:
Ford will be the first automaker to give its customers in-vehicle access to the SiriusXM Internet Radio App in Ford vehicles equipped with SYNC® AppLink®. Ford drivers will be the first to enjoy access to the MySXM and SiriusXM On Demand features of SiriusXM Internet Radio alongside satellite radio all by using voice commands, steering wheel or radio controls. Customers purchasing any new Ford vehicle equipped with satellite radio will receive a six-month subscription to SiriusXM's All Access Package with access to SiriusXM's premium programming lineup via satellite, including every NFL game, Howard Stern, every NASCAR® race, Oprah Radio® and MLB Network Radio™, and more, plus access to SiriusXM Internet Radio on smartphones and other connected devices as well as online at siriusxm.com.
The new technology will be available on over one million Ford vehicles. This will offer drivers the ability to listen to personalised Sirius XM internet radio "hands and eyes free." According to Ford, SYNC is currently available in 80% of its cars. Officials credit it with attracting a new younger more satisfied customer compared to other auto makers.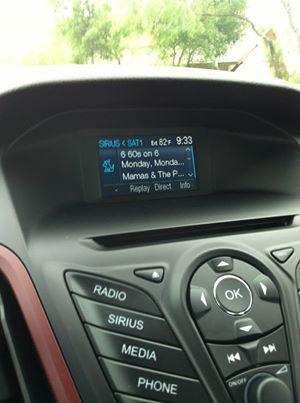 As I have mentioned in several articles, internet radio is dependent on data reception, which can be hard to find in rural areas. On a recent trip from Dallas to Houston, I hit a stretch of Interstate 45 which had no internet or cell phone reception. But my brand new Ford Focus rental kept playing Sirius XM satellite without skipping a beat. This gives Sirius an edge over "internet only" personalised radio companies like Pandora (NYSE:P). Here is a current AT&T data coverage map: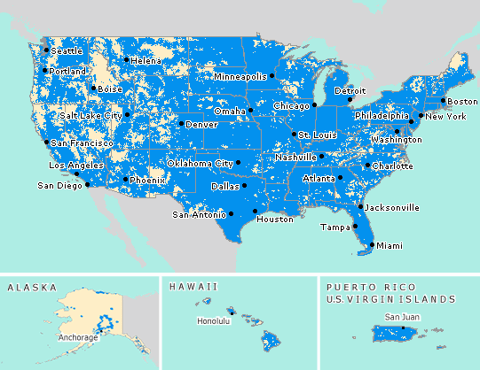 We can not talk about internet radio without acknowledging the new Gorillas in the room. Big institutional investors are moving money from (internet radio) stock to stock with each new development. Google (NASDAQ:GOOG) has come out with a new subscription service internet radio for Android, and Apple (NASDAQ:AAPL) ended the speculation that I wrote about, when it announced that it will offer iTunes radio. According to the LA Times last month:
Analysts said Google All Access was a preemptive launch ahead of Apple, which is expected to announce its own service next month. Google has stepped up its efforts to ensure that Google is on every screen and on every device so online advertisers can reach those consumers wherever they are and regardless of what they are doing. With music on mobile devices exploding, it was crucial for Google to have its own streaming service to keep users tethered to Google services and Android mobile devices.
This was a direct response to the expected internet radio Apple will introduce in the fall on its new iOS7 devices. And as expected it will be an ad-based free service exclusive to Apple iDevices. According to TechCrunch:
Apple really has essentially taken its Genius jukebox-style feature, which combs your library and builds genre-based playlists, or suggests recommended artists and tracks based on what you're currently listening to. The difference with the new service is that it can access the entire iTunes catalog, which, at this point, is well over 26 million tracks. Sony, Universal and Warner are all on board.
In comparison, Google's paid subscription service will offer 18 million tracks, and Pandora's free service has 20 million. Apple really has the largest library. But how can the company possibly make money on an ad-based service which has not proven profitable for Pandora? It is very simple: if you want the service you will have to buy an iOS7 capable device. This will translate into more revenue (via iDevices) for Apple, especially if the new service is successful. And there are plans to offer iTunes radio in new cars:
To put extra doubt in the minds of Ford SYNC customers, iTunes Radio also comes compatible with voice activated Siri, allowing you to ask your iTunes Radio "Who plays this song?" or "Play Jazz radio". Apple is also introducing its new iOS 7, set to be more compatible and integrated with your car. Apple has announced that Mercedes-Benz, Nissan, Kia and Jaguar are just some of the manufacturers that will benefit from the new iOS 7.
If Apple plays its cards right, this will be a win-win for Apple shareholders. The hands free use of Siri on iTunes radio will directly compete with the hands free Sirius internet radio that will be available on the Fords coming out.
Conclusion
Don't worry if you are confused by all of this. Many analysts are taking a "wait and see" approach, until Apple proves itself capable of such a major undertaking. But we must consider that the company is the largest music provider in the industry via iTunes. Google's subscription service is not proven, and is another "wait and see" in my opinion. Pandora will possibly be squeezed out entirely between these two industry giants. Sirius on the other hand has a proven model with 24 million subscribers and the ability to offer service via satellite when other services are not available. And now with Ford as a partner, it will get the proverbial "jump" on the others. I would definitely buy Sirius as a long-term hold, and consider Apple and Google as a speculation. Unless Pandora pulls some miracle from its box, I would stay away from it. And Ford looks like an attractive stock to investigate right now based on its future partnership with Sirius and the fact that domestic car sales continue to spiral upward.
Disclosure: I am long SIRI. I wrote this article myself, and it expresses my own opinions. I am not receiving compensation for it (other than from Seeking Alpha). I have no business relationship with any company whose stock is mentioned in this article.