Luxury athletic apparel maker Lululemon (NASDAQ:LULU) recently announced strong first quarter results that were obscured by the announcement of CEO Christine Day's departure. We doubt anyone on the Street saw this announcement coming (as evidenced by the large sell-off), and we are a bit surprised at the timing.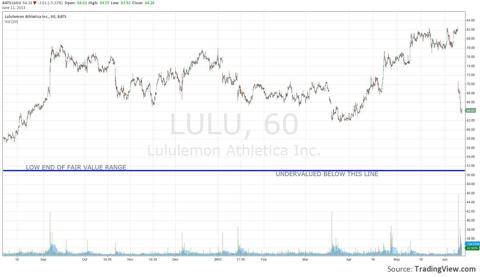 Although the company has had some quality control issues during the past few months, and we've seen the firm chase demand (not have enough inventory), we don't think Day was at all forced out. She presided over a boom in the company's revenue and profitability over the past five and a half years. Still, Day's "personal reasons" for leaving come at a strange intersection.
Many growth investors believe Day may not have wanted to deal with Lululemon's transition into a mature business from a high-growth retailer (in order to preserve her reputation as a fantastic retailer). We admit that same-store sales growth at Lululemon may be slowing, advancing just 7% year-over-year during the first quarter compared to 16% during fiscal year 2012, but we have a hard time believing the company is past its prime growth years. Direct (internet) sales, for example, increased at a whopping 40% year-over-year to $54 million (and should continue to grow at a nice clip).
During the period, Lululemon posted revenue of $346 million, a 21% increase compared to the prior year, but earnings per share remained flat at $0.32. Both figures exceeded consensus estimates and included headwinds related to its pants transparency issue. Free cash flow for the quarter totaled $4.2 million - not bad considering several competitors rarely, if ever, generate cash during the first quarter.
The transparency issue caused a $17.5 million inventory charge, lowering gross margins 560 basis points year-over-year to 49.4%. The company has also been forced to discount a higher percentage of its products, so the days of peak gross margins may have likely passed. CFO John Currie mentioned on the conference call:
"…it's going to result in our product being marked down sort of closer to 15% versus our run rate that's been 10% to 12%..."
That is not to say that margins aren't still healthy. Management is targeting the 55% area, and while we think it could be a difficult goal to accomplish, a level north of 50% is certainly achievable. SG&A growth was a little frustrating, increasing 90 basis points as a percentage of sales to 30.3%. Still, the increases were primarily due to foreign expansion and supply-chain investments that should yield superior operating margins over the long haul.
With respect to the firm's international expansion, we were happy to see the company take strides toward opening showrooms in China. Even though the actual magnitude of China's growth may be overestimated, we think the country's ripe upper-class could flock to the "affordable" luxury offered by Lululemon.
Looking ahead, the firm raised its full-year revenue outlook to the range of $1.645-$1.665 billion, driving earnings per share of $1.96-$2.01. Prior guidance called for earnings per share of $1.95-$1.99 on revenue of $1.61-$1.64 billion. This is standard Lululemon protocol - offering modest guidance that can easily be eclipsed. Interestingly, the firm guided to same-store sales growth of just 5-7% during the second quarter. This could mark the second consecutive quarter of slowing comps. Gap's (NYSE:GPS) Athleta and Nike (NYSE:NKE) have made competitive strides in the space, coveting Lululemon's core female consumer, but we think Lululemon's biggest enemy is actually the law of large numbers.
Valuentum's Take
We continue to like Lululemon's strong brand reputation. The company has yet to reach saturation in the US, and we think it has a fantastic international growth opportunity. Day's departure gives us some pause as it may reveal the end of the 30%+ growth days, but we think the company is still in solid shape without her. In fact, a new CEO and supply-chain manager could improve the company's international growth trajectory. Some may contend that Under Armour (NYSE:UA) CEO Kevin Plank has actually inhibited his firm's international growth route due to inexperience. In any case, finding a solid replacement will be paramount to Lululemon's next stage of expansion.
Unfortunately, even after shares have lost over 15% of their value in recent days, we think the risk/reward is unfavorable. For a highly-uncertain company such as Lululemon, we demand a wide margin of safety, and we would need to see an even more powerful move to the downside to get excited about the firm's shares.
Disclosure: I have no positions in any stocks mentioned, and no plans to initiate any positions within the next 72 hours. I wrote this article myself, and it expresses my own opinions. I am not receiving compensation for it (other than from Seeking Alpha). I have no business relationship with any company whose stock is mentioned in this article.