Pork producer Hormel (NYSE:HRL) announced early Tuesday morning that the company lowered its fiscal year 2013 earnings outlook to $1.88-$1.96 per share from $1.93-$2.03 per share. Shares responded negatively to the news, but remain up 26% year-to-date.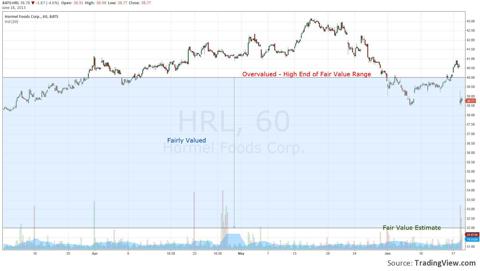 A 5-cent per share reduction in the annual earnings outlook will not have a material impact on our fair value estimate. While shares sold off aggressively Tuesday morning, we think it had less to do with a change in underlying fundamentals, and more to do with some profit taking. In fact, shares of the pork producer have traded at or above the high end of our fair value range for the past few months. The acquisition of Smithfield Foods (NYSE:SFD) gave the entire meat-producing complex a shot in the arm that did not necessarily reflect improved fundamentals.
The guidance cut isn't much of a surprise after competitor Tyson (NYSE:TSN) reported lackluster results in early May. Revenue for Tyson's second quarter was modestly higher than that of the year ago period, growing 2% year-over-year to $8.4 billion, which was below consensus expectations. Earnings per share and free cash flow at Tyson were also weak. The group isn't exactly knocking the cover off the ball.
Still, Hormel remains a terrific dividend growth name. The pork producer has increased its dividend for more than 45 consecutive years (it is a Dividend Aristocrat), and it posts a Dividend Growth Cushion score of Excellent, as well as a Dividend Safety score of Excellent. Unfortunately, shares have moved aggressively to the upside this year, so the stock only yields 1.8% at current levels.
Valuentum's Take
After months, if not years, of investors chasing equities with safe yields to replace bonds as income investments, the majority of our small- to- mid-sized food products segment now looks fairly valued. Even spice-maker McCormick (NYSE:MKC) trades at over 20 times next year's earnings. The dividends of these companies look mostly strong, but it's hard for us to get excited about annual yields under 2-3% when considering names for our Dividend Growth Newsletter portfolio (especially when the firms are approaching the high end of their respective fair value ranges).
Tyson currently trades at a discount to our fair value estimate, as well as at a discount to its peers on a forward PE and PEG basis. The Smithfield deal boosted optimism about the meat space and opportunities for consolidation or foreign takeovers. Tyson remains our favorite valuation idea in the space at this time. Our best ideas are always included in the portfolio of our Best Ideas Newsletter.
Disclosure: I have no positions in any stocks mentioned, and no plans to initiate any positions within the next 72 hours. I wrote this article myself, and it expresses my own opinions. I am not receiving compensation for it (other than from Seeking Alpha). I have no business relationship with any company whose stock is mentioned in this article.