Last Monday, biotech Orexigen Therapeutics (NASDAQ:OREX) released impressive Phase III trial results for its obesity drug, Contrave. All three studies were successful, easily meeting the FDA requirements on efficacy. The Contrave results also revealed no undue or surprising safety issues, giving the drug a clear runway for FDA approval in 2010.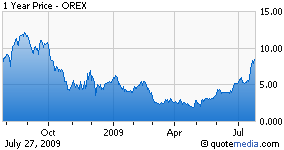 Given the obesity problem in the US, it was not surprising to see The Street applaud the Contrave news, lifting OREX shares 50% for the week to $8.51. Most analysts gushed over the results, quickly raising their price targets to the $14-$15 range. On Thursday morning, the company completed a secondary stock offering and quickly raised $71 million. The company received significant support from its insiders during this latest offering. Domain Associates purchased an additional 650,000 shares on July 23rd, which brings their total ownership up to 4.77 million shares, or about 13.7 of shares outstanding. Domain's buying has been rather consistent as they also added 241k shares in December of last year. With institutions establishing positions at the offering price of $7.50, we believe OREX has a lot more room to run in the coming months as "big money" looks to increase its holdings in the name.
With the secondary offering completed, the $7.50 price range has now become a strong area of long-term support for OREX. Quant players should also begin accumulating shares now that both the 20 and 50-day SMAs have broken above the 200-day SMA, confirming a bullish change in trend. We bought into OREX Friday morning and we plan to add to our positions again on Monday. The stock has reached an important inflection point, one which could drive OREX up to $12 in six months. This is a high risk/reward opportunity and we recommend subscribers purchase shares on Monday as well. Our stop-loss is set at $6.79.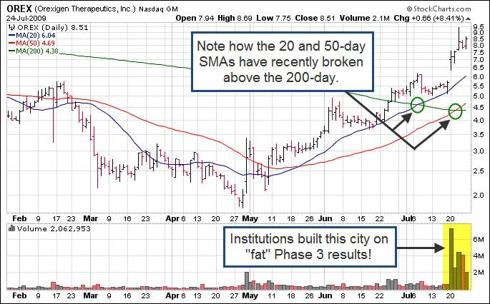 Source: StockCharts.com

Disclaimer: We are long OREX.