Without question, solar modules and systems maker First Solar (NASDAQ:FSLR) has been among the most controversial stocks in our coverage list during the past few years. The stock recently popped back above the $50 level on positive earnings guidance for 2014 and 2015, after nearly falling into the single digits last summer.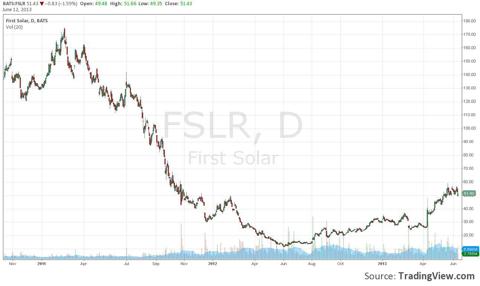 Though we've recently increased our fair value estimate for the solar maker to $47 per share (at the time of this writing) as we've warmed up to its mid-decade outlook (which looked better than what we had previously anticipated), management made a wise (and opportunistic) decision to raise equity capital at current levels via the announcement of a secondary offering. Raising capital "up here" (well off the lows) is both opportunistic and much better than doing so when shares were in the teens (near the lows).
Given current interest rates and the favorable debt-raising environment (yields still near historical lows), the decision signals to us that management believes its stock is at the very least fairly valued, but more likely overvalued (the stock currently trades marginally above our point fair value estimate-the midpoint of its estimated fair value range). We think this signaling by management is why shares are selling off aggressively today.
The move to raise equity could also indicate that private debt markets may not be as comfortable with the risk/reward of lending money to First Solar, though we note the Department of Energy has often disagreed. In any case, the extreme volatility of recent free cash flow trends at the solar firm would be difficult for any incremental stakeholder to swallow.

Image Source: First Solar
Though the equity offering will increase First Solar's float approximately 11%, we think the move is still a modest net-positive for existing shareholders. For starters, First Solar operates in a lumpy, cutthroat, low-margin business:
The solar industry is extremely competitive and continually evolving as constituents strive to differentiate themselves to better compete within the broader electric power industry. Significant price reductions (per watt), reduced margins, and drastic market share shifts have become commonplace for participants. Profitability can be negatively impacted from government subsidies and sovereign capital that allow firms to operate unprofitably for extended periods of time. Production overcapacity is another major concern and will likely persist for some time. We think the structure of the solar industry is very poor.
And while First Solar had a solid net cash position (~$450 million), additional cash will give the firm a greater margin of cushion during tough times (which can happen almost without notice in the solar business). Plus, issuing equity above intrinsic value is always a good move (unless of course it is followed up by wasteful activity). Think of it as getting $2 for something that is worth $1. As long as management doesn't waste that $2, it's not a bad transaction.
As for uses of this cash, we believe it may simply sit idle on the balance sheet, adding some downside protection to the company. In its statement about the offering, First Solar implied the money could be used for just about anything, saying:
"First Solar intends to use the net proceeds from the offering for general corporate purposes, which may include acquisitions of under development photovoltaic solar power system projects, investments in photovoltaic solar power system projects that will be jointly developed with strategic partners and capital expenditures or strategic investments to develop certain business units and expand in new geographies."
Valuentum's Take
Though First Solar operates in a very poor industry, management exercised good judgment by striking opportunistically with this capital raise. Though we note the transaction is modestly value-creating, we don't expect a material change to our valuation of the firm based on this financing activity. We still won't look to add the company to the portfolio of our Best Ideas Newsletter anytime soon, as we demand a very large margin of safety on this highly-volatile firm.
Other solar industry participants: LDK Solar (NYSE:LDK), JinkoSolar (NYSE:JKS), Trina Solar (NYSE:TSL), JA Solar (NASDAQ:JASO), DAQO New Energy (NYSE:DQ), SunPower (NASDAQ:SPWR), Yingli Green (NYSE:YGE), GT Advanced (GTAT)
Solar ETF: Guggenheim Solar ETF (NYSEARCA:TAN)
Disclosure: I have no positions in any stocks mentioned, and no plans to initiate any positions within the next 72 hours. I wrote this article myself, and it expresses my own opinions. I am not receiving compensation for it (other than from Seeking Alpha). I have no business relationship with any company whose stock is mentioned in this article.