By Chris McKhann
Ahead of its earnings report after the bell today, Masco (MAS) could be developing a near-textbook technical pattern. It is only a potential pattern as that has not yet become active, and it won't unless the quarterly results are good.

Before we get to the pattern, a little history on the name is worth review. The stock has done nothing but decline for the last four years, having peaked well ahead of most other stocks during the bull run from 2005 to 2007. The company is largely a manufacturer of home improvement products of all kinds and, as a result, was sensitive to any slackening of demand in housing.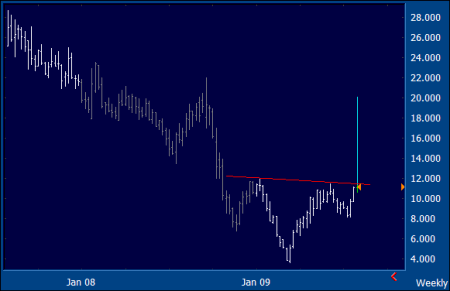 As the start of the decline in 2005 suggested, the company was something of a canary in the coal mine for the general housing situation. At the time, the decline was virtually ignored, with much of the blame fixed on company-specific issues. As we know now in retrospect, there was something much larger at work.

The stock has been downgraded most recently, and analyst expectations for the stock are relatively poor, with shares already trading a good 10 percent above the high end of recent price targets.

With expectations so low, and a large short base to boot--six days to cover and more than 8 percent of the float short--it may seem odd that the potential pattern in question is a bullish one. In some respects, it may precisely be the combination of all the above that provides a good set-up.
A company can surprise when its expectations are either very low or very high. There is also the added issue of improving sentiment in the overall housing sector to consider as a catalyst if results of course are good, or better than expected.

The pattern on the weekly chart is a classic bullish "head and shoulders" bottom. The neckline for the pattern is roughly at the $11.50 area, and it would take a break on a sustained basis above this price for the pattern to become active. This is shown on the chart with the red sloping line.
The upside potential for the pattern, over time, is to the $20 area, shown by the vertical blue line. If price does not make it above the neckline, there is no pattern.
(Chart data provided by Thomson Reuters)