Shares of Ford (NYSE:F) have been red hot this year on the back of strong domestic auto sales. I wrote an article a few weeks ago that outlined the overall bullish case for Ford, but suggested to avoid it when the stock was pushing on the $16 ceiling. That has proved rewarding thus far, since chasing the auto stocks makes little sense with the European-anchor currently chained to their performance.
click to enlarge image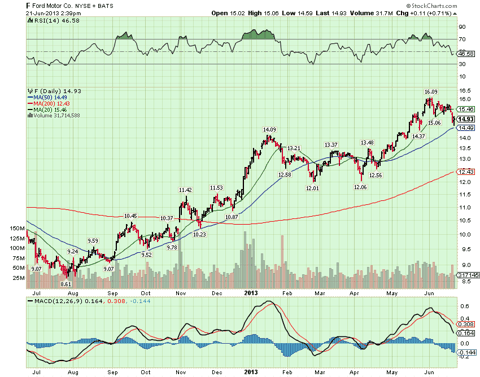 The same story has been playing out for some time now. Auto sales have been strong in the United States, where Ford most recently sold over 70,000 F-Series pickup trucks last month, on its way to a 14% increase in total sales from last year. Asia has also proved promising, not just for Ford, but for General Motors (NYSE:GM) as well. However, at the time, Asia makes up a rather small contribution to Ford's bottom line (less than 1% last quarter) and therefore is not a material difference maker, yet.
It's Europe that is cannibalizing the earnings per share power that we should be seeing from the auto giant. But in 2012 Ford lost almost $2 billion in the region for the year and in the first quarter of 2013, the company lost over $460 million. The pace for correction is slow, but CEO Alan Mulally has continually stressed that Ford will be around breakeven by mid-decade.
Last month, we got a slight head fake from the potential "bottoming" in European auto sales, as it posted a gain of 1.7% in April. However, it was short-lived, with sales tumbling 5.9% in May. Another focal point was vehicle registration, which is only at 5.09 million units year-to-date, down almost 7% compared to last year.
The automakers just can't seem to catch a break and it has weighed on the stock price now for years. But could Ford be turning it around? Below are some of the vehicle registration highlights from the most recent report:
● General Motors declined 11.3%

● Fiat declined 10.8%

● Renault declined 10%

● BMW decline 7.2%

● Toyota Motors (NYSE:TM) declined 4.9%

● Ford declined 0.3%

● Daimler advanced 0.7%
While it is impressive that Daimler was able to post any sort of positive numbers, it is almost equally as impressive that Ford was barely in the red. While it may seem hard for investors to be optimistic on poor data points, they're not as bad as we've seen in the past. Could this be the turning point for Ford going forward?
We all know Ford is not going to reduce its European losses by $75 or $100 million on a quarter-to-quarter basis. But, if the company can begin to bring its losses down gradually, perhaps 2015 is not an absurd measure to have Europe back in the black from an operational standpoint.
While Ford is closing three auto plants in Europe and the United Kingdom to cut back on production and costs, the process is very slow -- and very costly -- due to the tight labor laws instilled in the countries. In fact, almost a quarter of the losses last quarter were from restructuring efforts, ($110 million of the $460 million). This is technically a good thing, since it represents short-lived events and not something that will continue to dog the company going forward.
But Ford might have another card up its sleeve. Reportedly, the company is focused on a new, higher margin car that may be able to aid in cutting down losses. The report said Ford is planning on reducing its sales to rental agencies of low margin cars, while simultaneously boosting sales of "retail and company fleet buyers, which typically order cars at higher prices." Roelant de Waard, U.S. Head of Sales for the company had this to say:
"We're expecting some improvement next year [regarding industry sales]. It's fair to say that with the newness and the freshness of our model lineup that we expect growth."
This was also stated in the previous conference call (linked above) and Waard also forecasts that sales will increase in the region to approximately 14 million in 2014, from the 13.5 million estimated for this year. Investors know -- or should know by now -- that the turnaround process for something like this is slow. If the automaker can stymie the effects of the European economic woes to its bottom line, the earnings power will quickly become extremely robust.
As I highlighted in my bullish article regarding Ford (also linked above), I think that shares below $15 offer an excellent opportunity for large returns in the semi-distance future. The dividend, which was doubled in January, offers a 2.6% yield and should Ford get to $14.50 I will begin adding to my accumulated position. The turnaround process is slow, but at least it's turning.
Disclosure: I have no positions in any stocks mentioned, and no plans to initiate any positions within the next 72 hours. I wrote this article myself, and it expresses my own opinions. I am not receiving compensation for it (other than from Seeking Alpha). I have no business relationship with any company whose stock is mentioned in this article.