Last year I recommended Gamestop GME in the article shown here based on a premise of sound financial metrics and a 35% short interest in the stock. Last year on March 18th when I published the initial article I identified that "this company is either a value play or a value trap. The reason that over a third of the shares are shorts is because there are those who feel that its products are becoming obsolete." It seems that with a 66% increase in the price of the stock, GME was clearly a good value play.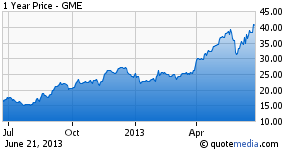 One of the most rewarding aspects about Gamestop, is that there is still a 30% short interest in the stock according to shortsqueez.com. This means that there is still more upside to the price of the stock when the shorts cover, which is inevitable.
As I identified last year, Gamestop is not another Blockbuster, and is not going to be phased out of business due to the fact that consumers can now purchase games online and through their gaming systems. Consumers still want to go into stores to purchase both games and gaming systems. An indication of not being wrong is that the stock has gone up from $24 to $40 and the short interest is only down 5% from the last time of writing about the company in March 2012.
At the time of writing the article above the financial situation for GME was as follows:
Total Assets: 5,432.60 Goodwill: 2,060.30
Total Liabilities: 2,469.50
Total Shares Out: 155.82
According to the financial data above, Gamestop had a book value of $19. If you eliminate goodwill, GME had a book value of $5.79. The company had EPS of $2.73 and a P/E ratio of 8.74x
Today the financial data for Gamestop are as follows:
- Total Assets: 3,645.10 Goodwill: 1378.20
- Total Liabilities: 1,348.80
- Total Shares Out: 119.00
Gamestop has a book value of $19.29. If we average the last four years of earnings you are looking at an average EPS of $2.27, which seems very stable going forward. That said, while the book value of the company remains fairly similar and the EPS remains similar, the 66% increase in the stock price from $24 to $40 warranted this follow up article because the situation has changed.
I still like the company and future prospects of the business. As I stated in the last article, I was an advocate of purchasing the shares then at $24, because of the value metric against the book value and high degree of short interest against the stock. At $24 the company was trading at 25% above book while now at $40, it trades at over 105% of book value, with a current P/E ratio of about 17x against what was 8.75x.
I no longer can advocate purchasing shares or taking new positions at the current stock price because of the high relative valuation. That is not to say that the stock could not go higher because I believe that it can and will. As the company performs with steady earnings, it is only a matter of time until the shorts cover their position. They will need to buy the stock back at these prices and the stock could really pop.
What I am suggesting is holding onto the shares that you have and consider protecting your investment using one of the following strategies:
Assuming you purchased 800 shares at $25
*** #1) Buy 8x OCT2013 $40 Put Options at a current cost of $4.25.
If you do that than for the next 5 months should the price of Gamestop fall to any price you will lock yourself profit of $8,600 from now until October, while still profiting if the shares go higher.
If the stock goes to $45.8 than you will profit $13,236.80 as opposed to $16,636.80 without the puts.
If the stock goes down to any price, you will lock in profit of $8,600. If the stock price goes back down to $25.44 than you profit $8,600 as opposed to only $353.79 without the puts.
#2) Buy 8x OCT2013 $34 Put Options at a current cost of $1.90.
If the stock goes to $45.8 than you profit $15,116.8 as opposed to $16,636.8 without the puts.
If the stock goes back to $25.44 than you profit $5,680 as opposed to $353.79 without the puts.
I recommended utilizing strategy #1. It is very feasible that the short squeeze could come and the price goes to $54.76, which will allow you to profit $20,404.80 as opposed to profiting $23,804.80 but the money that you give up in the put option ($3,400) allows you the benefit of having the market and/or the price of GME go against you, and lock in $8,600 of profit in the theoretical example above. Anytime a stock has gone up 66% in just over a year, warrants examining the above option strategies, especially when you don't want to sell out of the market and loose your position.
I always recommend becoming familiar with options and simulating different option strike and premium prices while selecting an appropriate time period which fits your investment need and style. If you want to become more familiar and simulate these types of strategies you can download smart-phone apps such as stock protector which will simulate a buy put strategy against your stock positions.
These types of strategies allow you to hold onto your shares while locking in your profits enabling you to obtain arbitrage. You will benefit from the coming short squeeze while also being mindful that Gamestop has appreciated by two thirds in just over a year and the value play that it once was now must be reconsidered.
Buying stock at $24 and watching it go to $40 based on sound fundamental financial analysis is smart. When the premise for holding the stock remains, taking a bit of an insurance policy by utilizing an options strategy against your position is wise.
Disclosure: I have no positions in any stocks mentioned, and no plans to initiate any positions within the next 72 hours. I wrote this article myself, and it expresses my own opinions. I am not receiving compensation for it (other than from Seeking Alpha). I have no business relationship with any company whose stock is mentioned in this article.