Precious Metals Weekly Market Wrap
Gold and silver prices didn't seem to need another reason to move lower, but they got one anyway when, on Wednesday, Federal Reserve Chairman Ben Bernanke intimated that the central bank's money-printing effort will come to an end sooner rather than later. This pushed long-term interest rates sharply higher and the trade-weighted dollar strengthened quickly, both decidedly negative developments for precious metals.
With the gold price near $1,400 an ounce and silver atop $22 an ounce a week ago, the selling began in advance of the Fed gathering at midweek and accelerated upon its conclusion. During the sell-off, the price of gold dipped below $1,270 an ounce and silver approached $19 an ounce, causing even the most ardent precious metals investors to question their long-term convictions.
All eyes now turn to India and China where, earlier in the year, lower prices spurred record buying. Recent government gold curbs and the end of the peak wedding season in India have already tempered buying, but increased physical demand in China could help to turn this market around.
For the week, spot gold plunged 6.7%, from $1,391.50 an ounce to $1,298.60, and silver tumbled 8.9%, from $22.08 an ounce to $20.12. Gold is down 22.5% so far in 2013, some 32.5% below its all-time high of over $1,920 an ounce in 2011. Silver is down 33.7% this year, nearly 60% below its record high reached over two years ago.
Precious metals sell-offs have become far too common as weak technical factors have given short sellers the upper hand since the April plunge that pushed gold and silver prices down from well-established trading ranges. Last week, it was news of a possible "tapering" of Fed bond purchases later this year that sparked the selling. Absent some development like a 5% inflation target or a doubling of its "quantitative easing" program, whatever the Fed had to say last week wasn't likely to be good for precious metals.
A breach of support levels near $1,365 an ounce resulted in the gold price plunging below the April low of $1,321, and prices moved lower from there with stop-loss orders being triggered along the way. The selling was so severe that CME Group, owner of the COMEX commodities exchange, increased margin requirements by 25% to make it more expensive for gold speculators to trade.
As detailed in "Gold Needs A New Catalyst" a few days ago, there seems to be no reason for Western investors to do anything but sell precious metals these days. However, it is a different story on the other side of the world. Physical demand has been rising in Asia as fast as the gold price has been falling in New York trading. The key question now is whether that trend will continue after last week's price declines.
The increase in early 2013 physical gold demand is shown clearly in the graphic below, where recent deliveries from the Shanghai Gold Exchange have nearly equaled the level of mine production.
Click to enlarge image.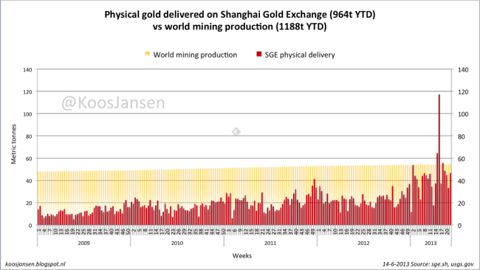 More analysis of this subject is provided by fellow Seeking Alpha contributor Willem Middelkoop in "Chinese Physical Gold Deliveries Match World Gold Production" from last Monday. Importantly, tumbling gold prices have already made some mining operations unprofitable and at least one -- golden minerals -- has now suspended production. With any further substantive price declines more mines will be shuttered, reducing supply. This point was made clear last week by Scotia Moccata's Sunil Kashyap who, in an interview, cited the $1,250 level as being key for many miners.
Demand for physical metal in Asia at lower prices has accelerated the flow of gold from the West to the East and this will be important to watch in the days and weeks ahead. Signs of heightened Chinese demand have already emerged and, as seen on Friday, this should provide some level of price support. China appears set to overtake India as the world's biggest gold buyer this year with demand estimates ranging anywhere from 1,000 tonnes to 1,500 tonnes, the latter figure nearly double the demand of recent years and more than half of annual mine supply.
Increased physical demand may not be immediate and is not likely to equal the record surge in buying seen during the spring, particularly in India where recent government curbs are now having an impact during the slow summer season. Some buyers will no doubt wait to see if prices go even lower and, due to the record weakness in the Indian rupee, the full dollar-denominated price decline is not yet being seen in India. After reaching 162 tonnes in May, official gold imports to India are expected to fall to about 40 tonnes in June, and this will surely be seen negatively by gold traders despite the record pace of buying earlier in the year. Also, reports of sharply higher levels of gold smuggling are coming in from all parts of the country, and this is not likely to have a positive market impact simply because of the anecdotal nature of the reports.
Word that Reliance Capital, a major financial services firm in India, became the first to suspend all gold sales across all its businesses will exacerbate the shift of gold imports from official channels to unofficial routes that had been abandoned after the gold market liberalization carried out in the 1990s. As noted here previously, if the Indian people want gold, they'll get it -- one way or another.
Here in the U.S., the SPDR Gold Shares ETF (NYSEARCA:GLD) saw 13.6 tonnes exit the trust as the ETF's holding dipped below the important 1,000 tonne mark to end the week at 990 tonnes. This was the biggest outflow in four weeks and this latest sell-off could prompt more selling in the week or two ahead. As of mid-June, outflows had fallen to just a few tonnes a week, but U.S. investors now have even more reasons to dislike the metal as long-term interest rates are on the rise and more investment banks revise their price forecasts lower. After adding 10 tonnes the week prior, the iShares Silver Trust ETF (NYSEARCA:SLV) shed 15 tonnes of silver last week as silver ETF holdings remain far more stable than gold ETFs. Holdings at SLV are down just 1% for the year despite a price decline of one-third. Silver coin sales at the U.S. mint continue at a record annual pace as more than 24 million ounces have been sold so far, the fastest pace since record keeping began in 1986.
Despite more market histrionics, the story for precious metals remains largely the same as it has been all year in that U.S. investors see little need for paper holdings, while physical demand remains strong in Asia as gold continues to flow from West to East.
Disclosure: I am long GLD, SLV. I also own gold and silver coins and bars. I wrote this article myself, and it expresses my own opinions. I am not receiving compensation for it (other than from Seeking Alpha). I have no business relationship with any company whose stock is mentioned in this article.